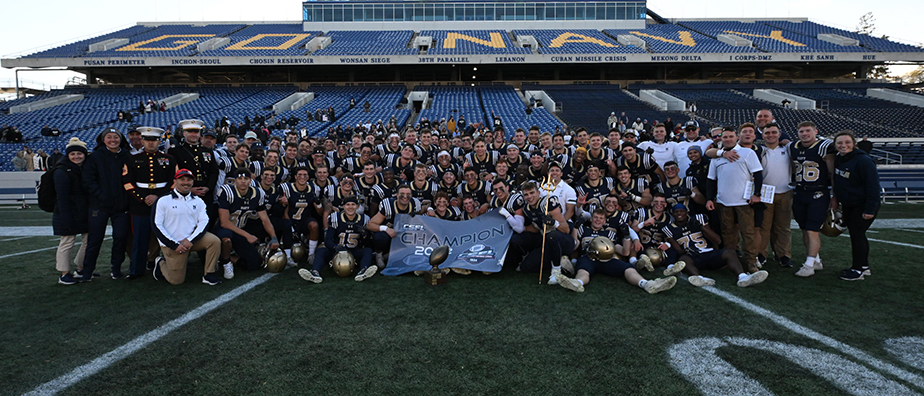 Back-to-Back for the Mids: 2022 CSFL Champions
By: Doug DeBiase | Collegiate Sprint Football League | November 13, 2022
ANNAPOLIS, Md. (November 13, 2023) -- A late touchdown with under two minutes to go propelled Navy to its second-consecutive Collegiate Sprint Football League (CSFL) Championship on Sunday, as the Mids defeated historic rival Army, 28-21, in the league title game at Navy-Marine Corps Memorial Stadium in Annapolis, Md.
Navy's title comes on the heels of the Mids also defeating the Black Knights, 9-7, in the CSFL Championship Game during the 2021 campaign.
Navy concluded its 2022 campaign with an 8-0 record, while Army capped its campaign with a 6-2 mark. It was also Navy's fourth-consecutive win versus Army. The Midshipmen also claimed the program's 39th CSFL Championship.
"Wow," head coach Major Alfonso Meidus, USMC exclaimed after the game. "What an amazing game. What an amazing rivalry. You couldn't ask for a better game. Back and forth. They came out with two big scores on us, but we had no doubt. We were down two touchdowns, but to the men on this team, we had belief in each other. We came back and went ahead. This is an Army-Navy game!"
After falling behind, 14-0, in the first half, Navy rallied with three touchdown drives to go up 21-14 with a little under six minutes to go in the fourth. The Black Knights responded with a scoring drive to tie it up, but Alex Totta busted through with a 41-yard touchdown run with 1:51 left that proved to be the winning score.
HOW IT HAPPENED
Army 7, Navy 0 (1st Qtr, 4:15): Mikal Willeke capped an 11-play, 75-yard scoring drive with a three-yard touchdown run.
Army 14, Navy 0 (2nd Qtr, 10:40): A six-play, 51-yard drive was capped by a spectacular 24-yard TD run from Traye Carson.
Army 14, Navy 6 (2nd Qtr, 3:54): Brandon Atwood connected with Andrew Margiotta on a 28-yard touchdown pass to get Navy on the board. It was a 13-play, 67-yard drive in 6:46.
Army 14, Navy 13 (2nd Qtr, 1:46): Atwood scored on a one-yard touchdown run. The score capped a four-play, 35-yard drive.
Navy 21, Army 14 (4th Qtr, 6:21): Totta rushed for a one-yard scoring play to cap a 14-play, 54-yard drive in 6:09. The Mids also logged a two-point conversation to go up by seven.
Army 21, Navy 21 (4th Qtr, 3:46): Henry Beck plunged in from four yards out to knot the score and cap a six-play, 60-yard drive.
Navy 28, Army 21 (4th Qtr, 1:51): Totta's 41-yard run put the Mids in front to stay for good.
CLOSE CALL IN SOME AREAS/DISTINCT ADVANTAGE IN OTHERS
**Several statistical categories were close between the two teams, including Army owning a slim 321-320 edge in total yards, while Navy had a 19-17 lead in first downs.
**One category where Navy held a distinct advantage was in third-down conversions as the Mids were 9-of-17 in conversions (53%), while Army was just 2-of-10 (20%) in that area.
POUND THE ROCK
**Totta rushed 35 times for 193 yards and his two scores.
**Army had three players average at least 6.4 yards per carry, including Seth Brown (4-35, 8.8 ypc), Carson (6-42, 7.0 ypc) and Donovan Mannion (11-70, 6.4 ypc).
WHAT'S NEXT
**Army's season is complete with the Black Knights going 6-2. The Black Knights, who claimed the North Division Championship, will kick off the 2023 season next September.
**Navy's season is complete with the Mids going 8-0. The Midshipmen will kick off the 2023 season next September.