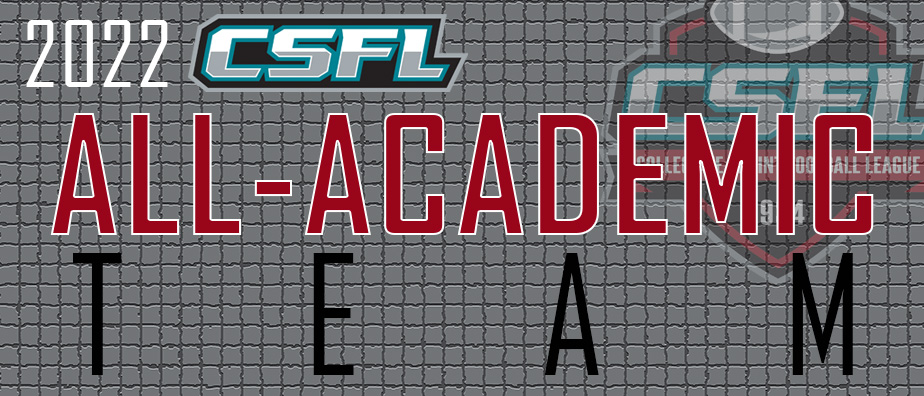 2022 CSFL All-Academic Team
By: Doug DeBiase | Collegiate Sprint Football League | December 20, 2022
NEW HAVEN, Conn. (December 21, 2022) -- One-hundred-and-fifty-one (151) student-athletes on Wednesday were named to the 2022 Collegiate Sprint Football League (CSFL) All-Academic Team as announced by Commissioner Dan Mara. Each of the nine CSFL member institutions were represented on the team with multiple honorees apiece.

To be eligible, a student-athlete must, a) have a cumulative grade point average of 3.20 or higher; b) competed during the most recent season; c) and must be at least a sophomore both academically and athletically. There is no limit to how many nominees a school may have, provided they meet the listed criteria.
Navy, the back-to-back CSFL Champion, led the way for all schools with 34 honorees on the list, including league MVP and Offensive Player of the Year, Alex Totta, making the academic team with a mark of 3.33.
MISCELLANEOUS NOTES ON 2022 CSFL ALL-ACADEMIC TEAM
>> Cornell had 28 student-athletes earn all-academic honors, while Army had 26 and Penn followed with 25.
>> Seven student-athletes made the unit by earning 4.0 or higher cumulative GPAs, including:
Alec Wells (Army West Point, 4.19)
Spencer Katz (Cornell, 4.04)
Jacob MacGregor (Cornell, 4.00)
Zac McPherson (Cornell, 4.13)
Chris Rampaul-Pino (Cornell, 4.00)
Jacob Wynkoop (Cornell, 4.02)
Patrick Palm (Navy, 4.00)
>> Twenty-eight (28) honorees on the team posted marks of 3.90 or higher.
>> Twenty-seven (27) student-athletes who earned either all-conference or a major award in 2022, also garnered status on the all-academic team. In addition to Navy's Totta, Penn's Adrian Montemayor (CSFL Special Teams Player of the Year) earned all-academic accolades.