Navy Rallies for Thrilling Win over Army in 2021 CSFL Championship Game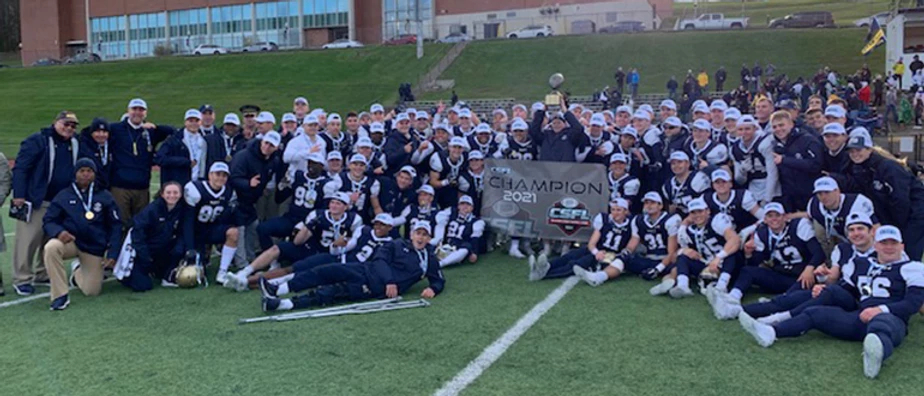 Navy Rallies for Thrilling Win over Army in 2021 CSFL Championship Game
By: Doug DeBiase | Collegiate Sprint Football League | November 13, 2021
MANSFIELD, Pa. -- Matthew McGee scored on a 44-yard run with a little more than six minutes remaining, and Navy's defensive came up big late to lift the Midshipmen to a thrilling 9-7 win over arch-rival Army on Saturday in the 2021 Collegiate Sprint Football League (CSFL) Championship Game at Van Norman Field on the campus of Mansfield University in Mansfield, Pa.
The Mids capped their 2021 season with an 8-0 record, the CSFL South Division Championship and the league championship as it swept the season series against the Black Knights (also def. Army, 14-6, back on Oct. 2).
Navy's defense was stout all afternoon, but a couple costly pass-interference calls and a running into the kicker midway through the fourth quarter enabled Army to go up 7-3 on a three-yard run from Mikal Willeke with 9:35 left.
The Midshipmen, however, went three and out on its next series, but their defense were able to force Army into a punt and now allow the Black Knights to run out the clock. A short, 23-yard Army punt let Navy start its next possession on the plus-side of the field at the Knights' 46-yard line.
Navy managed just two yards on the first two plays of the possession, but on third and eight McGee took a handoff, followed some outstanding blocks to his right, and ripped off the 44-yard TD run. McGee churned out 129 tough yards on the ground over 25 carries.
The Mids shut down Army after the go-ahead score as Adam Weissenfels intercepted Willeke on Army's next possession, and then Jake Karczewski forced a fumble on the Black Knights' final drive that Mike Garnett recovered to set off a wild celebration on the Midshipmen's sideline.
Both sides played outstanding defense all game. Army limited Navy to just seven first downs, while the Mids held the Black Knights to just 79 yards rushing and only 201 yards of total offense.
Weissenfels had a team-high 11 tackles, while picking off a pair of passes and breaking up three more Army throws. Devyn Martin had 10 stops for the Mids, and Garnett recovered a pair of fumbles.
David Dickerson posted a game-high 12 tackles, as he led a trio of Black Knights who had double-digit stops. Brendan Windsor made 11 tackles, and Laurence Dowd had 10 stops.
Navy went up 3-0 early in the first quarter following an interception by Dante Carrasco, which he returned 16 yards to the Army 19. The Black Knights stood tall and limited the Mids to a successful 32-yard field goal from Mychal Golden.
Army concluded its season with a 6-2 record and the North Division title.
The win gave Navy its 38th CSFL title and 31st outright in program history.
Tweets by @sprintfb
Archives