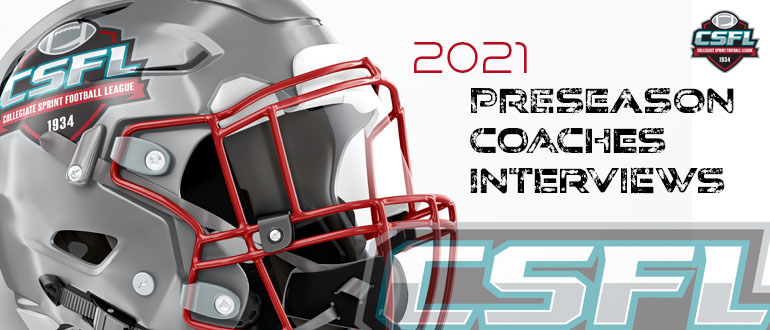 2021 CSFL Preseason Coaches Interviews
By: Doug DeBiase | Collegiate Sprint Football League | September 15, 2021
The 2021 Collegiate Sprint Football League (CSFL) kicks off on Friday night with Week #1 action, featuring the University of Pennsylvania traveling to face Army West Point, while Alderson Broaddus University takes on Chestnut Hill College.
The action continues Saturday with a pair of games, including Navy at St. Thomas Aquinas College, and Cornell University at Mansfield University.
The 2021 regular season will be a build up to the CSFL Championship Game on Nov. 13, at Mansfield University in Pennsylvania. Recently, sprintfootball.com talked with each of the league's nine head coaches to get an early look at their squads heading into the new campaign.
ALDERSON BROADDUS HEAD COACH BRAD JETT
ARMY WEST POINT HEAD COACH MARK WEST
CALDWELL HEAD COACH JIM KELLY
CHESTNUT HILL HEAD COACH GIO THOMAS
CORNELL HEAD COACH BOB GNEO
MANSFIELD HEAD COACH JOHN EVANS
NAVY HEAD COACH ALFONSO MEIDUS
PENN HEAD COACH JERRY McCONNELL
ST. THOMAS AQUINAS HEAD COACH MATT BARRY
---
ABOUT SPRINT FOOTBALL
Sprint Football is a full-contact, intercollegiate, varsity sport that features the same rules as NCAA football, except that all players must weigh 178.0 pounds or less. The league has been in existence since prior to World War II.The Collegiate Sprint Football League is comprised of 10 member institutions including Alderson Broaddus University, Army West Point, Caldwell University, Chestnut Hill College, Cornell University, Mansfield University, the U.S. Naval Academy, Post University, the University of Pennsylvania and St. Thomas Aquinas College.
For more information, please visit sprintfootball.com.