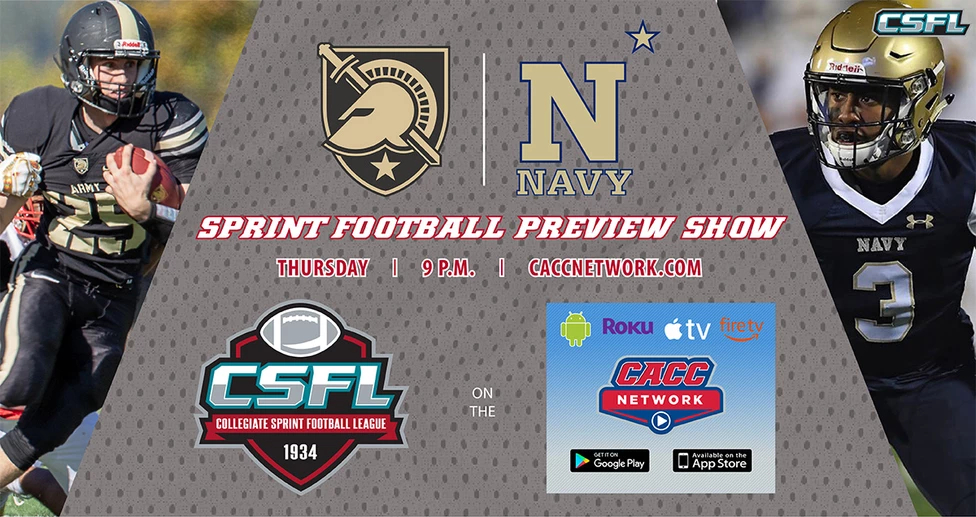 CSFL to Air Army-Navy Preview Show Thursday at 9 pm on CACC Network
By: Doug DeBiase | Collegiate Sprint Football League | September 28, 2020
NEW HAVEN, Conn. -- The Collegiate Sprint Football League (CSFL) will air the Army-Navy Sprint Football Game Preview Show this Thursday at 9 p.m., on the CACC Network. Monday's announcement of the special broadcast was made by CSFL Commissioner Dan Mara, as the show will break down Sunday's contest between the Cadets and Midshipmen at Shea Stadium in West Point. Kickoff is set for 1 p.m.
Army and Navy will meet twice in sprint football during the fall, as the second contest will be held on Sunday, Oct. 18, in Annapolis. That contest will be the Star Game for both teams. The CSFL will also air a preview show for that game on Thursday, Oct. 15.
This Thursday's preview show will feature interviews with both head coaches (Army's Mark West and Navy's Jason Dewald) and student-athletes from each school. The show will also provide a look at the historic rivalry between the two academies in the sport of sprint football.
The CACC Network is the official digital channel of the Central Atlantic Collegiate Conference (CACC), which is a partner with the CSFL. Fans can view the network in a variety of ways, including online at caccnetwork.com(.) Fans can also stream the CACC Network on their television, as the channel features apps on Roku, Amazon Fire TV, Apple TV and Android TV. For people on the go, they can also watch the show on their mobile device or tablet, as the CACC Network features an app in both the iTunes and Google Play stores.
The show will premiere on Thursday night at 9 p.m., but fans who cannot watch the live broadcast will have the opportunity to view it anytime on-demand by visiting one of the portals listed above for the CACC Network.
The two Army-Navy contests in October are the only scheduled fall games in the CSFL, as the 2020 season was impacted due to the COVID-19 pandemic. However, the CSFL is committed to providing a meaningful season of intercollegiate competition for all impacted student-athletes, as a move to the spring has been discussed with more details to be released at a later date.
The CSFL and its remaining member schools allowed Army and Navy to explore competitive opportunities against each other during the fall as considered appropriate by the Superintendents of both institutions. The decision was made for the two schools to explore the opportunity due to their unique mission in higher education.
Army and Navy met twice last season, with the Mids pulling out a 14-7 win over the Cadets in West Point during the regular season. However, Army was able to get its revenge in the CSFL Championship Game via a 13-0 victory over Navy.