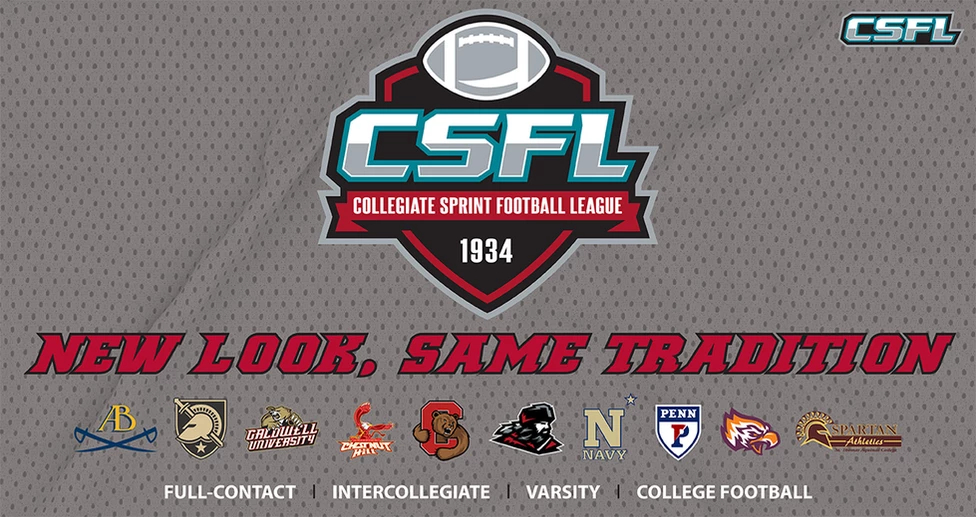 CSFL Rebrands with Exciting New Logo
By: Doug DeBiase | Collegiate Sprint Football League | September 8, 2020
NEW HAVEN, Conn. -- The Collegiate Sprint Football League (CSFL) launched an exciting, new era on Tuesday, as the league unveiled its redesigned conference logo and wordmark. The logo was designed by Tim Rice of Royal Rooster Design, as he is a graphic designer for several schools and conferences throughout college athletics. The announcement was made by CSFL Commissioner Dan Mara.
While the redesign celebrates the next phase of the CSFL, it also incorporates the league's previous colors to honor the tradition of a conference that began in 1934.
The new logo will be featured prominently on the league's official website (sprintfootball.com) and its various social media accounts. The CSFL also announced on Tuesday the creation of new Instagram (@CSFL_SprintFB) and YouTube (@CSFL_SprintFB) accounts. The league also has a presence on Twitter (@SprintFB) and Facebook (@sprintfootball). The league's member institutions will also be able to proudly display the new logo on their respective campuses to expand the brand recognition of the CSFL.
"The redesigned logo allows for the CSFL to enhance its recognition of the league," Commissioner Mara said. "The CSFL features a rich history of great student-athletes and teams, while also having a bright future in college athletics. The new logo will assist us in telling the story of the conference to new audiences and strengthening our already existing fan base."
Despite postponing the season until the spring, the CSFL will use its new logo to produce original content this fall to keep fans current on the student-athletes and teams that comprise the league. More information on CSFL original content will be announced shortly.
---
ABOUT SPRINT FOOTBALL Sprint Football is a full-contact, intercollegiate, varsity sport that features the same rules as NCAA football, except that all players must weigh 178.0 pounds or less. The league has been in existence since prior to World War II.
The Collegiate Sprint Football League is comprised of 10 member institutions including Alderson Broaddus University, Army West Point, Caldwell University, Chestnut Hill College, Cornell University, Mansfield University, the U.S. Naval Academy, Post University, the University of Pennsylvania and St. Thomas Aquinas College.
For more information, please visit sprintfootball.com.