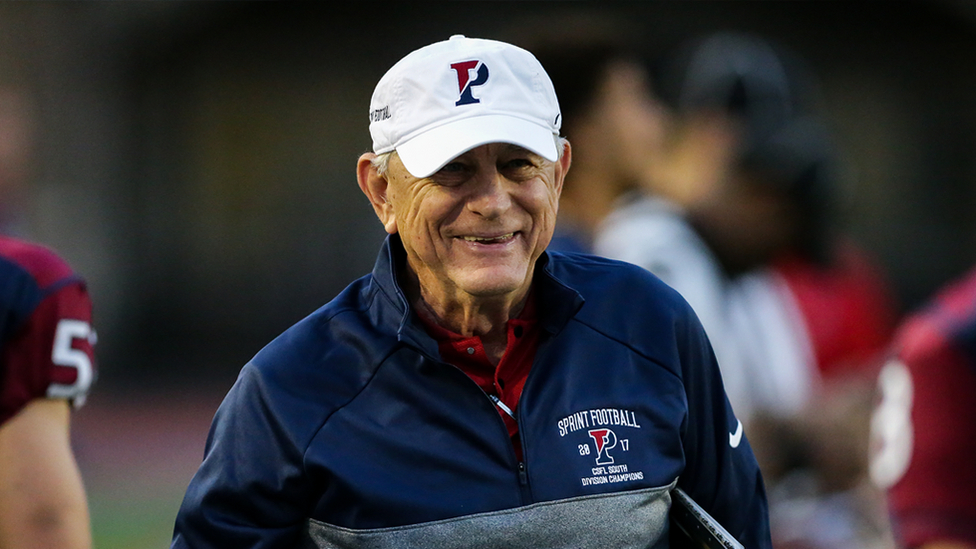 Wagner to Retire After 2019 Season
By: CSFL Staff | Collegiate Sprint Football League | August 26, 2019
Longtime Penn sprint football coach Bill Wagner has announced that the 2019 season will be his final season on the sidelines. The following story was published by the Penn athletic department and can be found HERE.
PHILADELPHIA – The 2019 University of Pennsylvania sprint football season will be the 50th with Bill Wagner as the program's head coach.
On Friday evening, in his season-opening meeting with this year's squad, Wagner told the group that it will also be his last.
"I am a lucky man," said Wagner, who celebrated his 80th birthday earlier this summer. "I have lived a dream job, coaching young men who played 'for the love of the game.' Our guys enjoyed their experience, had fun and success, and developed life-long friendships and building blocks for their careers. To play a role in that development is humbling.
"Firm and Fair. That's how I played the game, and it was the way my mentor—my Dad, Ben Wagner—taught me. There are too many people to thank, both in my immediate family and my Penn family, and hopefully I'll have time over these next few months to get to everyone. Just know that I am constantly blown away by everyone's support and loyalty, from the current players and their parents, to the alums, to the athletic administration.
"Fred Shabel once told me, 'if you hang around good people long enough, good things will happen.' I have been blessed to spend the last 50 years around so many great people here at Penn, and because of that I have had an amazing life and career."
Wagner's final season as the sprint football program's patriarch will begin with the annual Alumni Game on Saturday, Sept. 7. The final home game will take place against Collegiate Sprint Football League (CSFL) newcomer Alderson Broaddus on Saturday, Oct. 26—unless the Quakers advance to the CSFL Championship Game, which will take place on Friday, Nov. 8 on Franklin Field.
"Bill Wagner is a coaching icon at the University of Pennsylvania," said Dr. M. Grace Calhoun, the T. Gibbs Kane, Jr. W'69 Director of Athletics and Recreation at Penn. "Our sprint football program is truly his program—he has coached nearly every living member, and he has been the driving force behind everything that makes it one of the top programs in our Division. 'Wags' has positively impacted the lives of more than 1,500 student-athletes, both in sprint football and through his many years as an assistant baseball coach at Penn, and we look forward to celebrating his legacy this fall during his landmark 50th season leading our sprint football program."
Wagner—who also spent 35 years as an assistant and pitching coach for Penn's baseball program under Bob Seddon—has won five CSFL titles during his career, the most recent coming in 2016 when the Quakers went a perfect 7-0 in league play. The Quakers also played in the inaugural CSFL Championship Game when the league went to divisions in 2017, dropping a 10-0 decision at Army West Point. Six of his players have earned a total of eight CSFL Most Valuable Player awards, including a pair of two-time winners in Tim Ortman (1998-99) and Mike McCurdy (2015-16).
Starting in 2002, a trophy named after Wagner was awarded to the Ivy League team with the best finish in the CSFL standings. Over the next 15 years, Penn won the William R. Wagner Trophy 11 times over Cornell and Princeton. The trophy was retired in 2016 when the Tigers dropped their program.
Overall in his career at Penn, Wagner has been the head coach for 136 wins in sprint football and was on staff with Seddon for 634 wins with the Quakers baseball program. Overall, more than 1,500 Penn alums can say they played for him.
Off the field, Wagner was the driving force behind getting the head coaching position endowed prior to the 2014 season, so that his successors will serve as the William R. Wagner Head Coach of Sprint Football. Following the 2016 season, he was awarded the Edward G. Myer Distinguished Service Award by the Brooks-Irvine Club Board of Governors for his contributions to sports at all levels and support of collegiate and scholastic football. Wagner also was President of the South Jersey Hot Stovers Baseball Club for 15 years and currently serves as Chairman of the South Jersey Baseball Hall of Fame.