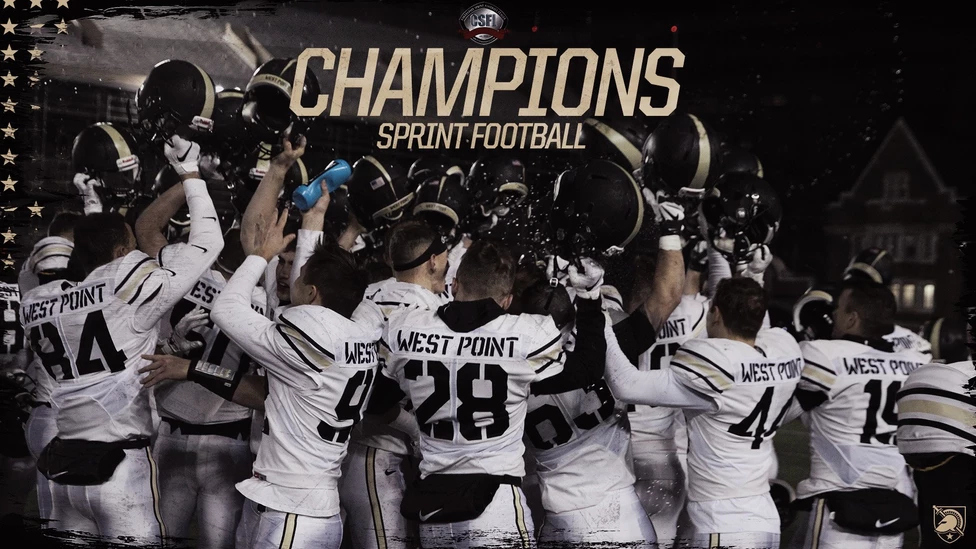 Army Blanks Navy in CSFL Title Game
By: CSFL Staff | Collegiate Sprint Football League | November 8, 2019
The Army West Point sprint football team claimed its 36th Collegiate Sprint Football League title with a 13-0 shutout victory over Navy Friday night in the CSFL Championship game at Franklin Field in Philadelphia.
The Black Knights avenged an early season loss to Navy with a dominant defensive showing in the title game, holding the Midshipmen to 125 total yards of offense and no points. Both programs finish the year with matching 7-1 overall records and a split in the season series.
This marked the second straight year that the two rival service academies met for the league title. It also marked the second straight year that an undefeated season was thwarted by the loser of the regular season meeting. Last year, Army defeated Navy in week two and went unbeaten in the regular season before Navy returned the favor and claimed the league title. This year, Navy defeated Army 14-7 in week two before posting a 7-0 record in the regular season, only to see Army return the favor Friday night.
The Black Knights opened the scoring with 3:15 to play in the first quarter when Matthew Sauter rushed in from seven yards out. The PAT was blocked to keep it a 6-0 game.
That margin would stand until late in the fourth quarter when Army put the game away with a 56-yard passing touchdown from Ryan Sullivan to Nitai Chun with 5:07 to play to account for the final points.
Army put up 266 yards of total offense with 186 passing yards and 80 rushing yards. Navy rushed for 84 yards and threw for 41 to account for its 125 total yards. Both teams lost two fumbles in the game and Army threw one interception as the teams combined for five turnovers in what was a defensive masterpiece from both squads.
Sullivan completed 13-of-26 passes for 186 yards with one touchdown and one interception. Sauter rushed for 62 yards and one score and Chun finished with two catches for 65 yards and one touchdown. Tom Williamson added 51 receiving yards.
Navy got 44 total rushing yards from quarterback Braydan Chmiel, whose final stat line was hampered by a total of eight sacks in the game. He gained 85 yards on 23 carries, but lost 41 yards on the sacks. Chmiel also threw for 41 yards. Caleb Champion rushed for 24 yards and Jay Cooke caught three passes for 18 yards.
The Army defensive front was led by Bobby Downing and NaVonte Dean, who combined for 7.0 tackles for loss and 6.5 sacks. Dean tallied a game-high 10 tackles with 3.5 TFL and 3.0 sacks, while Downing added 9 tackles, 3.5 TFL and 3.5 sacks. Tate Blessinger and Onorino Tamburri each had 3.0 TFL and Nate Hagg recovered one fumble.
Navy got eight solo tackles from David Postma, who also had one forced fumble and one fumble recovery. Troy Monroe finished with 2.0 TFL and one sack. Adam Weissenfels pulled down one interception and Tom Jacobsen grabbed one fumble recovery.
The two service academies have won all three of the CSFL title games since the league split into two divisions and installed the championship game three years ago. Army won the title in 2017 and 2019 and Navy claimed the 2018 title.
Friday's game marked the conclusion of the 2019 CSFL season. The league will announce its All-Conference teams after the coaches vote in the coming weeks.