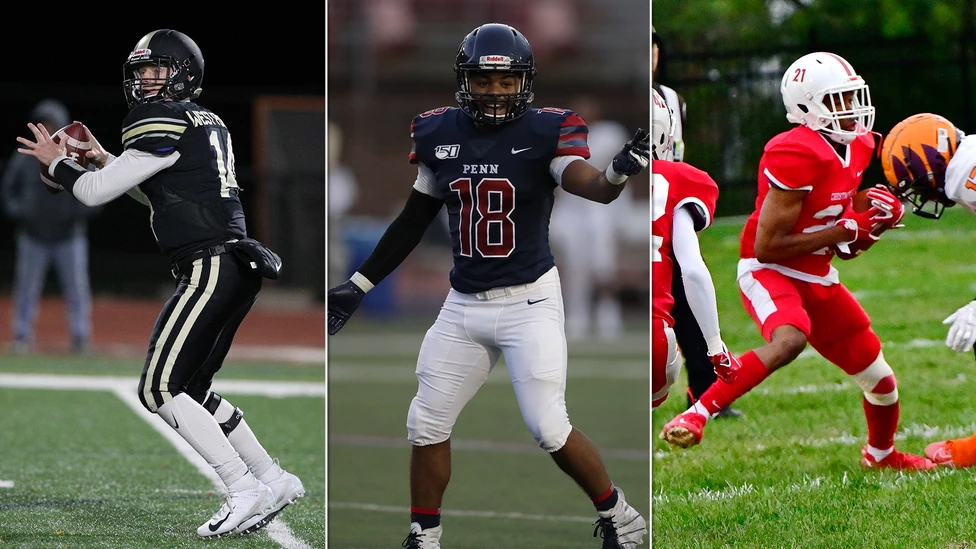 2019 Week 8 Review
By: CSFL Staff | Collegiate Sprint Football League | November 5, 2019
The final week of the CSFL regular season saw Army West Point lock up the North Division title with a win over Mansfield, setting up a rematch of last year's championship game against Navy. Chestnut Hill, Penn and Navy all picked up wins in the final week of the season as well.
WEEK 8 PLAYERS OF THE WEEK
Offensive Player of the Week: Ryan Sullivan, QB, Army West Point (Falkville, Ala.)
Sullivan threw for league-highs of 30 completions, 443 yards and five touchdowns in leading Army West Point to a 52-7 win over Mansfield to lock up the North Division crown. It marked the first 400-yard passing effort by an Army quarterback since 2012.
Defensive Player of the Week: Lewis Evans, LB, Penn (Haddonfield, N.J.)
Evans recorded a 15 total tackles, including nine solo, in leading the Penn defense in a 31-21 win over Caldwell. He also had one tackle for loss, one forced fumble and one fumble recovery in the victory.
Special Teams Player of the Week: Terrell Bush, DB, Chestnut Hill (Valley Stream, N.Y.)
Bush took a kickoff 72 yards for a touchdown to help Chestnut Hill jump out to an 18-0 lead on the way to a 32-19 win over St. Thomas Aquinas. He finished his day with 82 return yards, four total tackles and three pass breakups to go along with his touchdown.
----------
WEEK 8 RESULTS
Alderson Broaddus (0) at Navy (49)
Navy capped a perfect regular season with a 49-0 shutout win over Alderson Broaddus. The Midshipmen put up 383 yards of total offense, while the Battlers managed 139 yards of offense.
Caleb Champion rushed for 101 yards and one touchdown to lead the Navy offense. Terry Totta added 61 yards and one score and Braydan Chmiel rushed for 48 yards and one score. Jake Foss and William Leong both threw one TD pass, with Eric Spicer and Justin Newell coming down with those TD grabs. Newell also returned a fumble for a touchdown on special teams. David Postma tallied seven tackles and one TFL to lead the Navy defense. Troy Monroe added 1.5 tackles for loss and one interception.
Alderson Braoddus got 58 passing yards from Joshua Derocher and 36 rushing yards from Siemoran Farrar. Max Christ caught two passes for 55 yards. AJ Arnold recorded 11 tackles to lead the Battler defense. Ty'Sean Tyler had one interception and two pass breakups.
Alderson Broaddus finishes its inaugural season in the league with a 1-6 overall record. Navy will look to defend its CSFL title from last fall when it plays rival Army West Point Friday night in the CSFL Championship game at Franklin Field in Philadelphia. Kickoff is set for 7 p.m.
----------
Mansfield (7) at Army (52)
Army claimed the North Division in emphatic fashion with a 52-7 win over Mansfield last week. The Black Knights put up 664 yards of total offense, including 549 passing yards, while holding the upstart Mounties to 137 yards.
Ryan Sullivan led the way for Army by completing 30-of-42 passes for 443 yards with five touchdowns and one interception. JC Watson also threw for 106 yards and ran for 82 yards. Tom Williamson caught 10 passes for 181 yards and one score. Nitai Chun caught eight passes for 163 yards and two touchdowns and Kraig Hamilton caught eight passes for 145 yards. David Dickerson tallied seven tackles, two TFL and one forced fumble for the Army defense.
Koby Peacock threw for 85 yards and one touchdown for Mansfield, with that score going to D.J. Mclean from 10 yards out. David Butler, who entered as the league's leading rusher, was limited to 27 yards on 16 carries. Andrew Schwenk recorded 12 total tackles and Nick Yarnevich added 11 stops, one interception and one blocked kick.
Mansfield finishes the year with a 5-2 overall record for its best single-season performance in program history. Army will look to avenge a week two loss to rival Navy when the two service academies meet in the CSFL Championship game Friday night at 7 p.m. at Franklin Field in Philadelphia.
----------
Chestnut Hill (32) at St. Thomas Aquinas (19)
Chestnut Hill jumped out to an 18-0 lead and held off a late charge from St. Thomas Aquinas to post a 32-19 win. The Spartans for the deficit to five points at 24-19 with 7:12 to play before the Griffins put the game away with a late touchdown.
St. Thomas Aquinas won the offensive battled with a 273-199 edge in total offense, but threw three interceptions and fumbled the ball six times.
Michael Marino threw for 130 yards with two touchdowns and three interceptions for Chestnut Hill. Domoree Hill caught two passes for 87 yards and one score. Sef Penson rushed for 57 yards and one touchdown and Terrell Bush returned a kickoff 72 yards for a touchdown. Ryan Jakeman recorded eight total tackles and one tackle for loss to lead the defense. Rahsul Brown pulled down two interceptions.
Kiel McKenzie threw for 218 yards with two touchdowns to lead the Spartan offense. Jimmy English caught four passes for 60 yards and one score. Coleby Cherrington caught three passes for 67 yards and one score and Matthew Ehret added one TD grab. Edward Ortiz recorded eight total tackles, including seven solo stops and one sack. Daniel Grossman finished with 3.0 tackles for loss and two forced fumbles.
Chestnut Hill finishes the year with a 5-2 overall record, while St. Thomas Aquinas posted a 2-5 mark in its second season in the league.
----------
Penn (31) at Caldwell (21)
Penn emerged with a 31-21 victory in a back-and-forth affair to send head coach Bill Wagner out with a win over Caldwell to cap his 50th and final season on the sidelines.
The teams traded touchdowns early and were tied at 7-7 and 14-14 in the first half before Penn took a 17-14 lead to the break after an Alex Schoney 26-yard field goal as time expired. The Quakers added to the lead on the first possession of the second half and tallied the final insurance points with 2:14 left to put the game away.
Penn put up 401 yards of offense and Caldwell went for 360 yards as the teams combined for 761 yards of offense.
Eddie Jenkins rushed for 108 yards and one touchdown and threw for 178 yards with one touchdown and no interceptions to lead the Penn offense. LaQuan McKever added 74 rushing yards and one touchdown. Billy Murphy caught six passes for 99 yards and one touchdown. Lewis Evans tallied a league-high 15 total tackles to go along with one TFL, one forced fumble and one fumble recovery to lead the Penn defense.
Armani Bermudez rushed for a game-high 149 yards with two touchdowns to lead the Caldwell offense. Timothy Palmer threw for 87 yards and rushed for 43 yards. Jeremy Colon caught one 50-yard TD pass from Palmer. Randy Antenor recorded nine total tackles with 3.0 sacks to lead the Caldwell defense. Royce Francisco added nine stops and 1.0 sack.
Caldwell finished the season with 2-5 overall record, while Penn closed the year with a 5-2 mark.
Cornell at Post (Forfeit win for Cornell)
Post made an internal decision to cancel the final game of the season, awarding a forfeit victory for Cornell. Post officially finishes the season at 0-7, while Cornell ends the year at 2-5 with the forfeit victory.
----------
CSFL CHAMPIONSHIP GAME - Nov. 8 (Franklin Field in Philadelphia, Pa.)
11/8: Army West Point vs. Navy (7 p.m.) | Live Stats