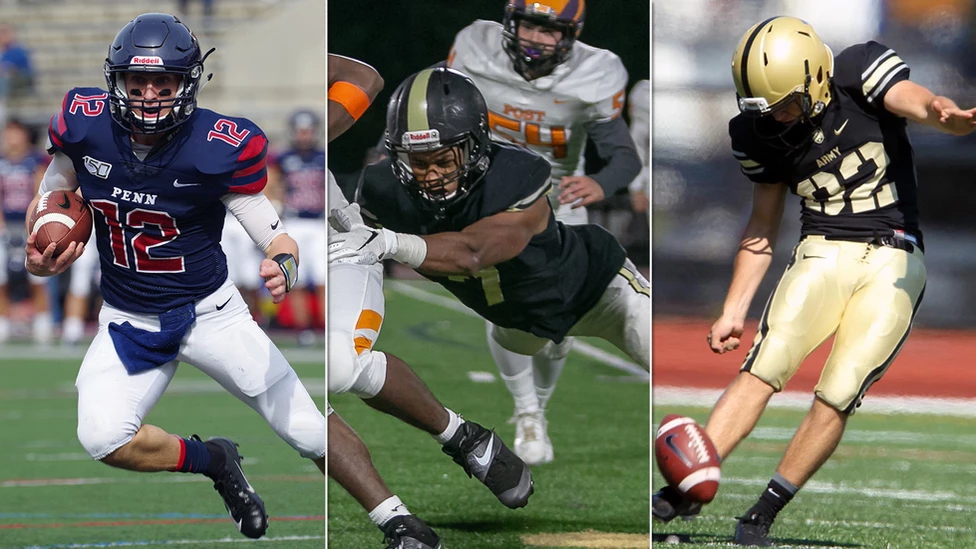 2019 Week 7 Review
By: CSFL Staff | Collegiate Sprint Football League | October 29, 2019
The seventh and penultimate week of the CSFL season saw Navy running back Terry Totta earn a spot on SportsCenter's Top 10 plays on ESPN, Mansfield clinch its best season in program history and victories by Army West Point, Penn and Chestnut Hill.
WEEK 7 PLAYERS OF THE WEEK
Offensive Player of the Week: Eddie Jenkins, QB, Penn (Pittsburgh, Pa.)
Jenkins earns his third CSFL weekly award of the season after a dominant offensive showing in Penn's 49-7 win over Alderson Broaddus. Jenkins accounted for all seven Quaker touchdowns, rushing for 106 yards with four touchdowns on just 13 carries and adding 263 passing yards and three touchdowns through the air to finish with 369 yards of total offense and seven touchdowns.
Defensive Player of the Week: NaVonte Dean, DE, Army West Point (Fairfax, Va.)
Dean led the Army defense in a 34-7 win over St. Thomas Aquinas with six total tackles, five solo stops and a season-high 3.5 sacks. To top it off, he also picked off one pass and returned it 54 yards for his first career touchdown.
Special Teams Player of the Week: Seppi Ortman, PK, Army West Point (Lafayette, Calif.)
Ortman was perfect in the kicking game and tallied 10 points in the Army win last week. He connected on all four of his PAT kicks and booted field goals from 32 and 43 yards, with the 43-yarder standing as his career-long and the second longest in the league this season.
----------
WEEK 7 RESULTS
Caldwell (11) at Chestnut Hill (28)
Chestnut Hill went on a 20-0 run in the second half to pull away for a 28-11 win over Caldwell. The Griffins recorded 312 total yards of offense with 252 passing yards, while the Cougars were limited to 215 total yards with 121 of that coming on the ground.
Michael Marino threw for 241 yards with two touchdowns to lead the Chestnut Hill offense. Domoree Hill caught five passes for 102 yards with one touchdown. Colby Goldsmith added four grabs for 88 yards and one score and Sef Penson ran for 56 yards and one touchdown. Ryan Jakeman led the defense with 14 total tackles, 11 solo stops, one forced fumble and one blocked kick.
Armani Bermudez rushed for 101 yards and one touchdown to lead the Caldwell offense. Timothy Palmer threw for 73 yards and ran for 15 yards. Royce Francisco led the defense with eight total tackles, including 2.0 tackles for loss. Adam Robbs recorded one interception and also recovered one fumble.
Chestnut Hill will close its season on the road at St. Thomas Aquinas Saturday night at 6 p.m. Caldwell will host Penn Saturday night at 7 p.m. to close the season.
----------
Navy (70) at Cornell (7)
Navy jumped out to a 24-0 lead in the first quarter and cruised to a 70-7 win on the road at Cornell last week. The highlight of the night came in the fourth quarter when Terry Totta took a handoff on the Cornell 33-yard line and was med almost immediately by Cornell defenders. He kept the legs churning and got help from most of the offense to carry the entire pile 30 yards for a touchdown (watch video here). The play was featured at No. 4 on SportsCenter's Top 10 Plays on ESPN and was picked up by Reddit College Football and other social media football media nationally.
Navy put up 438 yards of offense and held Cornell to 165 total yards.
The Midshipmen rushed for 10 touchdown on the evening with Totta, Braydan Chmiel, Caleb Champion and Jacob Hudson all rushing for two scores and Matthew McGee and Jake Foss adding one TD each. Jared Swenson connected on all 10 of his PAT kicks and the Navy defense came up with six interceptions, led by a pair from Luis Castillo.
Aneesh Agrawal threw for 90 yards and rushed for one touchdown to lead Cornell. Jacob Wynkoop added 47 rushing yards. Matt Peck led the defense for the Big Red with 11 total tackles, including eight solo. Kai Mulligan pulled down one interception.
Navy will close the regular season Friday night at home against Alderson Broaddus at 7 p.m. before playing the winner of the Army-Mansfield game Nov. 8 in the CSFL title game. Cornell's season has come to an end as Post has elected not to play its game in week eight against the Big Red. Cornell will receive a forfeit win.
----------
Alderson Broaddus (7) at Penn (49)
Penn scored the first 21 points and rolled to a 49-7 win over Alderson Broaddus last week. The Quakers put up 534 yards of total offense and limited the Battlers to just 54 total yards.
Eddie Jenkins was an offensive machine for Penn, accounting for all seven of his team's touchdowns. Jenkins rushed for 106 yards and four touchdowns on 13 carries and threw for 263 yards and three touchdowns. Sam Mintz added 92 rushing yards. Brendan McCaffrey caught five passes for 116 yards and one touchdown and Ben Klaus caught three passes for 63 yards and two scores. Nicholas Dante tallied 4.0 tackles for loss and D.J. Nigh and Aaron Johnson each had 2.0 sacks.
Jarris Runions rushed for 33 yards and one touchdown and Siemoran Farrar rushed for 41 yards to lead Alderson Broaddus. Sam Soloman recorded seven solo tackles and one tackle flor loss to lead the defense. Malik Washington added one interception.
Penn will close the season Saturday night on the road at Caldwell at 7 p.m. Alderson Broaddus will visit Navy Friday night at 7 p.m. to close its inaugural season.
----------
Army (34) at St. Thomas Aquinas (7)
Army scored the first 34 points of the game and cruised to a 34-7 win over St. Thomas Aquinas to set up a showdown with Mansfield for the North Division title.
The Black Knights racked up 20 first downs and posted 328 yards of offense while limiting the Spartans to 120 total yards.
Ryan Sullivan threw for 124 yards with two touchdowns to pace the Army offense. Tom Williamson and Justin Charette each caught one TD pass and JC Watson threw for 42 yards and rushed for 42 yards. NaVonte Dean tallied six tackles, 3.5 sacks for loss and returned one interception 54 yards for a touchdown.
Matt Yuvienco threw for 82 yards and one touchdown and rushed for a team-high 13 yards to pace the Spartans offense. The TD pass was a 65-yard strike to Ernest Stallworth. Sheriffh Bittaye tallied nine total tackles, 3.5 tackles for loss and 2.5 sacks to pace the defense. Carlos Fernanfez grabbed one interception.
St. Thomas Aquinas will host Chestnut Hill Saturday at 6 p.m. to close the season. Army will host Mansfield Friday night at 7 p.m. in a game that will determine the outright winner of the North Division.
----------
Post (6) at Mansfield (28)
Mansfield improved to 5-1 for the first time in program history with a 28-6 win over Post to set up a showdown in week eight with Army for the North Division.
The Mountaineers put up 241 total yards with 105 on the ground and 136 in the air, while holding Post to -39 rushing yards and 105 total yards.
David Butler had his fifth straight game with at least 100 yards rushing to lead the Mansfield offense with 138 yards and two touchdowns on 25 carries. Koby Peacock threw for 103 yards and one touchdown. D.J. Mclean caught five passes for 67 yards and one score. Matt Roberts led the Mountie defense with 10 total tackles, including 4.0 tackles for loss, to go along with one forced fumble.
Post got 144 passing yards and one touchdown from Nick D'Elia. Robert Sherry III caught five passes for 77 yards and one score and Norell Jackson caught six passes for 66 yards. Hansley Dalembert had another incredible game up front defensively, recording 7.0 tackles for loss and 2.5 sacks to lead the Post defense. Cameron Francette added 13 tackles and 4.5 tackles for loss.
Mansfield will travel to Army West Point Friday night for a 7 p.m. kickoff that will decide the North Division winner. Post has elected to end its season and will forfeit its scheduled week eight game against Cornell.
----------
WEEK 8 SCHEDULE
11/1: Alderson Broaddus at Navy (7 p.m.)
11/1: Mansfield at Army (7 p.m.)
11/2: Cornell at Post (Noon)
11/2: Chestnut Hill at St. Thomas Aquinas (6 p.m.)
11/2: Penn at Caldwell (7 p.m.)
CSFL CHAMPIONSHIP AT FRANKLIN FIELD IN PHILADELPHIA
11/8: Army/Mansfield winner vs. Navy