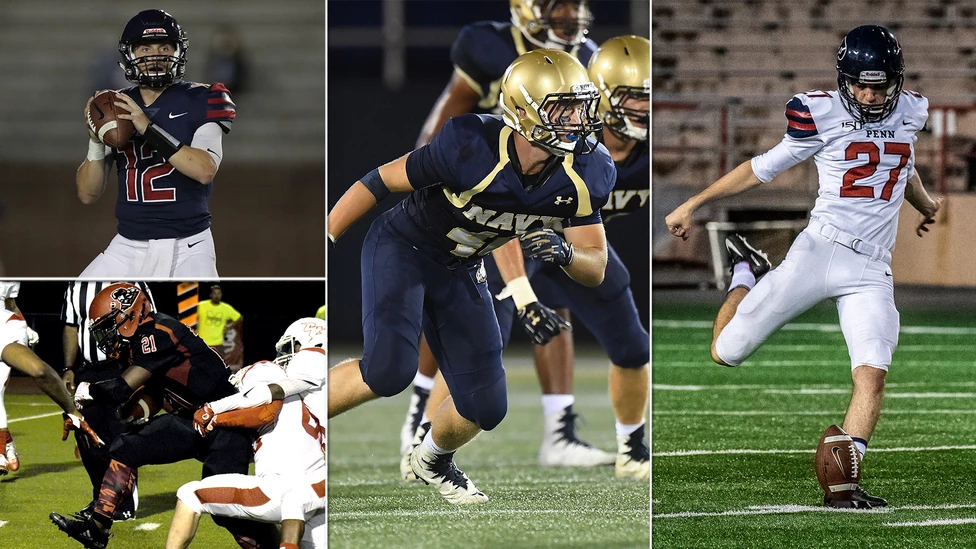 2019 Week 2 Review
By: CSFL Staff | Collegiate Sprint Football League | September 24, 2019
The second week of the CSFL season saw Navy go into rival Army West Point and come away with a 14-7 win in a rematch of last year's CSFL Championship game. Week two also saw inaugural program Alderson Broaddus pick up its first win in program history.
WEEK 2 PLAYERS OF THE WEEK
Co-Offensive Player of the Week: Eddie Jenkins, QB, Penn (Pittsburgh, Pa.)
Jenkins led the Quakers offense with seven total touchdowns in its 61-7 victory over Cornell. Jenkins was an efficient 11-for-12 passing for 221 yards and four touchdowns and added another three touchdowns on five carries for 34 yards. The senior quarterback drove Penn to the end zone on each of its first seven drives, and eight of its first nine drives. Jenkins has now been responsible for 60 of Penn's 82 points with four passing touchdowns and six rushing touchdowns on the season.
Co-Offensive Player of the Week: David Butler, RB, Mansfield (Philadelphia, Pa.)
Butler shattered the Mansfield single-game program record with 254 rushing yards on 25 attempts against Caldwell on Saturday. The junior averaged 10.1 yards per carry and ripped off a long of 74 yards on the day. Butler also caught a 12-yard touchdown pass. His 254 rushing yards topped the previous Mansfield sprint football single-game rushing record by more than 100 yards.
Defensive Player of the Week: David Postma, LB, Navy (Bellevue, Wash.)
Postma scored the game-winning touchdown with a pick six in the second half to lift Navy over rival Army West Point in the annual Star Game as part of the Army-Navy Series presented by USAA. He grabbed an interception with 2:21 to play in the third quarter and returned it 14 yards for a touchdown that would prove to be the game-winning score in a rematch of last year's CSFL Championship game. Postma also finished the night with eight total tackles, a half-tackle for loss and an additional pass breakup. His game-winning INT was one of five turnovers the Navy defense forced in the game.
Special Teams Player of the Week: Alex Schoney, PK, Penn (Oak Park, Ill.)
Schoney was a perfect 5-for-5 on PAT kicks and booted 10 kickoffs for 495 yards, averaging 49.5 yards per kickoff in Penn's 61-7 win over Cornell last week.
----------
WEEK 2 RESULTS
Navy (14) at Army West Point (7)
Navy picked up its first Star since 2016 in the annual Star Game between the two rival service academies and won its second straight game over Army after also claiming the 2018 CSFL title game. David Postma intercepted a pass and returned it for a touchdown to put the Midshipmen up 14-7 in the third quarter and neither team would score again from there.
Army put up 312 yards of total offense and held Navy to just 123 total yards, but the Black Knights turned the ball over five times and Navy was able to capitalize on those miscues. Army threw for 219 yards, but had four interceptions on the night, and ran for 93. Navy threw for just 67 yards on four completions and rushed for 56 yards in a game that was dominated by defense.
Braydan Chmiel completed four passes for 67 yards and one touchdown to lead the Navy offense. That score was a 20-yard pass to Ramesh Nagarajah that tied the game at 7-7 with 6:04 to play in the third quarter.
Army scored the opening points of the game with an eight-yard touchdown pass from Ryan Sullivan to Nitai Chun with 44 seconds left in the first half, sending the game to the break with the Black Knights leading 7-0. Sullivan threw for 219 yards with three interceptions. Matther Sauter caught five passes for 59 yards.
Navy got 12 tackles, 3.0 tackles for loss and 2.0 sacks from Troy Monroe to lead the defense. Postma added eight total tackles to go along with his game-winning interception and Sammie Davis had nine tackles.
Army got seven total tackles, 3.5 tackle for loss and one sack from Alex Sobeski and eight total tackles from David Dickerson.
Last week's game between these two could very well have been a preview for the 2019 CSFL title game, as both squads will be favorites in their respective divisions once divisional play begins this week. Navy will travel to Chestnut Hill Friday night for a 7 p.m. kickoff, while Army will visit Cornell Friday night for a 7 p.m. kickoff.
----------
Post (2) at Alderson Broaddus (21)
Alderson Broaddus needed just two games to pick up the first win in program history with a 21-2 victory over Post last week. The Battlers scored seven points in each of the first three quarters to lead 21-0 heading to the fourth before Post got on the board with a safety to account for the final score.
AB put up 129 yards of offense with 106 passing yards and 23 rushing yards. Post was held to 88 yards with 97 passing yards and -9 rushing yards.
Joshua Derocher completed all five of his passes for 54 yards and rushed for one touchdown to lead the AB offense. Timmy Tillman also completed all of his passes, going 4-for-4 for 52 yards with one touchdown, which was caught by Max Crist. Crist finished with 41 receiving yards and a game-high 39 rushing yards. Ronnie Robinson added one rushing score. Hosea Addison recorded eight total tackles, 2.5 tackles for loss and a half-sack.
Post was led by Nick D'Elia, who threw for 52 yards. Roberty Sherry IIII caught five passes for 33 yards and Jake Butler rushed for 13 yards. Dante Gilbert recorded 5.5 tackles for loss and one sack, while Malik Thorn recorded 4.5 tackles for loss. The Post defense as a unit finished with 20 tackles for loss.
Alderson Broaddus will host its third straight game when Caldwell visits Sunday for a noon kickoff. Post will host Penn Saturday afternoon at noon.
----------
Penn (61) at Cornell (7)
Penn exploded for 47 first half points and rolled to a 61-7 victory on the road at Cornell last week. The Quakers put up 506 yards of offense in the game, with 285 rushing yards and 221 passing yards. Cornell finished with 179 total yards with 135 of that coming on the ground.
Eddie Jenkins accounted for seven Penn touchdowns, completing 11-of-12 passes for 221 yards with four TDs and no interceptions and also rushing for 34 yards and three scores on just five carries. LaQuan McKever rushed for 149 yards and one TD and Sam Mintz added 75 rushing yards and one score. Barry Klein caught five passes for 148 yards and one score, while Bully Murphy, Ben Klaus and Mintz all caught one TD pass. Aaron Johnson led the defense for the Quakers with nine solo tackles, three tackles for loss and one forced fumble.
Jacob Wynkoop rushed for 59 yards and the lone Cornell touchdown of the game. Aneesh Agrawal threw for 31 yards. Seth Henks led the defense with seven total tackles.
Penn will travel to Post Saturday for a noon kickoff, while Cornell will host Army West Point Friday night at 7 p.m. in week three.
----------
Chestnut Hill (25) at Mansfield (22)
Chestnut Hill connected on a 40-yard touchdown pass with 3:40 to play in the fourth quarter to come away with a 25-22 win at Mansfield in the closest game of the week. The Griffins jumped out to a 13-0 lead and maintained a 19-6 lead with seven minutes to play in the third before Mansfield reeled off 16 unanswered points to take a 22-19 lead on the final play of the third quarter.
Michael Marino connected with James Naylor Jr. from 40 yards out for the game-winning points with 3:40 to play, which marked the third TD pass of the night. Marino finished with 254 passing yards, three touchdowns through the air and another with his legs. Naylor went for 63 yards and the winning score, while Domoree Hill caught six passes for 95 yards and two scores and Akeem Browne caught four passes for 72 yards. Sef Penson added 97 rushing yards. Ryan Jackson led the Griffin defense with nine total tackles, 2.5 tackles for loss and 1.5 sacks.
Chestnut Hill put up 377 yards of offense with 254 passing and 123 rushing. Mansfield finished with 460 yards of offense with 310 rushing yards and 150 passing yards, but turned the ball over three times.
David Butler rushed for a Mansfield record 253 yards and averaged 10.1 yards per carry. Koby Peacock threw for 150 yards with three touchdowns. D.J. Mclean caught three passes for 94 yards and one score. Matt Roberts paced the defense with 11 total tackles, including 1.5 tackles for loss.
Chestnut Hill will host Navy in week three on Friday night at 7 p.m., while Mansfield will host St. Thomas Aquinas Saturday at 7 p.m.
----------
Caldwell (26) at St. Thomas Aquinas (0)
Caldwell scored 20 third quarter points to break open a close game and cruise to a 26-0 win on the road at St. Thomas Aquinas in week two. The Cougards put up 395 yards of total offense with 282 rushing yards and 113 passing yards, while holding the Spartans to 107 total yards that included -22 rushing yards.
Armani Bermudez rushed for 134 yards and one touchdown on just nine carries to lead Caldwell. Timothy Palmer threw for 76 yards with one touchdown and also rushed for one score. Steven Yost also passed for one touchdown. Dajuan Carr and Zion Rodriguez each caught one TD for Caldwell. Jahmall Readus had six total tackles and Royce Francisco had three tackles for loss and one sack to lead the Caldwell defense.
St. Thomas Aquinas for 79 passing yards from Kiel McKenzie and 43 passing yards from Benny Storms. Quazier Dailey rushed for 29 yards and Isiah Davis had 30 receiving yards. Maxwell Johnson led the defense with 13 total tackles, while Lavonno Mitchell had eight stops, one forced fumble and one fumble recovery.
St. Thomas Aquinas will travel to Mansfield Saturday night for a 7 p.m. kickoff, while Caldwell will visit Alderson Broaddus Sunday for a noon kickoff.
----------
WEEK 3 GAMES
9/27: Navy at Chestnut Hill (7 p.m.)
9/27: Army at Cornell (7 p.m.)
9/28: Penn at Post (Noon)
9/28: St. Thomas Aquinas at Mansfield (7 p.m.)
9/29: Caldwell at Alderson Broaddus (Noon)