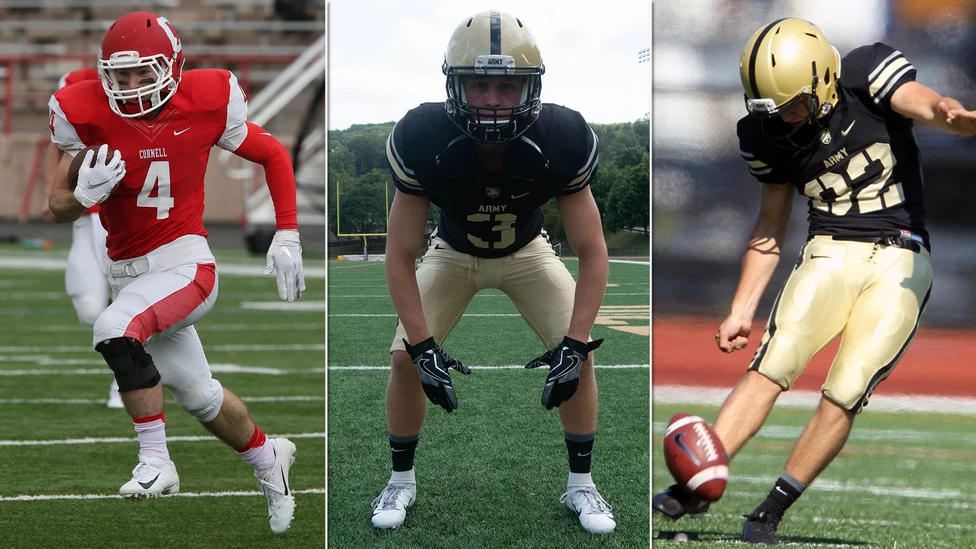 2019 Week 1 Review
By: CSFL Staff | Collegiate Sprint Football League | September 17, 2019
The first week of the 2019 CSFL season is in the books with Army West Point, Navy, Chestnut Hill, Cornell and Mansfield emerging with 1-0 records. The headline of the week was the Army at Penn game, which was settled by a field goal in the closing minutes of the fourth quarter to give the Black Knights a 24-21 victory.
WEEK 1 PLAYERS OF THE WEEK
Offensive Player of the Week: Will Griffen, RB, Cornell (Schuylerville, N.Y.)
Griffen rushed for a league-high four touchdowns to go along with 114 yards in leading the Cornell offense to a 38-21 win on the road at Alderson Broaddus. He also caught six passes for 24 yards to finish with 138 yards of total offense.
Defensive Player of the Week: Ryan Leach, DB, Army West Point (Fayetteville, N.C.)
Leach pulled down two interceptions and broke up two additional passes in leading the Army defensive effort in a close 24-21 win on the road at Penn. His four passes defended were the most in the league in week one. In additional to his pass defense, Leach recorded five total tackles, including four solo.
Special Teams Player of the Week: Seppi Ortman, PK, Army West Point (Lafayette, Calif.)
Ortman kicked the game-winning field goal from 21 yards out inside the last five minutes to give Army a 24-21 win on the road at Penn. He also booted three PAT kicks to finish the night with six key points in his team's three-point victory.
----------
WEEK 1 RESULTS
Mansfield (1) at Caldwell (0)
This game was played Saturday under protest after Caldwell had a number of players over the 178-pound weight limit at pregame weigh-ins. Caldwell emerged with a 21-20 victory in the game, but was forced to forfeit the victory due to the ineligible players. The CSFL office deemed that Mansfield would be awarded the 1-0 forfeit victory and Mansfield players would keep their individual statistics, while Caldwell's statistics will not count.
Mansfield's defense came up with eight takeaways in the game with four interceptions and four fumble recoveries. The Mounties got 163 passing yards and two TDs from Koby Peacock. Jayden Walker rushed for 40 yards and one score and D.J. Mclean and John Rogers each caught one TD pass. Matt Roberts had 10 total tackles and one sack to lead the Mansfield defense.
Caldwell's stats will not count, but Armani Bermudez led the offense with 70 rushing yards and one touchdown, while Tajae' Irby threw for 156 yards and two scores and Jared Dockett caught a 61-yard TD pass.
Mansfield will host Chestnut Hill Saturday night at 7 p.m. in week two, while Caldwell will travel to St. Thomas Aquinas Saturday for a 6 p.m. kickoff.
----------
Post (6) at Chestnut Hill (19)
Post took an early 6-0 lead before Chestnut Hill scored 19 unanswered points to pull away for a 19-6 win at home last week.
The Griffins put up 206 yards of offense and held the Eagles to 126 total yards on the day. Michael Marino threw for 115 yards and two touchdowns with no interceptions. Domoree Hill caught four passes for 77 yards and one score and Sef Penson rushed for 76 yards for Chestnut Hill.
Post was led by Nick D'Elia, who threw for 134 yards and one touchdown. Robert Sherry IIII caught eight passes for 69 yards and one score.
Chestnut Hill will travel to Mansfield Saturday night for a 7 p.m. kickoff this week, while Post will visit Alderson Broaddus Saturday for a noon kickoff.
----------
St. Thomas Aquinas (17) at Navy (42)
Navy scored 21 points in the first quarter and never looked back on the way to defeating St. Thomas Aquinas 42-17 at home Friday night.
The Midshipmen put up 370 yards of offense with 257 rushing yards, while holding the Spartans to 144 total yards of offense and -17 rushing yards.
Matthew McGee paced the Navy attack with 96 rushing yards and one touchdown. Braydan Chmiel threw for 69 yards and one score and added one rushing touchdown. Jake Foss also threw for one touchdown and rushed for one. Luke Kustra led the Navy defense with four tackles for loss and 1.5 sacks.
Kiel McKenzie threw for 161 yards with one touchdown to lead the St. Thomas Aquinas offense. Ernest Stallworth caught five passes for 93 yards and one touchdown, which came from 69 yards out. Sheriffh Bittaye led the defense with 10 total tackles, while Malyk Michel returned an interception 43 yards for a touchdown.
Navy will travel to Army West Point Friday night for the annual Star Game at 7 p.m. St. Thomas Aquinas will host Caldwell Saturday evening at 6 p.m.
----------
Cornell (38) at Alderson Broaddus (21)
Alderson Broaddus began its inaugural season of sprint football by jumping out to a 14-0 lead on Cornell after the first quarter, but the Big Red closed the game on a 38-7 run over the next three periods to come away with a 38-21 victory on the road.
Cornell put up 300 yards of offense with 162 rushing yards and 138 passing yards, while AB managed 170 total yards.
Will Griffen led Cornell with 114 rushing yards and four touchdowns. Aneesh Agrawal threw for 138 yards and Jacob Wynkoop added one rushing touchdown for Cornell.
Alderson Broaddus got 186 all-purpose yards from Tyler Smith, who returned a kickoff 91 yards for a touchdown and also caught a 47-yard touchdown pass from Joshua Derocher. Derocher also rushed for 40 yards.
Cornell will host Penn Friday night at 7 p.m. in week two, while Alderson Broaddus will host Post Saturday at noon.
----------
Army West Point (24) at Penn (21)
Seppi Ortman kicked a 21-yard field goal with 4:57 to play that would prove to be the game-winning points as Army West Point defeated Penn 24-21 on the road Friday night in what ended up being the game of the week in the league.
The two teams put together a nearly balanced box score with Army posting 346 total yards and Penn going for 411 yards. Army threw for 219 and rushed for 127, while Penn ran for 235 yards and passed for 176.
Ryan Sullivan guided the Army offense with 194 passing yards and two touchdowns. JC Watson also threw a touchdown pass. Jake Gigliotti was the standout of the offense for the Black Knights, rushing for 81 yards and catching a 62-yard touchdown to account for 143 yards of total offense. Ryan Leach recorded two interceptions and two pass breakups to lead the defense.
Eddie Jenkins led the Penn offense with 126 rushing yards and he scored all three Quaker touchdowns. Jenkins averaged 7.9 yards per carry and also threw for 176 yards, but was intercepted three times. Aaron Johnson finished with nine tackles, three tackles for loss and two sacks.
Army will host Navy in the annual Star Game Friday night at 7 p.m., while Penn will travel to Cornell Friday night for a 7 p.m. kickoff.
----------
WEEK 2 GAMES
9/20: Navy at Army (7 p.m.)
9/20: Penn at Cornell (7 p.m.)
9/21: Post at Alderson Broaddus (Noon)
9/21: Caldwell at St. Thomas Aquinas (6 p.m.)
9/21: Chestnut Hill at Mansfield (7 p.m.)