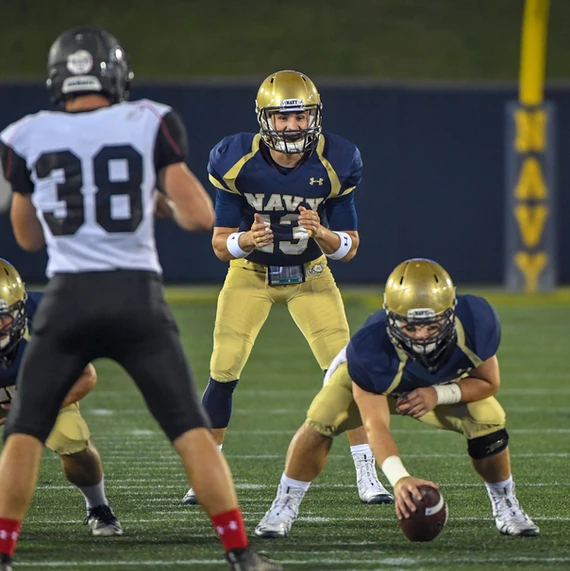 2019 CSFL Season Preview
By: CSFL Staff | Collegiate Sprint Football League | September 12, 2019
The 2019 Collegiate Sprint Football League season will kick off this weekend with all 10 teams set to take the field, beginning Friday night with three games and concluding Saturday afternoon with two more games.
The 2019 season will feature eight regular season weeks, including a week five bye for all teams the weekend of Oct. 11-12.
The 2019 season also welcomes the newest member of the league, Alderson Broaddus, which will play its inaugural sprint football game Saturday at home against Cornell. Alderson Broaddus replaces Franklin Pierce, which departed the league to move up to the NCAA Division II level this year.
The 10-member league will be split into two divisions, the North and South, with each divisional team playing each other once during the regular season to determine the final divisional standings. The rest of the schedule will be filled with predetermined crossover games against teams from the other division. Those games will not count toward the divisional record. Each of the two divisional winners will meet in the CSFL Championship game Nov. 8 at Franklin Field in Philadelphia.
The North Division consists of defending division winner Army West Point, Cornell, Mansfield, Post and St. Thomas Aquinas.
The South Division includes last year's overall champion, Navy, along with Alderson Broaddus, Caldwell, Chestnut Hill and Penn.
2018 CHAMPIONSHIP RECAP
Navy claimed the South Division title and went on to defeat North Division winner Army by a 24-10 score in the CSFL Championship game last fall. Army had won 14 straight games entering that title matchup, including a regular season tilt at Navy earlier last fall.
2019 HEADLINES
As has been the case for a number of years, the two service academy teams are both expected to field strong squads this year and enter as the favorites in their respective divisions after alternating the last two league titles.
It will be interesting to see what newcomer Alderson Broaddus can do in its first year in the league, especially after 2018 saw first-year member St. Thomas Aquinas pick up a pair of wins in its inaugural season.
Cornell, Chestnut Hill and Mansfield all won four games last season, while Penn posted a 3-3 record.
Another headline entering this season was the announcement out of Penn that longtime head coach Bill Wagner will step aside following this fall, which will be his 50th year with the program.
WEEK ONE SCHEDULE
- 9/13: Post at Chestnut Hill (7 p.m.)
- 9/13: St. Thomas Aquinas at Navy (7 p.m.)
- 9/13: Army at Penn (7 p.m.)
- 9/14: Cornell at Alderson Broaddus (Noon)
- 9/14: Mansfield at Caldwell (1 p.m.)
TEAM CAPSULES
Alderson Broaddus: Brad Jett was chosen to lead Alderson Braoddus into its inaugural season this fall after spending the last 20 years at South Harrison High School in Lost Creek, West Virginia. The AB roster will be loaded with young players and comes in with 42 freshmen and just five seniors.
Army West Point: The Army West Point sprint football team has its sights set on capturing its 36th CSFL title and fifth under head coach Lt. Col. (Ret.) Mark West. Entering his 11th year at the helm, West has accumulated a record of 59-12 making him the third winningest coach in program history. He needs just five wins to tie Bob Thompson for second place on the program's all-time wins list. The Black Knights defense returns several key members from last year's unit that held opponents to a scarce 7.29 points a game. Such members include Navonte Dean, who registered 9.0 sacks, and Tate Blessinger, who led the team with 41 total tackles. On the offensive side of the ball, Army brings back two of its three receivers that surpassed the 400-yard mark last season in Nitai Chun and Tom Williamson. Army enters the season having won its last 13 regular season games.
Caldwell: Jim Kelly enters his second season at the helm at Caldwell, where he will welcome back all five of the Cougars' all-league players from last fall, including first team selection Carl Watson. Watson finished 2018 with 316 rushing yards and 43 receptions for 677 yards. He scored eight touchdowns and led the league in receptions, receiving yards and all-purpose yards.
Chestnut Hill: Chestnut Hill will be under the direction of interim head coach Shawn Brady, who takes over this fall after previously serving as offensive coordinator. The Griffins are coming off back-to-back four-win seasons the last two years and welcome back three-time all-league quarterback Michael Marino, who threw for 1,205 yards and 13 touchdowns last fall. Chestnut Hill also welcomes back first team all-league defensive back Nate Moser to lead the defense.
Cornell: Cornell enters the year under the direction of Terry Cullen, who enters his 54th year with the program and brings more than 180 wins to the sidelines. Cullen will be assisted by associate head coach Bob Gneo for the third straight year. Cornell will be led by a trio of returning captains, including two-time all-league selection Will Griffen, who ran for 184 yards, had 112 receiving yards and 23 solo sackles last year. He is joined by captains Marcus Weeks and Jonathan Klobus.
Mansfield: The Mountaineers, under the direction of John Evans for the second straight year, look to build off their best season in sprint football program history after going 4-3 a year ago, winning the final four games of the year. Mansfield's defense returns four All-CSFL performers on defense including 2018 CSFL Newcomer of the Year Brandon Allen, who posted four interceptions and five pass break-ups last season. Dajuan Buie and Andrew Schwenk ranked in the top 15 in the league in total tackles with 35 and 24 respectively while Chase Moser was seventh in the league in sacks with 4.5. Offensively, the Mounties welcome back All-CSFL selections Dante Torrisi on the line and D.J. McLean at wideout. McLean is the program's all-time receiving yards leader despite missing most of 2018 with injury.
Navy: Navy enters the 2019 season looking for a repeat of its league title from last fall, which marked the 37th overall CSFL championship in program history and the 29th outright title. The Midshipmen will be under the direction of Major Jason Dewald, USMC, for the second year in a row. Dewald has the honor of leading a program that owns an .831 all-time winning percentage. Navy announced that its 2019 captains will be seniors Troy Monroe and J.T. Thompson. The offense welcomes back major firepower in running back Caleb Champion (688 yards and five TDs) and quarterback Braydan Chmiel (722 passing yards, 659 rushing yards, 17 total TDs).
Penn: Penn will open the 50th an final season for head coach Bill Wagner with a first week showdown against Army. Wagner has led the Quakers to 136 career wins and five league titles. Penn returns six all-league honorees from last fall, including first-team selection and Punt Returner of the Year Brendan McCaffrey as well as second-team selections Luca Curran and Matteo Murgia, and honorable mentions Eddie Jenkins, Ben Klaus and Aaron Johnson. Penn will also have the honor of playing at Franklin Field this fall, when the facility celebrates its 125th anniversary.
Post: Post enters the season looking to build on a one-win campaign last fall and will be led by head coach Joseph Newman for the third straight year. The Eagles will have to replace starting quarterback Buddy Enriquez, who threw for 549 yards and five touchdowns last fall.
St. Thomas Aquinas: Matt Barry returns for his second season as head coach at St. Thomas Aquinas after leading the program to a 2-4 mark in its inaugural season last fall. In 2019, the Spartans look to build upon their successes and take the next steps toward a postseason berth. On offense, the Spartans return key players Carlos Fernandez Pallet, James English, Matt Ehret, and Kiel McKenzie. Defensively, the Spartans return two All-CSFL players in Tyreke Smith and Malyk Michel.