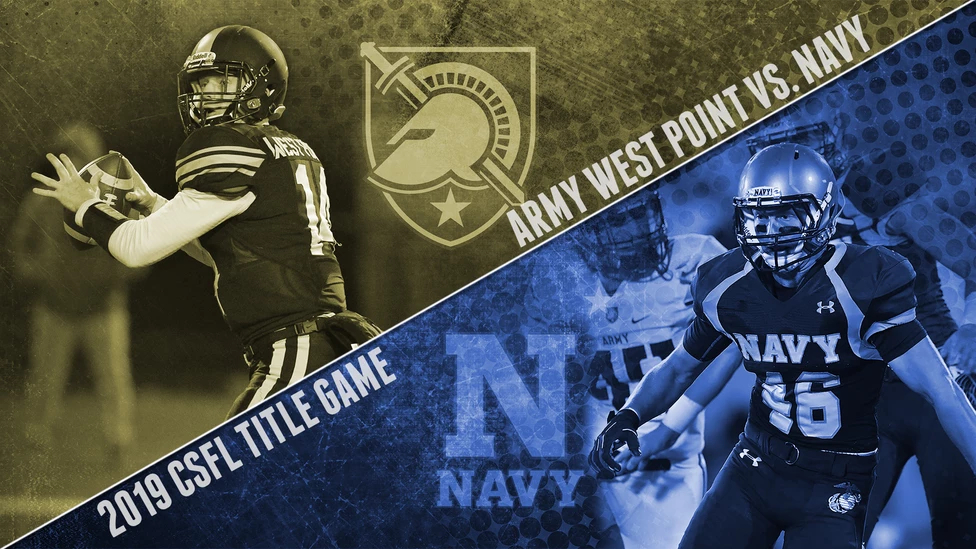 2019 Championship Preview
By: CSFL Staff | Collegiate Sprint Football League | November 17, 2019
Defending CSFL champion Navy will face off against rival Army West Point for the Collegiate Sprint Football League title Friday night at 7 p.m. at Franklin Field in Philadelphia. Coverage details, game information and a game preview can be found below.
LOCATION
- Franklin Field in Philadelphia
- Facility Information
- Hosted by the University of Pennsylvania
LIVE COVERAGE
THIRD TITLE GAME
This marks the third CSFL title game since the league was split into two divisions in 2017. Army West Point claimed the inaugural Robert L. Cullen league championship trophy in 2017 with a win over Penn. Navy earned the title last year by dethroning Army.
CHAMPIONSHIP HISTORY FOR THESE TEAMS
These are the two most decorated programs in CSFL history with a combined 72 league titles. Navy is looking to wrap up a perfect season and secure a second straight and 38th overall league title. The Midshipmen have claimed 30 outright solo league titles and have shared an additional seven titles. Army has won a total of 35 CSFL titles.
RECORDS
Navy owns a perfect 7-0 record that included a 14-7 win on the road at Army West Point back on Sept. 20 in the second week of the season. That was the closest game of the year for the Midshipmen. Navy allowed no more than 12 points in any of the final six games of the season and won their most recent two games by a combined 119-7 score. Army West Point went unbeaten in the North Division and finished the year with a 6-1 overall record with the lone blemish being the loss to Navy in week two. The Black Knights won their final five games after that loss by an average margin of 40.8 points per game and allowed no more than seven points in any of those five weeks.
SCOUTING NAVY
Navy enters the game with the league's top ranked scoring defense, allowing just 8.6 points per game and a total of 60 points on the season. The Mids rank second to Army in total defense, allowing just 210 yards per game. Offensively, Navy ranks third in the league in scoring at 34.6 points per game and ranks fifth in the league in total yardage at 300.7 yards per game.
The offense has done most of its damage on the ground, rushing for an average of 193.4 yards per game while throwing for 107.3 yards per game. Quarterback Braydan Chmiel leads the offense with 379 rushing yards and five touchdowns to go along with 421 passing yards and four scores. Caleb Champion averages 65.2 yards per game on the ground and has four TDs. Terry Totta also has four rushing scores, while Jake Foss has three rushing scores and three additional passing TDs. Just two receivers have gone over 100 yards on the season with JT Thompson leading the way with 11 catches for 188 yards and two touchdowns. Eric Spicer has seven grabs for 153 yards and a team-high three touchdowns.
Kicker Jared Swenson is 6-of-12 on field goals this season and has the league's longest successful kick at 48 yards. He made 3-of-5 attempts from beyond 40 yards during the regular season.
Navy's defense is loaded with talent, particularly at the linebacker position. David Postma leads the team with 58 total tackles, including 6.0 tackles for loss. Troy Monroe has 33 tackles and leads the squad with 9.5 tackles for loss, while Luke Kustra has 7.0 tackles for loss and a team-high 5.0 sacks. The Midshipmen have come down with an incredible 24 interceptions in just seven games this season, led by four picks from Pat Guinan and three each from Luis Castillo, Adam Weissenfels and Grant Hooper.
SCOUTING ARMY WEST POINT
Army enters the title game with the second ranked scoring offense and defense in the league. The Black Knights average 37.4 points per game and allow just 8.9 points per game. They have given up a total of just two fewer points than Navy on the season. Army leads the CSFL in total defense with opponents averaging 161.0 yards per game. The offense ranks second in the league, behind Penn, at 381.7 yards per game.
The Army offense is one the most balanced in the league as it threw the ball 242 times and ran it 256 times this season, averaging 244.0 passing yards and 137.7 rushing yards per game.
Quarterbacks Ryan Sullivan and JC Watson lead the attack with Sullivan throwing for 1,256 yards with 13 touchdowns and Watson throwing for 424 yards with four scores while also leading the team in rushing with 241 yards and one touchdown. Matthew Sauter and Jack Felgar each have four rushing TDs and Kameron Miller has run for three scores. Tom Williamson is one of the best receivers in the league and has 35 catches for 463 yards with four TDs. Justin Charette also has four TD grabs and Nitai Chun has three.
Kicker Seppi Ortman is 6-of-13 on field goal attempts this year with a long of 43 yards.
Army's defense is balanced with nine players having between 20 and 35 total tackles on the year. Caleb Doyle leads the way with 35 total stops and 4.5 tackles for loss. Tate Blessinger has 34 stops and 7.5 tackles for loss. NaVonte Dean has a team-high 7.5 sacks to go along with 9.5 tackles for loss and Alex Sobeski has 6.0 tackles for loss. Ryan Leach leads all players in the league with seven interceptions, coming down with half of Army's 14 total picks.
FIRST MEETING THIS YEAR – SEPT. 20 – Box Score
Navy scored 14 points in the third quarter and held on for a 14-7 victory on the road at Army in the annual Star Game between the rivals back in week two. The Midshipmen managed just 123 yards of total offense, while Army more than doubled that with 298 yards. The biggest key to the victory for Navy was the turnover battle, as Army turned the ball over six times and Navy finished with no turnovers. The Black Knights threw four interceptions and lost two fumbles and one of those picks was returned 14 yards for a touchdown by David Postma for what would end up being the game-winning points.
ALL-LEAGUE ANNOUNCEMENT
With the rest of the league already done competing for the year, the next big announcement from the CSFL will be the annual All-CSFL team. That announcement will come in December after the coaches meet to vote on the annual awards.