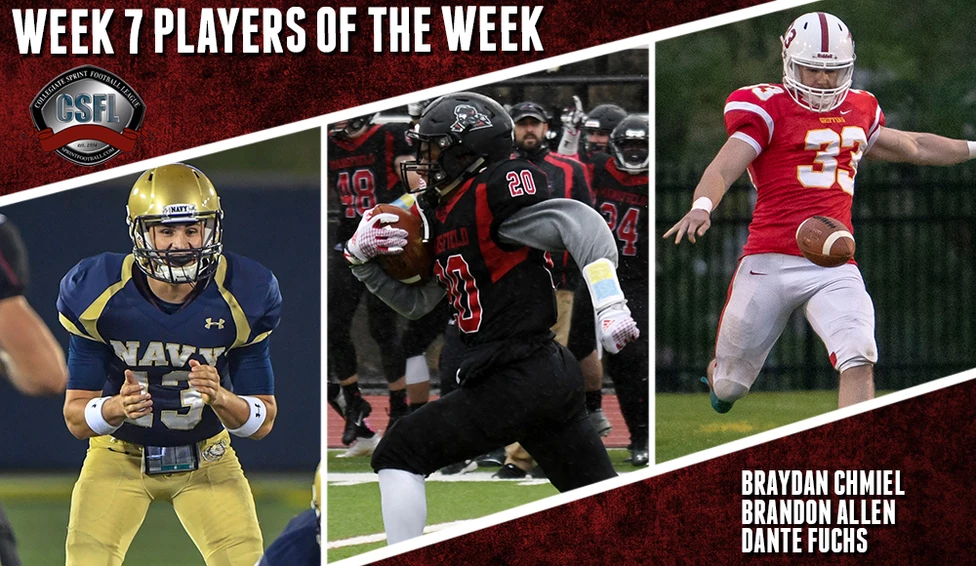 2018 Week 7 Review
By: CSFL Staff | Collegiate Sprint Football League | October 30, 2018
The seventh week of the CSFL season saw Navy finish divisional play at 4-0 to lock up the South Division title, Mansfield pick up its third straight win, Chestnut Hill roll to a big win and Cornell take care of business to set up a showdown with Army in week eight for the North Division crown.
WEEK 7 PLAYERS OF THE WEEK
Offensive Player of the Week: Braydan Chmiel, QB, Navy (Warrenton, Mo.)
Chmiel busted a 63-yard touchdown run on the opening drive to put Navy ahead and the Mids would never trail on the way to posting a 20-9 win over Penn to clinch the South Division title. Chmiel completed 9-of-14 passes for 130 yards with one touchdown through the air and rushed for 136 yards and one score on just 16 carries to account for 266 yards of total offense in the win.
Defensive Player of the Week: Brandon Allen, DB, Mansfield (Westminster, Md.)
Allen repeats as the defensive honoree for the second week in a row after finding the end zone again last week in an all-around dominant performance in Mansfield's 34-26 win over Caldwell. The Mounties came up with seven turnovers in the game and Allen had three of them, with two interceptions and a 94-yard fumble return for a TD. He finished the game with 167 return yards on his three takeaways and added four tackles, three solo stops and one pass breakup on the way to helping Mansfield to its third straight win, a new program record.
Special Teams Player of the Week: Dante Fuchs, K/P, Chestnut Hill (Sinking Spring, Pa.)
Fuchs successfully booted both of his field goal attempts from 20 and 25 yards and made all six of his PAT kicks to account for 12 points in Chestnut Hill's 48-6 win over St. Thomas Aquinas. He also punted the ball six times for an average of 32.8 yards per kick with a long of 48 yards.
----------
WEEK 7 RESULTS
Navy at Penn (Navy won 20-9)
Navy finished CSFL South Division play with a perfect record to claim the division title with a 20-9 win on the road at Penn last week. The Mids scored on the opening drive with a 63 yard run from QB Braydan Chmiel and never looked back. Penn cut the deficit to 13-9 with 7:43 to play, but Navy sealed the game with a TD pass to Jared Wiltshire with 1:29 to play. Penn finished with a 295-290 edge in total offense and an 18-11 edge in first downs, but the Quakers turned the ball over three times with interceptions. Chmiel accounted for 266 yards of total offense and two scores to lead the Navy offense, while Gavin O'Donnell racked up 5.5 tackles for loss and 3.5 sacks to lead the defense. Eddie Jenkins threw for 220 yards and ran for one TD for Penn. Navy will travel to Post Saturday for a noon kickoff to close the regular season, while Penn is finished with its year as it will not play its scheduled game against Franklin Pierce.
----------
St. Thomas Aquinas at Chestnut Hill (Chestnut Hill won 48-6)
Chestnut Hill led 24-0 at halftime and cruised to a 48-6 win over St. Thomas Aquinas at home last week. The Griffins put up 339 yards of total offense and held the Spartans to 197 yards of total offense and just 19 total rushing yards. Mike Marino threw for 76 yards and two touchdowns and Reggie Robinson Jr. caught five passes for 70 yards and two scores to lead Chestnut Hill. St. Thomas Aquinas got 109 all-purpose yards from Jimmy English and 96 receiving yards and one TD grab from Matthew Ehret. St. Thomas Aquinas will host Mansfield Friday night at 6 p.m. to close its inaugural season. Chestnut Hill will travel to Caldwell Saturday for a 1 p.m. kickoff.
----------
Post at Cornell (Cornell won 34-0)
Cornell took care of business with a 34-0 shutout over Post to stay unbeaten in the North Division and set up a clash with Army to decide the division title in the final week of the regular season. The Big Red put up 330 total yards of offense and held Post to just 56 total yards. Will Griffen accounted for three touchdowns for Cornell with two rushing scores and one receiving TD. Connor Ostrander threw for 134 yards and two TDs. Post got 37 passing yards from Buddy Enriquez. Cornell will travel to Army Friday night for a 7 p.m. game where the winner will emerge as the North Division champion and will play Navy Nov. 10 for the CSFL title. Post will close its season Saturday at noon as hosts to Navy.
----------
Caldwell at Mansfield (Mansfield won 34-26)
Mansfield established a sprint football school record for wins with its third straight victory after posting a 34-26 comeback win at home over Caldwell. The Mountaineers intercepted six passes and came up with three fumbles, one of which Brandon Allen returned 94 yards for a touchdown, to finish the game with nine takeaways. Caldwell finished with a big advantage in offense of 429-249 total yards, but couldn't fight off the turnovers. Mansfield got three TD passes from Adam Hutchison and two TD catches from Imir Pope to pace the offense. Caldwell saw a huge day from Carl Watson, who put together 278 yards of offense with 196 rushing yards and two TDs and six catches for 82 yards. Mansfield will close its season Friday night at 6 p.m. at St. Thomas Aquinas, while Caldwell will host Chestnut Hill Saturday at 1 p.m. to end the year.
----------
WEEK 8 GAMES (final week of the season)
11/2: Mansfield at St. Thomas Aquinas (6 p.m.)
11/2: Cornell at Army (7 p.m.)
11/3: Navy at Post (Noon)
11/3: Chestnut Hill at Caldwell (1 p.m.)
CSFL TITLE GAME – Nov. 10 at St. Thomas Aquinas
11/10: Army/Cornell winner vs. Navy (6 p.m.)