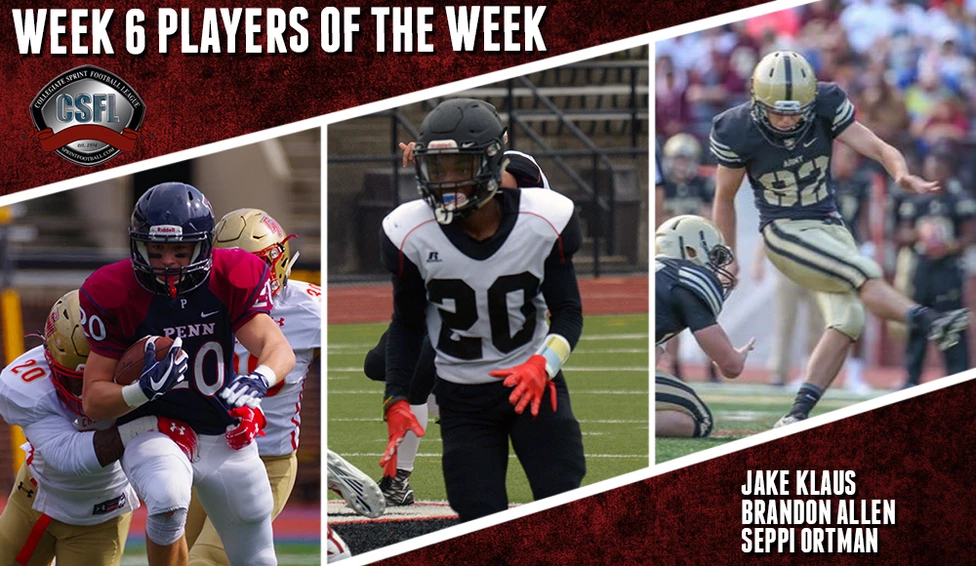 2018 Week 6 Review
By: CSFL Staff | Collegiate Sprint Football League | October 23, 2018
We begin the week six review with an announcement about the 2018 CSFL Championship game. The league has selected St. Thomas Aquinas to serve as host for the 2018 title game, which will be played between the North and South Division winners Nov. 10 at 6 p.m. More information can be found below.
WEEK 6 PLAYERS OF THE WEEK
Offensive Player of the Week: Jake Klaus, RB, Penn (Haddonfield, N.J.)
Klaus rushed for 79 yards and three touchdowns in Penn's 38-14 win over Caldwell. He averaged 5.6 yards per carry and tallied an additional 70 yards on six receptions to finish the game with 149 yards of total offense.
Defensive Player of the Week: Brandon Allen, DB, Mansfield (Westminster, Md.)
Allen was responsible for one of three Mansfield touchdowns in an 18-2 win over Franklin Pierce on Saturday. In the third quarter, he picked off a pass and returned it 20 yards to for a touchdown to put Mansfield up 12-2. Allen also had a pair of tackles, including a tackle for loss in Saturday's win.
Special Teams Player of the Week: Seppi Ortman, PK, Army (Lafayette, Calif.)
Ortman was perfect in the kicking game in Army's 62-0 win over Post last week. He booted two field goals from 20 and a career-long 38 yards to go along with a 4-for-4 effort on PAT kicks.
----------
CSFL TITLE GAME SET TO BE PLAYED AT STAC NOV. 10
"We're happy to announce that the league title game will be played at St. Thomas Aquinas this year," said CSFL commissioner Matt Munnelly. "This accomplishes our league goal coming into this year, which was to have a predetermined site for the title game. The folks at STAC have been very welcoming and will be great hosts."
The title game will be played Nov. 10 at 6 p.m. Admission for the game will be $10.
This marks the first time since the inception of the two division format and league title game that the championship will be decided on a predetermined field.
----------
WEEK 6 RESULTS
Week six of the CSFL season saw Army remain in control of the North Division and Navy stay in control of the South Division as both service academies posted shutouts. Penn, Mansfield and Cornell all also picked up wins on the week.
10/19: Chestnut Hill at Navy (Navy won 31-0)
Navy scored 24 second half points to run away with a 31-0 victory over Chestnut Hill to stay unbeaten atop the South Division with a 3-0 record, setting up a chance to clinch the division in week seven with a win over Penn. Navy put up 278 yards of total offense and held Chestnut Hill to 154 yards. Braydan Chmiel rushed for 85 yards and two TDs while throwing for 115 yards as well. Raevon Floyd-Bennett led the Grffins with 71 all-purpose yards in the game. Navy will travel to Penn this Friday night for a 7 p.m. game, where a win will lock up the South Division title. A loss muddies the division picture and keeps alive the chance of a three-way tie atop the division standings. Chestnut Hill, now at 2-1 in the division, will host St. Thomas Aquinas in a crossover game Friday night at 7 p.m.
----------
10/20: Caldwell at Penn (Penn won 38-14)
Penn jumped out to a 31-0 halftime lead and cruised to a 38-14 win at home over Caldwell last week. The Quakers put up 376 yards of total offense, while Caldwell managed 271 yards. Jake Klaus ran for 79 yards and three TD and caught six passes for 70 yards to lead the Penn offense. Eddie Jenkins threw for 250 yards with one TD, which went to Ben Klaus. Tajae' Irby threw for 196 yards and two TD for Caldwell, while Carl Watson caught seven passes for 70 yards and rushed for 49 yards on just four carries. Penn will host Navy this Friday night at 7 p.m. with a chance to keep its quest for the division title alive. Caldwell will travel to Mansfield Saturday for a 1 p.m. kickoff.
----------
10/20: Franklin Pierce at Mansfield (Mansfield won 18-2)
Franklin Pierce outgained Mansfield 336-263 in total offense, but turned the ball over three times and took 11 penalties for 188 yards to thwart any offensive momentum as the Mountaineers pulled away for an 18-2 win on Homecoming. Gary Raupers II rushed for 56 yards and one touchdown, Vaughn Hines added 48 rushing yards and one sore and Brandon Allen returned an INT for a TD. Franklin Pierce got 245 passing yards from Jared Lubas and 51 rushing yards from Kobie Smith. Mansfield will hostCaldwell Saturday at 1 p.m., while Franklin Pierce's CSFL schedule is now concluded.
----------
10/20: Cornell at St. Thomas Aquinas (Cornell won 30-15)
Cornell scored 23 points in less than eight minutes during the fourth quarter to storm back and defeat St. Thomas Aquinas 3015 on the road last week. The Big Red took advantage of a blocked punt deep in STAC territory and a fumble recovery to score a quick 16 points in flipping the momentum of the game. STAC finished with a 305-205 edge in total offense with 303 passing yards and just two net rushing yards. Luke Sullivan threw for 303 yards with two TD for STAC, which got 123 receiving yards and one score from 87 yards by Matthew Ehret. Connor Ostrander threw for 118 yards with one TD and rushed for 50 yards for Cornell. Cornell will host Post Friday night at 7 p.m. before a big showdown next week at Army. STAC will travel to Chestnut Hill Friday night for a 7 p.m. kickoff.
----------
10/20: Army West Point at Post (Army won 62-0)
Army scored 49 points in the first half and rolled to a 62-0 win over Post to stay unbeaten on the year. The Black Knights have yet to allow a single point against North Division opponents. Army put up 435 yards of total offense and held Post to just 74 total yards. Keegan West threw for 217 yards with two touchdowns and also rushed for one score to lead the Army offense, which also got two TD passes from Ryan Sullivan and a pair of defensive touchdowns from Ryan Leach and Noah Throm. Army will take this week off after canceling its game against Franklin Pierce and will host Cornell next Friday at 7 p.m. for the North Division title. Post will travel to Cornell this Friday night for a 7 p.m. game.
----------
WEEK 7 GAMES
Navy at Penn (will be played Oct. 26 at 7 p.m.)
St. Thomas Aquinas at Chestnut Hill (will be played Oct. 26 at 7 p.m.)
Post at Cornell (will be played Oct. 26 at 7 p.m.)
Caldwell at Mansfield (will be played Oct. 27 at 1 p.m.)