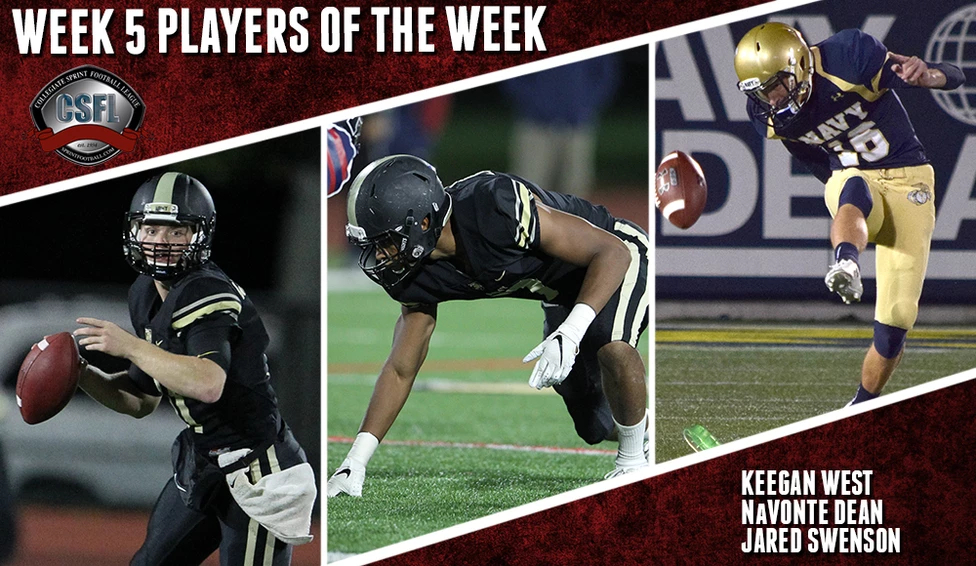 2018 Week 5 Review
By: CSFL Staff | Collegiate Sprint Football League | October 16, 2018
After all teams took a bye in week four, the CSFL season returned to action last week with Army West Point remaining undefeated with a victory over Penn in a rematch of last year's championship game. Navy, Mansfield and Cornell all picked up wins in week five as well.
WEEK 5 PLAYERS OF THE WEEK
Offensive Player of the Week: Keegan West, QB, Army West Point (West Point, N.Y.)
West continued his dominant start to the season with another monster effort in a 24-6 win over Penn in which he accounted for all the Black Knights' scoring. He completed a career-high 38 passes for 374 yards with four touchdowns and no interceptions. It marked the third time this season he has thrown for at least 25 yards and four TD. In four games, West has thrown for 15 TD with just one INT and is putting up a league-high 288.5 yards of total offense per game.
Defensive Player of the Week: NaVonte Dean, DL, Army West Point (Fairfax, Va.)
Dean was a force for the Army defensive line in a 24-6 win over Penn. He registered eight total tackles, including 4.0 tackles for loss and 3.0 sacks. He also forced two fumbles on two of the sacks and led a defensive effort that held Penn to just six points after the Quakers entered the week averaging 32.0 points per game.
Special Teams Player of the Week: Jared Swenson, PK, Navy (Seymour, Wis.)
Swenson earns his third Player of the Week honor of the season after another perfect outing in Navy's 45-14 win over Caldwell. He was a perfect 6-for-6 on PAT kicks in the game and made his only field goal attempt from 41 yards. On the season, Swenson is a perfect 21-of-21 on PATs and he is averaging a league-high one made field goal per game.
----------
WEEK 5 RESULTS
9/12: Penn at Army (Army won 28-6)
It was a rematch of last year's CSFL title game and it had the same result as Army came away with a 28-6 win at home over Penn. The Black Knights' offense put up 28 first downs in the game and finished with 426 total yards, including 374 passing yards, while the defense held the typically high-powered Penn offense to just 257 total yards, including 204 passing yards. Keegan West set career-highs in completions, attempts and yards to finish with 374 passing yards and four TD to lead Army. Tom Williamson caught two of those TD passes and Nitai Chun finished with a league-high 14 catches for 123 yards. Eddie Jenkins led Penn with 204 passing yards and one TD, which went to Aidan Kelly. Army will travel to Post for a 7 p.m. kickoff Saturday night in week six, while Penn will host Caldwell Saturday at 1 p.m.
----------
9/13: Mansfield at Post (Mansfield won 14-10)
Mansfield scored 14 points in the fourth quarter to complete a comeback 14-10 win on the road at Post. The Eagles scored 10 points in the first quarter, but were shut out the rest of the day. Mansfield finished the game with 181 yards of total offense to Post's 157 in a low-scoring defensive battle. David Butler rushed for 99 yards and one score on 11 carries to lead Mansfield, which also got a rushing TD from Gary Raupers II. Post scored seven of its points thanks to a fumble recovery in the end zone and got a field goal from Buddy Enriquez. Mansfield will host Franklin Pierce in a non-league game Saturday at 1 p.m. in week six. Post will host Army Saturday at 7 p.m.
----------
9/13: Navy at Caldwell (Navy won 45-14)
Navy jumped out to a 31-7 halftime lead and cruised to a 45-14 win on the road at Caldwell. The Midshipmen posted 420 yards of total offense with 191 passing and 229 on the ground. Caldwell managed 269 yards of offense with 252 of it coming through the air. Braydan Chmiel paced the Navy offense with 186 passing yards and four touchdowns with no interceptions. He also rushed for 38 yards and one score to account for all five offensive TDs for the Mids. Caleb Champion added 136 rushing yards in the win. Tajae' Irby led Caldwell with 252 passing yards and two touchdowns, both of which went to Carl Watson, who set a career-high with 184 receiving yards on eight catches. Navy will host Chestnut Hill Friday night at 7 p.m., while Caldwell will travel to Penn Saturday for a 1 p.m. kickoff.
----------
9/13: Chestnut Hill at Cornell (Cornell won 49-14)
In the most entertaining game of the week, Cornell rallied back from an early deficit and scored 14 points in the final quarter to defeat Chestnut Hill 49-41. The Griffins opened the game with 23 first quarter points to jump out to a 23-9 lead, but Cornell answered back with a 26-0 margin in the second quarter to lead 35-23 at halftime. Chestnut Hill put up a 10-0 advantage in the third to claw back to 35-33 before Cornell extended it back to 41-33 with 14:14 to play. The Griffins again responded and got the two-point conversion to tie it with 11:09 to play, but Cornell put together a 75-yard game-winning drive that was capped by a Connor Ostrander TD run to account for the final score. Cornell finished with 511 yards of offense to Chestnut Hill's 329. Ostrander carried the Big Red with 220 passing yards and three touchdowns through the air and an additional 161 rushing yards and one score on the ground. Brooks Panhans caught nine passes for 107 yards and one score and also threw a TD pass. Mike Marino threw for 241 yards with three TD to pace the Chestnut Hill attack. Cornell will travel to St. Thomas Aquinas Saturday for a 4 p.m. kickoff, while Chestnut Hill will visit Navy Friday at 7 p.m.
WEEK 6 GAMES
10/19: Chestnut Hill at Navy (7 p.m.)
10/20: Caldwell at Penn (1 p.m.)
10/20: Franklin Pierce at Mansfield (1 p.m.)
10/20: Cornell at St. Thomas Aquinas (4 p.m.)
10/20: Army at Post (7 p.m. at Municipal Stadium)