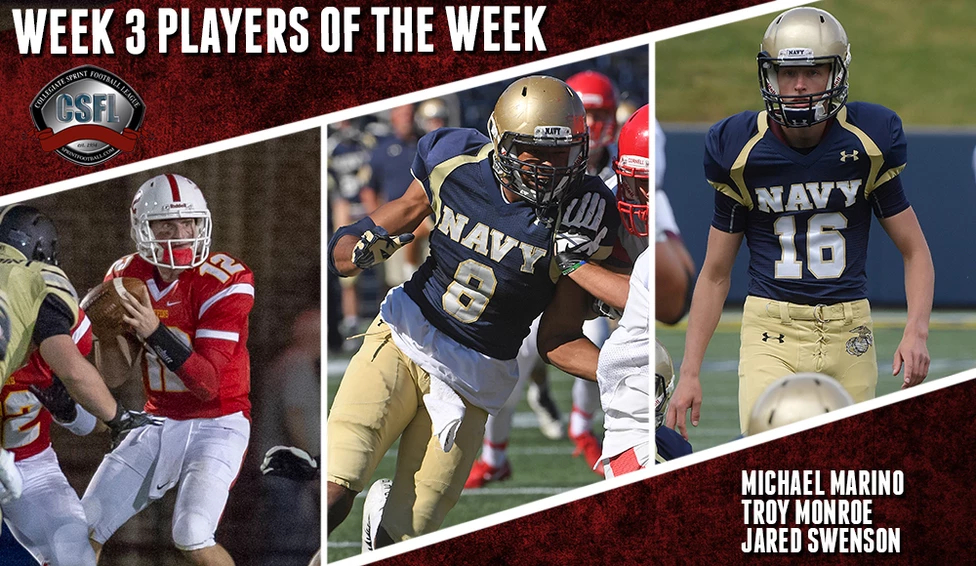 2018 Week 3 Review
By: CSFL Staff | Collegiate Sprint Football League | October 2, 2018
The third week of the CSFL season saw Chestnut Hill score its first win over Penn, Army West Point remain undefeated, Navy pull off a convincing victory and Post score its first win of the season.
WEEK 3 PLAYERS OF THE WEEK
Offensive Player of the Week: Michael Marino, QB, Chestnut Hill (Blue Bell, Pa.)
Marino led Chestnut Hill to its first-ever win over Penn after throwing for 331 yards with four touchdowns and no interceptions in the Griffins' 31-26 victory on the road last week. He completed three touchdown passes of 30 or more yards, including a 51-yard TD strike and a 63-yard TD pass.
Defensive Player of the Week: Troy Monroe, LB, Navy (Columbus, Ga.)
Monroe led a Navy defensive effort that held Mansfield to just six points in a 55-6 victory last week. He recorded four total tackles in the game, but three of those were tackles for loss and two were sacks that forced fumbles. Monroe recovered one of those fumbles that set up a Navy offensive score, while his other forced fumble was recovered in the end zone for a touchdown.
Special Teams Player of the Week: Jared Swenson, PK, Navy (Seymour, Wis.)
Swenson earns his second CSFL Player of the Week honor this season after another stellar performance in the kicking game during Navy's win over Mansfield. He accounted for 13 total points, going 7-for-7 in PAT kicks and connecting on two field goals, including a career-long 48-yarder.
----------
WEEK 3 RESULTS
9/28: Mansfield at Navy (Navy won 55-6)
Navy jumped out to a 38-0 halftime lead and rolled to a 55-6 win at home over Mansfield. The Midshipmen put up 395 yards of total offense with 328 of that coming on the ground. Mansfield went for 260 yards of offense with 214 passing yards. Navy got a monster effort from running back Caleb Champion, who rushed for 157 yards and three touchdowns on just 15 carries. Mansfield was paced by Adam Hutchison, who threw for 156 yards with one TD, and D.J. McLean with six catches for 97 yards and one score.
9/28: Chestnut Hill at Penn (Chestnut Hill won 31-26)
Chestnut Hill jumped out to a 24-10 lead and held off Penn down the stretch to score its first-ever win over the Quakers. Penn finished the game with a 331-311 edge in total offense with 315 passing yards and 16 rushing yards, but Chestnut Hill's passing attack of 331 yards and key big plays was enough to get the job done. Michael Marino threw for 331 yards and four touchdowns in the win. Reggie Robinson Jr. caught five passes for 173 yards and two scores and Domoree Hill caught six balls for 144 yards and two scores. Joshua Trybus threw for 126 yards and two touchdowns for Penn, while Jake Klaus ran for 64 yards and one score.
9/29: Caldwell at Post (Post won 28-14)
Post strung together a 21-0 run in the middle of the game on the way to earning its first win of the year, 28-14 at home over Caldwell. Caldwell posted a 359-257 advantage in total offense after throwing for 215 yards and rushing for 144, but turned the ball over three times in the loss. Post put up 196 passing yards and 61 rushing yards, led by Buddy Enriquez, who threw for 196 yards and three touchdowns with no interceptions and also rushed for one score. Enriquez also booted all four PATs to have a hand in all 28 points scored for the Eagles. Caldwell got 215 passing yards and one score from Tajae' Irby and 72 receiving yards and one TD from Carl Watson.
9/29: St. Thomas Aquinas at Army (Army won 56-0)
The storybook start to the inaugural season for St. Thomas Aquinas hit its first roadblock with a 56-0 shutout on the road at defending champion Army West Point, which improved to 3-0 on the year and extended its current winning streak out to 11 games. Army continues to look like the frontrunner in the league after another dominant performance in which the offense went for 484 yards while holding St. Thomas Aquinas to just 45 total yards. Keegan West continued his dominant start to the season with a near perfect effort of 22-of-26 for 255 yards with five touchdowns and no interceptions. Tom Williamson caught six passes for 70 yards and three touchdowns. Luke Sullivan led the Spartans with 91 passing yards.
----------
NEXT UP
There will be no CSFL games played Oct. 5-6 as the entire league takes its mandated bye week. Teams will return to action Oct. 12-13.