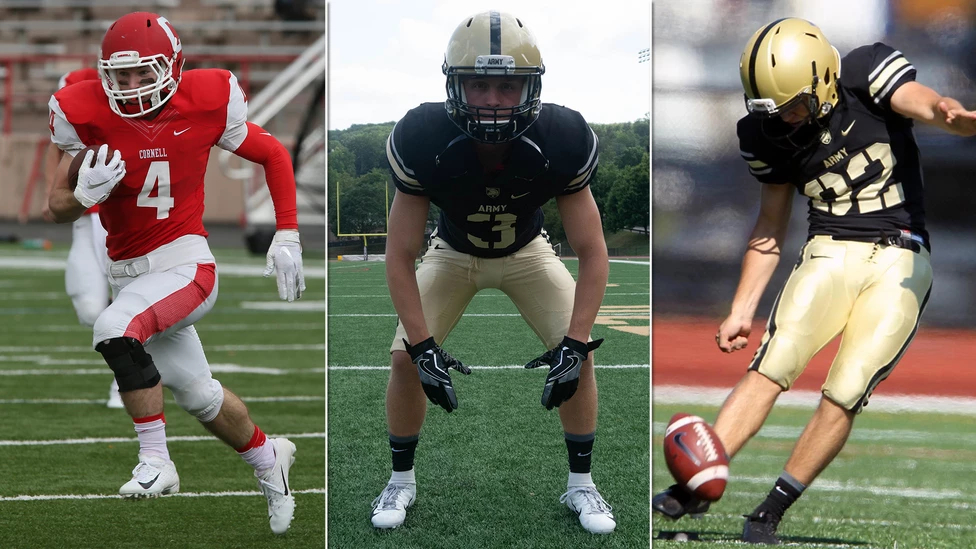 2018 Week 1 Review
By: CSFL Staff | Collegiate Sprint Football League | September 18, 2018
The record setting first week of the CSFL season saw the first time in league history that 10 total teams competed in CSFL competition, thanks to inaugural member St. Thomas Aquinas playing, and winning, its first ever game. The first week of the season also saw defending champion Army West Point run its current winning streak to nine games. Other teams that picked up wins in week one included Navy, Penn and Cornell.
WEEK 1 PLAYERS OF THE WEEK
Offensive Player of the Week: Eddie Jenkins, QB, Penn (Pittsburgh, Pa.)
Jenkins accounted for six total touchdowns in Penn's 54-21 win on the road at Mansfield. He completed 15-of-22 passes for 240 yards with five touchdowns and no interceptions and added 126 rushing yards and one TD on just 13 carries to account for 366 yards of total offense.
Defensive Player of the Week: James Scroggins, DL, Army West Point (West Palm Beach, Fla.)
Scroggins came up with three turnovers on his own in Army's 45-7 win over Chestnut Hill in week one. He recovered two fumbles and had one interception in the game to go along with four total tackles as Army won its ninth straight game.
Special Teams Player of the Week: Jared Swenson, PK, Navy (Seymour, Wis.)
Swenson was perfect in the kicking game for the Midshipmen in their season-opening 45-7 road victory at Franklin Pierce. He went 6-for-6 on PAT kicks and booted a 29-yard field goal to account for nine total points on a perfect 7-for-7 effort.
WEEK 1 REVIEW
Brief recaps from each of the five games from week one of the 2018 season can be found below. The first week of the 2018 season marked the first time in CSFL history the league had 10 teams playing games.
----------
Army West Point (45) at Chestnut Hill (7)
Army opened its title defense with a convincing win at Chestnut Hill Friday night, jumping out to a 38-7 halftime lead and cruising to a 45-7 win for its ninth straight victory.
Chestnut Hill actually finished the game with more total yards at 341 to Army's 313, but the Griffins turned the ball over five times with three interceptions and two lost fumbles.
Keegan West led the Army offense with 245 passing yards and four touchdowns. Clayton Carter caught two TD passes and finished with 66 receiving yards. Justin Charette caught one TD pass, as did Colt Horton. Jacob Lowman was the leading rusher with 17 yards. Tate Blessinger recorded eight tackles, including three TFL, and forced one fumble to lead the defense, while James Scroggins came up with three turnovers (two fumble recoveries, one INT).
Michael Marino threw for 173 yards and one touchdown to lead the Chestnut Hill offense. Akeem Browne caught that TD pass and finished with 63 receiving yards, while Xavier Thompson led the team in rushing with 46 yards. Jonathan Baldwin led the defense with 11 total tackles, including two TFL. Nate Moser recorded two interceptions in the game.
Army will travel to rival Navy Friday night for a 7 p.m. kickoff, while Chestnut Hill will host Mansfield Friday night at 7 p.m. in week two action.
----------
Post (7) at St. Thomas Aquinas (30)
In one of the highlights of the weekend, St. Thomas Aquinas opened its inaugural season of sprint football with a 30-7 home victory over Post in front of more than 1,000 fans. The Spartans, who were the only home team in the league to win in week one, led 20-0 at halftime and held Post off the scoreboard until a TD with 17 seconds left.
STAC went for 209 yards of total offense after throwing for 163 yards and rushing for 46 yards, while Post finished with 134 yards of total offense on 115 rushing yards and 19 passing yards. The Eagles struggled with penalties, getting called 15 times for 154 yards.
Luke Sullivan led the STAC offense with 163 passing yards and three total touchdowns in his debut, passing for two scores and rushing for a third. Javaughn Anderson caught four passes for 55 yards and one score and Ricky James also caught a TD pass. The defense came up with six turnovers, all fumbles, including a recovery for a TD by Kyle Teneyck. Will Smith finished with a team-high nine total tackles, including 2.0 TFL.
Post got its lone points of the game when Kevin Calhoun recovered a blocked punt in the end zone with 17 seconds left. Matthew Swormstedt completed five passes for 19 yards, while Davion Williams rushed for 69 yards and Marquis Watson rushed for 42 yards.
STAC will travel to Caldwell Saturday night for a 7 p.m. game and Post will travel to Franklin Pierce Saturday for a noon kickoff in week two.
----------
Cornell (28) at Caldwell (11)
After Caldwell scored early in the first quarter, Cornell strung together 28 unanswered points and went on to post a 28-11 win last Saturday.
The teams were closely matched in terms of offensive numbers, with Cornell posting 261 yards on 198 passing yards and 63 rushing yards and Caldwell going for 276 total yards with 258 passing yards and 18 rushing yards. The Cougars turned the ball over four times with three interceptions and a lost fumble.
Cornell was led by Connor Ostrander, who threw for 191 yards and two TD and also rushed for 36 yards and one score. Brooks Panhans caught five passes for 63 yards and one score, while Reed Fratt added three grabs for 62 yards and one score. Will Griffen led the ground game with 50 yards on 10 carries. Alfonso Nazzaro recorded 10 total tackles, 2.5 tackles for loss and one interception to lead the defense, while Conrad McCarthy went for eight tackles and 2.5 TFL.
Caldwell went with two QBs in the game and got monster receiving efforts from two players as well. Tajae' Irby completed 10-of-13 passes for 158 yards with one TD and Vincent Crisafi threw for 100 yards and three INT. Carl Watson caught eight passes for 117 yards and one TD and Dajuan Carr caught eight balls for 107 yards and added 27 rushing yards. The defense was paced by Randy Antenor with seven total tackles, 3.0 TFL, one sack, to blocked kicks and one fumble recovery. Haleem Woods added nine stops.
Cornell will travel to Penn Friday night for a 7 p.m. kickoff, while Caldwell will host St. Thomas Aquinas at 7 p.m. Saturday in week two.
----------
Penn (54) at Mansfield (21)
Mansfield's Quinn Henry took the opening kickoff 93 yards to the house for an electric start to the game, but Penn put up 21 first quarter points and surged to a 54-21 win in front of a big crowd of more than 2,700 at Mansfield.
The Penn offense was dominant from the early stages and put up 569 yards with 329 rushing yards and 240 passing yards. Mansfield finished with 227 yards with 181 through the air and 46 on the ground.
Penn QB Eddie Jenkins accounted for more than half of those yards and six total TD, throwing for 240 yards and five scores and rushing for 126 yards and one TD. Jake Klaus added 132 rushing yards and two TD and Ben Klaus caught two TD passes. Brendan McCaffrey finished with 62 receiving yards and one score to go along with 37 rushing yards. Aidan Kelly went for 83 receiving yards and one score. Defensively, Penn got a pair of interceptions from Luca Curran, while Tom Console led the way with six total tackles.
Mansfield was led by Adam Hutchison with 157 passing yards and two touchdowns. Saville Pope caught an 81-yard TD pass and finished with 104 receiving yards. D.J. McLean added one receiving score. Dajuan Buie and Bryton Barna both finished with a league-high 13 total tackles to pace the Mansfield defense. Barna also blocked two kicks.
Penn will host Cornell Friday night at 7 p.m. and Mansfield will travel to Chestnut Hill Friday night at 7 p.m. for week two games.
----------
Navy (45) at Franklin Pierce (7)
After a scoreless first quarter, Navy reeled of 24 second quarter points to burst the game open on the way to a 45-7 win at Franklin Pierce.
The Midshipmen finished the day with 245 total yards with 135 passing yards and 110 rushing yards, while holding the Ravens to 208 total yards on 121 passing yards and 87 rushing yards.
Walt Fagan led the Navy offense with 107 passing yards and four touchdowns. Two of those TD passes went to Jay Cooke, while Jared Wiltshire and Dane Livengood each grabbed one. Caleb Champion led the ground game with 67 yards and one score, while Braydan Chmiel added 57 yards. Defensively, Dean Rye recorded seven tackles and one interception and Tory Monroe finished with 4.0 tackles for loss and 2.0 sacks.
Franklin Pierce was paced by Dylan McDermott with 71 rushing yards and one TD on just five carries. He also completed one pass for six yards. Jared Lubas threw for 115 yards and three interceptions. Tionne Brown caught four balls for 62 yards and Kobie Smith added 40 rushing yards. The Ravens' defense recorded 11 total tackles for loss, led by Andrew Pelkey with 2.0 TFL and a half sack. Ashton Moore, Matthew LoPresti and Brayden Lowery each recorded seven total tackles.
Navy will host Army in the annual Star Game Friday night at 7 p.m. and Franklin Pierce will host Post Saturday at noon in week two.
----------
WEEK 2 GAMES
9/21: Army at Navy (7 p.m.)
9/21: Cornell at Penn (7 p.m.)
9/21: Mansfield at Chestnut Hill (7 p.m.)
9/22: Post at Franklin Pierce (Noon)
9/22: St. Thomas Aquinas at Caldwell (7 p.m.)