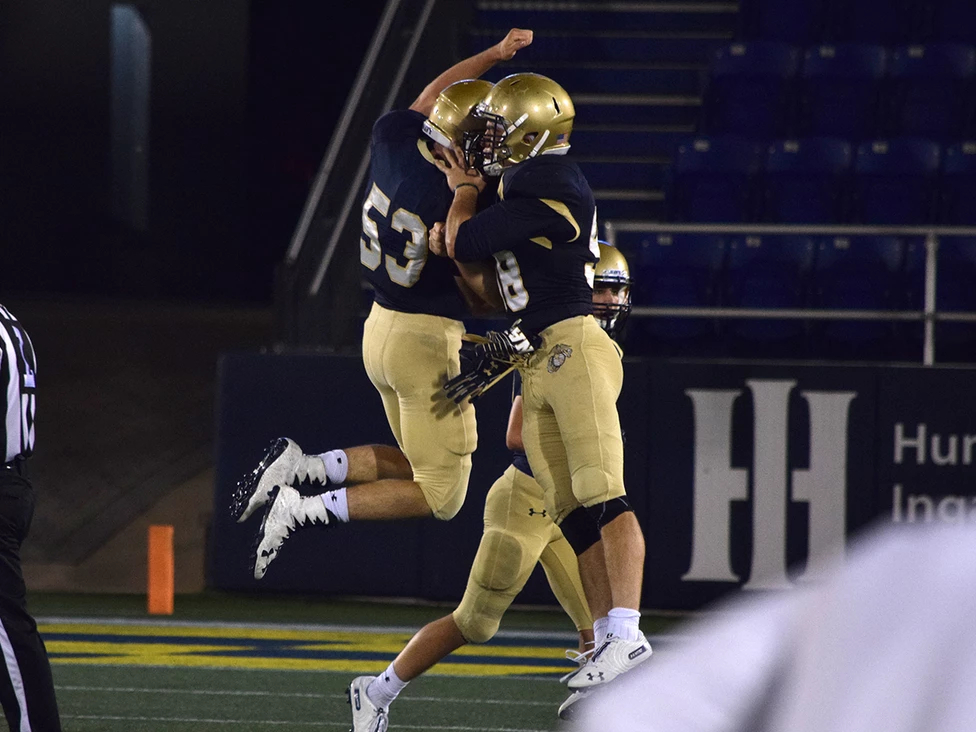 Navy claims 2018 CSFL title
By: CSFL Staff | Collegiate Sprint Football League | November 11, 2018
HILLBURN, N.Y. – The Navy sprint football team snapped Army West Point's 14-game winning streak and won its first Collegiate Sprint Football League title since 2014 with a 24-10 victory over the Black Knights Saturday night in the CSFL Championship game.
Navy finishes the year at 7-1 overall and claims its 37th CSFL title with the win, which is its first in the new two-division era of the league that includes the conference championship game. Army finishes the year at 6-1 overall and comes up just short of wrapping up two straight undefeated seasons.
The Midshipmen scored 14 points in the first quarter and added seven points for insurance in the fourth quarter while holding the top offense in the league to just 10 points. Navy finished the game with 361 yards of total offense with 289 rushing yards and 72 passing yards. Army put up 287 yards of total offense with 271 passing yards and 16 rushing yards.
Navy quarterback Braydan Chmiel opened the game's scoring with an eight-yard TD run less than three minutes into the game, which was answered less than three minutes later by a TD rush from Army quarterback Keegan West to make it 7-7 after just 5:06 of the first quarter.
From there, the teams settled down and the defense had a chance to shine. Navy took a lead it would never relinquish when Chmiel hit Jared Wiltshire from 12 yards out to make it 14-7 with 3:08 to play in the first.
That marked the final touchdown of the opening half. The only other points came as time expired in the second period when Jared Swenson booted a 37-yard field goal to put Navy up 17-7 at the break.
Army cut into the deficit with a 24-yard field goal from Seppi Ortman with 4:50 to play in the third to make it 17-10, but Navy put the game away when Wiltshire caught his second TD pass of the game from 27 yards out with 13:13 left in the fourth quarter to account for the final points.
Chmiel rushed for 183 yarsd and one touchdown on 29 carries and threw for 72 yards with two touchdowns and two interceptions while leading the Navy offense. Caleb Champion added 78 rushing yards. Wiltshire caught three passes for 55 yards and two scores and Adam Weissenfels had a 66-yard punt return.
Defensively, Navy got 1.5 sacks from Gavin O'Donnell, an interception from Pay Guinan and one sack and three pass breakups from Sheppard Wilson.
Army was paced by West, who completed 26-of-59 passes for 271 yards and added one rushing touchdown for his team's only TD of the day. Clayton Carter caught seven passes for 114 yards and Tom Williamson caught five passes for 65 yards.
James Scroggins recorded a game-high 13 total tackles to lead the Army defense, while Tate Blessinger added nine stops and one tackle for loss and Alex Sobeski recorded one sack. Dillon Bliss and Nate Hagg each recorded one interception.
The CSFL will announce its annual All-CSFL team in December after the coaches meeting.