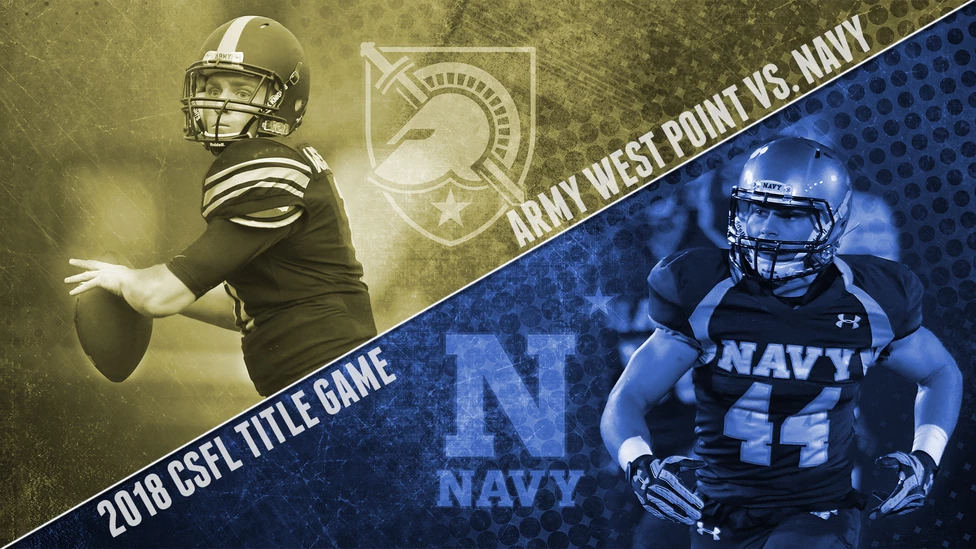 CSFL Championship Preview
By: CSFL Staff | Collegiate Sprint Football League | November 8, 2018
Defending CSFL champion Army West Point will face off against rival Navy for the Collegiate Sprint Football League title Saturday night at 6 p.m. at the Joseph T. St. Lawrence Community Center in Hillburn, New York.
LOCATION
- Joseph T. St. Lawrence Community, Health and Sports Center
- GPS Address: 115 Torne Valley Road, Hillburn, NY 10931
- Hosted by St. Thomas Aquinas College
ADMISSION
- $10 per person. Cash only accepted at the gate.
LIVE COVERAGE
SECOND TITLE GAME
This marks the second CSFL title game since the league was split into two divisions in 2017. Army West Point claimed the inaugural Robert L. Cullen league championship trophy last year with a victory over Penn in the first championship game.
CHAMPIONSHIP HISTORY FOR THESE TEAMS
The Black Knights are looking for a repeat title and their second straight undefeated season, while Navy looks to ruin that 14-game winning streak and pick up its first league title since 2014. These are the two most decorated programs in CSFL history.
Navy enters the game having won 36 total league championships, including 29 solo titles. Army has won 35 CSFL titles and completed 19 perfect seasons with a chance to wrap up number 20 Saturday.
RECORDS
Army enters the game with a perfect 6-0 mark and has won 14 consecutive games. The Black Knights last loss was a 10-3 defeat on the road at Navy in the final game of the 2016 season. Navy enters the game with a 6-1 overall record with that lone loss coming to Army by a 17-14 score back on Sept. 21.
SCOUTING ARMY
Army has been the most dominant team in the league this season and did not allow a single point in divisional play. The Black Knights enter the title game ranked first in the CSL in scoring offense (43.2 points per game), scoring defense (4.5 points per game) total offense (421.8 yards per game) and total defense (176.3 yards per game). Army leads the league by a wide margin in passing offense at 310.7 yards per game and ranks fourth in the league in the rushing offense at 111.2 yards per game.
Army moves the ball in part thanks to Player of the Year candidate Keegan West, who is the only QB in the league to average more than 200 passing yards per game and enters the title game averaging 275.8 passing yards per game. West has thrown for 1,655 yards with 20 touchdowns and just two interceptions while completing 65.7 percent of his passes.
Tom Williamson is the favorite target for West. Williamson enters the game having caught 30 passes for 352 yards this year and a third of those catches have been touchdowns (10). Nitai Chun also has 30 grabs for 384 yards for Army, while Clayton Carter and Mike Shannon each has 21 catches and Justin Charete has 20 grabs. Army uses a running back stable that has seen six different players carry the ball at least 21 times and no player rush for more than 43 carries.
Kicker Seppi Ortman has made 7-of-11 field goals and is a perfect 30-for-30 on PAT kicks this year.
Defensively, Army has racked up 54 tackles for loss and 22 sacks in just six games. Nevonte Dean leads the way with 9.5 TFL and 9.0 sacks, while Zach Lechthaler has 7.0 TFL and Tate Blessinger has 6.5 TFL and matches Lechthaler with a team-high 32 total tackles.
SCOUTING NAVY
Navy enters the game ranked second in the CSFL in both scoring offense (35.4 points per game) and scoring defense (8.6 points per game) and third in the league in total offense (336.3 yards per game) and total defense (253.9 yards per game). The Midshipmen lead the CSFL by a wide margin in rushing offense, averaging 187.4 rushing yards per game, but rank seventh in the league in passing offense at 148.9 yards per game.
Much like Army, Navy scores its points through quarterback Braydan Chmiel, who enters the game with 14 total touchdowns on the year, throwing for 650 yards and seven scores and rushing for 476 yards and seven more TD. Chmiel has averaged 6.5 yards per carry.
He gets help on the ground from Caleb Champion, who has rushed for 610 yards and four five in just seven games for an average of 87.1 yards per game.
J.T. Thompson is the leading receiver with 16 catches for 238 yards and two TD. Dane Livengood, Jared Wiltshire and Jay Cooke all have three TD catches.
Jared Swenson has made 6-of-11 field goal attempts with a long of 48 yards, which was the longest kick in the league this year.
Defensively, Navy has gotten a whopping 17.0 TFL and 10.0 sacks from Gavin O'Donnell to go along with 11.5 TFL and 8.5 sacks from Troy Monroe. Dean Rye leads the team with 56 total stops and three interceptions. Navy has racked up 51 tackles for loss and 27 sacks.
FIRST MEETING THIS YEAR – SEPT. 21 – Box Score
Army scored 10 points in the fourth quarter, including a chip shot field goal with 4:55 left, to come back and defeat rival Navy on the road in the annual Star Series game between the two service academies. The Black Knights posted a 341-304 edge in total offense on the way to improving to 2-0 on the year. QB Keegan West led the way with 248 passing yards and two scores, which both went to Tom Williamson. Navy got 225 passing yards and one TD from Walt Fagan, who also rushed for one score.
ALL-LEAGUE ANNOUNCEMENT
With the rest of the league already done competing for the year, the next big announcement from the CSFL will be the annual All-CSFL team. That announcement will come in December after the coaches meet to vote on the annual awards.