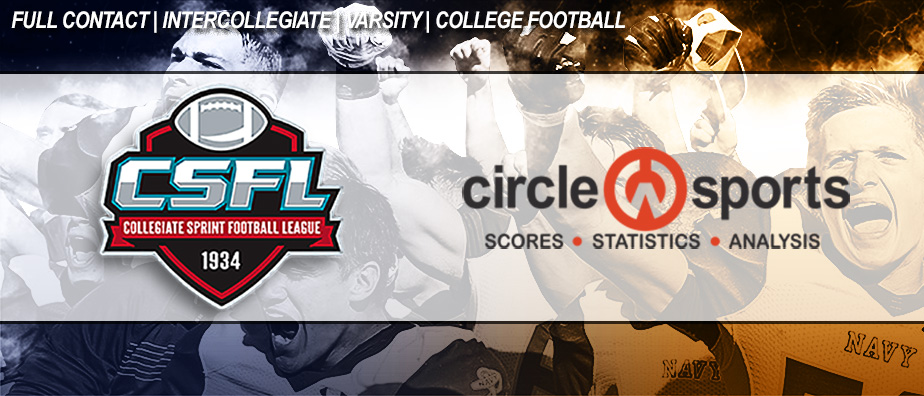 CSFL All-Academic Team Announced
By: CSFL Staff | Collegiate Sprint Football League | April 18, 2018
The Collegiate Sprint Football League has announced its inaugural All-Academic team with selections from the 2017 season.
The All-Academic team will become a yearly postseason award for CSFL programs to recognize outstanding academic accomplishments.
Student-athletes on the CSFL All-Academic team must have a minimum 3.0 cumulative GPA and are selected by each school's respective coaching staff for displaying exemplary performance in their academic coursework. Each team in the league is represented by two student-athletes on the All-Academic team.
Below is the inaugural class.
2017-18 CSFL ALL-ACADEMIC TEAM
INSTITUTION: SCHOLAR ATHLETE, YEAR, MAJOR, GPA
- Army West Point: Ty Galyean, SR, Civil Engineering, 3.72
- Army West Point: Brady Miller, JR, Military History, 3.93
- Caldwell University: Michael Botte, SR, Biology, 3.40
- Caldwell University: Nysir Smith, SO, Business Administration, 3.53
- Navy: Thomas Guinan, SR, Systems Engineering, 4.0
- Navy: Dean Rye, JR, Physics, 4.0
- Mansfield: Jon Brown , JR, Nutrition, 4.0
- Mansfield: Josh Friebis, FR, Criminal Justice, 3.80
- Post: Jake D'Alusio, JR, Finance, 3.94
- Post: Steven Ruegg, FR, Finance, 3.94
- Cornell: Dominic LaBell, SR, Industrial and Labor Relations, 4.0
- Cornell: Ian Rawn, SR, Business Administration, 3.82
- Penn: Matthew Caltabiano, SR, Mechanical Engineering and Applied Mechanics, 3.61
- Penn: Isaac Schuman, SR, Finance, 3.60
- Chestnut Hill: Dante Fuchs, SO, Biochemistry, 3.55
- Chestnut Hill: Kevin Meredith, JR, Accounting, 3.55
- Franklin Pierce: Taylor Deforge, SR, Business Management, 4.0
- Franklin Pierce: Jack Ainsley, SR, Business Management, 3.88