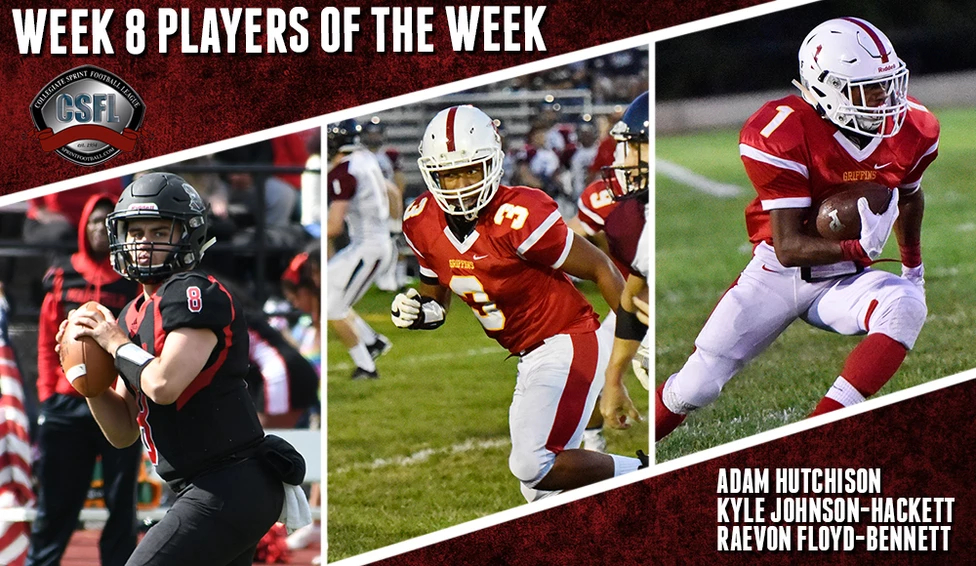 2018 Week 8 Review
By: CSFL Staff | Collegiate Sprint Football League | November 6, 2018
The final week of the regular season saw Army earn a convincing win over Cornell to capture the CSFL North Division, setting up the league title game between rivals Army and Navy this Saturday evening at St. Thomas Aquinas College. Week eight also saw Mansfield and Chestnut Hill improve to 4-3 to close the year and Navy improve to 6-1 heading into the title game.
WEEK 8 PLAYERS OF THE WEEK
Offensive Player of the Week: Adam Hutchison, QB, Mansfield (Watertown, N.Y.)
Hutchison accounted for all five Mansfield touchdowns in leading the Mounties to a 33-12 win on the road at St. Thomas Aquinas to close out the season, which improved Mansfield to 4-3 and set a new program record for CSFL wins. He threw for 193 yards and four touchdowns and added a rushing touchdown.
Defensive Player of the Week: Kyle Johnson-Hackett, LB, Chestnut Hill (Philadelphia, Pa.)
Johnson-Hackett helped Chestnut Hill close the year with a 4-3 record after leading the defensive effort in a 26-6 win over Caldwell to close the year. He recorded seven total tackles, including six solo, four tackles for loss and two sacks in the win.
Special Teams Player of the Week: Raevon Floyd-Bennett, RB/RS, Chestnut Hill (Union City, N.J.)
Floyd Bennet totaled 176 all-purpose yards and scored twice in Chestnut Hill's 26-6 win over Caldwell. He earns the special teams honor after returning a punt 65 yards for a touchdown to open the game's scoring. His punt return was not only the longest punt return in the CSFL this season, but it was the longest in the league dating back to the 2015 season. In addition to his 71 punt return yards in the game, Floyd-Bennet ran for 97 yards on 13 carries and caught one pass for eight yards.
----------
CSFL TITLE GAME SET FOR NOV. 10
Army will look to defend its 2018 league title when it meets rival Navy for the CSFL championship Saturday night at 6 p.m. at St. Thomas Aquinas' Joseph T. Lawrence Community Center. Admission for the game has been set at $10 per person and only cash will be accepted at the gate. Live stats and a live video broadcast will be provided by St. Thomas Aquinas on the Spartan Sports Network. A more detailed preview of the league title game will be posted Thursday afternoon.
----------
WEEK 8 REVIEW
11/2: Mansfield at St. Thomas Aquinas (Mansfield won 33-12)
Mansfield won its fourth straight game to set a new program record for sprint football wins with a 33-12 victory on the road at St. Thomas Aquinas, which finishes its inaugural year in the CSFL with a 2-4 overall record. Mansfield scored the first 14 points of the game and never trailed. The Mounties put up a 341-234 edge in total offense, led by a five-TD performance from QB Adam Hutchison, who threw for four touchdowns and ran for one. Quinn Henry caught six passes for 68 yards and two scores and Colby Alpaugh ran for 75 yards. St. Thomas Aquinas got 200 passing yards and one TD from Luke Sullivan, while Carlos Fernandez rushed for 46 yards and one score and caught five passes for 43 yards.
----------
11/2: Cornell at Army (Army won 51-0)
Army West Point wrapped up the North Division and stayed unbeaten on the year with a dominant showing in a 51-0 win over Cornell. The Black Knights held Cornell to just five first downs and put up a 533-37 advantage in total offense. Keegan West passes for 308 yards with three touchdowns to lead the offense. Tom Williamson caught two TD passes, Seppi Ortman made three field goals and Jason Longwell recorded a forced fumble, a fumble recovery, an interception and two pass breakups to lead the defense. Alfonso Nazzaro recorded a league-high 19 tackles to lead the Cornell defense. Army will meet Navy Saturday night at 6 p.m. for the league title, while Cornell finishes its year with a 4-2 overall record.
----------
11/3: Navy at Post (Navy won 38-7)
Navy scored the first 24 points and rolled to a 38-7 win over Post to improve to 6-1 on the year and keep its momentum heading into the league title game against Army. The Midshipmen put up 422 yards of offense and held Post to 250 yards. Caleb Champion rushed for 105 yards and one TD and Dane Livengood caught four passes for 108 yards and two scores to pace the Navy offense. Gavin O'Donnell tallied eight tackles and 2.5 sacks in leading the defense. Buddy Enriquez threw for 157 yards and one touchdown to lead the Post attack. Navy will meet Army Saturday night at 6 p.m. for the league title, while Post finishes its year at 1-6.
----------
11/3: Chestnut Hill at Caldwell (Chestnut Hill won 26-6)
Chestnut Hill wrapped up second place in the South Division with a 26-6 win at Cladwell to close the year. The Griffins opened the scoring with a 65-yard punt return TD from Raevon Floyd-Bennet and would never trail in the game after outgaining Caldwell 248-90. Floyd-Bennet added 97 rushing yards and one score to lead the offensive attack for Chestnut Hill, while Kyle Johnson-Hackett paced the defense with 3.5 tackle for loss and 2.0 sacks. Caldwell was led by Carl Watson with 26 rushing yards and one TD on offense and Adam Robbs with 4.5 tackles for loss on defense. The Griffins finished the year with a 4-3 overall record and a 3-1 mark in the division, while Caldwell finishes the year at 0-7.
----------
CSFL TITLE GAME – WEEK 9
11/10: Army West Point vs. Navy - at St. Thomas Aquinas (6 p.m.)