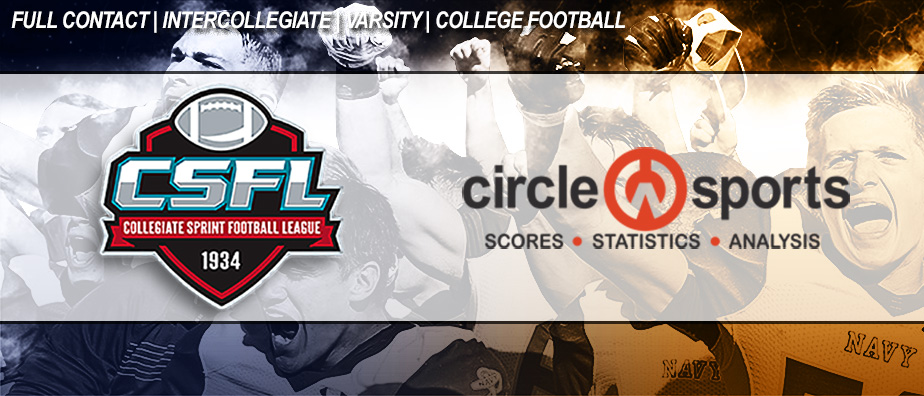 2018 CSFL Schedule Announced
By: CSFL Staff | Collegiate Sprint Football League | February 9, 2018
The Collegiate Sprint Football League has announced the dates and match ups for the 2018 season, along with a new schedule format as the team prepares for its first season with 10 members.
The league split into two divisions in 2017 for the first time ever and introduced a championship game between the winners of the North Division and the South Division, which was ultimately won by undefeated Army West Point. Those divisions were unbalanced last year, with four teams in the North and five teams in the South.
That won't be the case in 2018 as St. Thomas Aquinas is set to play its inaugural season this fall and will become the fifth member of the North Division.
St. Thomas Aquinas will join Army West Point, Cornell, Franklin Pierce and Post in the North Division. The South Division will remain unchanged and will include Caldwell, Chestnut Hill, Mansfield, Penn and Navy.
In addition to the dates and matchups for the 2018 season, the league also announced that the schedule format would be altered to include a league-wide bye week during the fourth week of the season, meaning there will be no games the weekend of Oct. 5-6.
Highlights of the 2018 schedule include St. Thomas Aquinas kicking off their inaugural season with a home game against Post during the first weekend of action. Other highlights on the schedule include the annual rivalry game between Army and Navy, which will take place much earlier this year in the second week of the season at Navy. Last year's South Division champions from Penn will open the year on the road at Mansfield and will host division rival Navy during week seven of the season.
The League Championship game is set for Nov. 10 at a location to be announced later. League officials are exploring options and costs associated with a potential neutral site location.
The initial 2018 schedule can be found below. Exact dates and times for each game will be added to the schedule page linked above when each school finalizes its home schedule closer to the fall season.
2018 CSFL SCHEDULE
Check the Schedule Page closer to the start of the fall season for exact date and times as they are made available by each school.
WEEK 1 – Sept. 14 or Sept. 15
- Army at Chestnut Hill
- Cornell at Caldwell
- Navy at Franklin Pierce (will be played Sept. 15 at noon)
- Penn at Mansfield (will be played Sept. 15)
- Post at St. Thomas Aquinas
WEEK 2 – Sept. 21 or Sept. 22
- Army at Navy
- St. Thomas Aquinas at Caldwell
- Mansfield at Chestnut Hill
- Cornell at Penn
- Post at Franklin Pierce (will be played Sept. 22 at noon)
WEEK 3 – Sept. 28 or Sept. 29
- St. Thomas Aquinas at Army
- Caldwell at Post (will be played Sept. 29 at noon)
- Chestnut Hill at Penn
- Franklin Pierce at Cornell
- Mansfield at Navy
WEEK 4 – Oct. 5-6
- Bye week for all teams
WEEK 5 – Oct. 12 or Oct. 13
- Penn at Army
- Navy at Caldwell
- Chestnut Hill at Cornell
- St. Thomas Aquinas at Franklin Pierce (will be played Oct. 13 at noon)
- Mansfield at Post (will be played Oct. 13 at noon)
WEEK 6 – Oct. 19 or Oct. 20
- Army at Post (will be played Oct. 20 at noon)
- Caldwell at Penn
- Chestnut Hill at Navy
- Cornell at St. Thomas Aquinas
- Franklin Pierce at Mansfield (will be played Oct. 20)
WEEK 7 – Oct. 26 or Oct. 27
- Franklin Pierce at Army
- Caldwell at Mansfield (will be played Oct. 27)
- St. Thomas Aquinas at Chestnut Hill
- Post at Cornell
- Navy at Penn
WEEK 8 – Nov. 2 or Nov. 3
- Cornell at Army
- Chestnut Hill at Caldwell
- Penn at Franklin Pierce (will be played Nov. 3 at noon)
- Mansfield at St. Thomas Aquinas
- Navy at Post (will be played Nov. 3 at noon)
CHAMPIONSHIP GAME – Nov. 10
- North Division winner vs. South Division winner (location TBA)