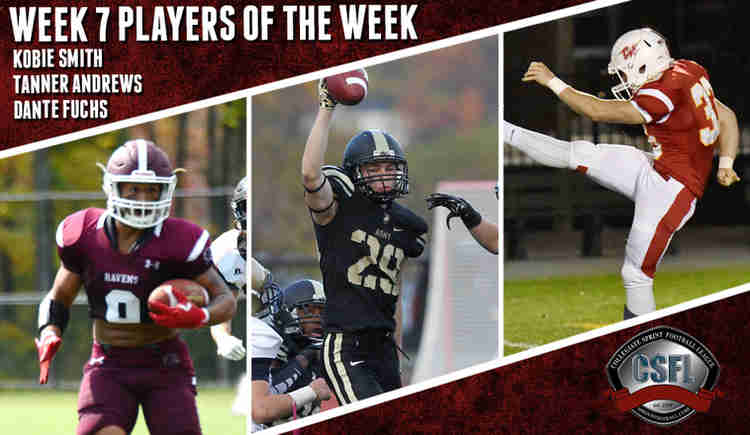 Week 7 Review
By: CSFL Staff | Collegiate Sprint Football League | October 31, 2017
Week seven of the CSFL season saw Army West Point clinch the North Division title with a win over Cornell and Penn claim the South Division title with a victory over Navy to set up the inaugural league championship game Nov. 10 between Army and Penn at West Point. Franklin Pierce and Chestnut Hill also picked up wins in week seven.
WEEK 7 PLAYERS OF THE WEEK
Offensive Player of the Week: Kobie Smith, RB, Franklin Pierce (Leominster, Mass.)
Smith had the second-most prolific rushing day in Franklin Pierce program history on Saturday at Caldwell, as he ran for 269 yards and two touchdowns on 24 carries (11.2 yards per carry), including touchdown runs of 58 and 31 yards. He led a 435-yard rushing attack for the Ravens, which represented a new program record.
Defensive Player of the Week: Tanner Andrews, DB, Army West Point (Elburn, Ill.)
Andrews recorded two interceptions in a 55-0 shutout at Cornell, including returning one 50 yards for a touchdown. He added a pass breakup and five tackles to help lead Army to the North Division title with a shutout.
Special Teams Player of the Week: Dante Fuchs, P/K, Chestnut Hill (Sinking Spring, Pa.)
Fuchs converted eight extra point attempts and averaged 59.1 yards per kickoff on nine kickoffs in Chestnut Hill's 56-14 win over Post. Five of his nine kickoffs resulted in touchbacks.
WEEK 7 REVIEW
Recaps from each of the four games played in week seven of the CSFL can be found below, along with a look at the matchups for the final week of the regular season. Mansfield had the bye last week. Army West Point has the bye in week seven.
Penn (28) at Navy (23)
Penn scored 14 points in the fourth quarter to complete a comeback win on the road at Navy to lock up the South Division title and earn a trip to the league title game, which comes with a chance to repeat as league champion.
Penn put up 283 yards of offense with 131 passing and 152 rushing, while the defense held Navy to just 159 total yards on 47 rushing yards and 112 passing yards.
Eddie Jenkins completed 15-of-21 passes for 131 yards with two touchdowns and two interceptions for Penn. Marcus Jones caught both TD passes and finished with seven catches for 80 yards. Jake Klaus added 74 rushing yards and one score. Matteo Murgia led the Penn defense with eight tackles, including one sack, and one fumble recovery.
Braydan Chmiel competed 9-of-23 passes for 112 yards with two touchdowns and one interception for Navy. Austin Rogers caught both TD passes and finished with 73 receiving yards. Mac Lavis added 52 yards on the ground and one score. Luke Coughlin finished with a game-high 12 total tackles, including four for loss and 1.5 sacks.
Penn will host Mansfield this Friday night at 7 p.m. in the final regular season game before traveling to Army West Point Nov. 10 for the league title game at 7 p.m. Navy will close out the season at home against Caldwell Friday night at 7 p.m.
-----
Army West Point (55) at Cornell (0)
Army rolled to the North Division title and finished off the regular season undefeated to earn hosting rights in the league title game with a 55-0 road win at Cornell.
The Black Knights put up 432 yards of offense and held Cornell to just 115 total yards.
Jake Gigliotti rushed for 71 yards and three touchdowns to pace the Army offense. Ryan Sullivan added 43 rushing yards and one TD, while Jaylen Collier and Brady Miller each rushed for one score as well. Keegan West threw for 251 yards and one TD and Ty Galyean and Clayton Carter each caught seven passes. James Scroggins led the defense with seven tackles, including 3.5 tackles for loss and one sack. Connor Long also had 3.5 TFL and Tanner Andrews had two interceptions, including one that was returned for a TD.
Brooks Panhans threw for 61 yards to lead Cornell. Karriem Royster caught four passes for 38 yards. Dominic LaBell led the defense with 10 tackles and one interception, while Conrad McCarthy added eight stops and 1.5 tackles for loss.
Army has the bye in week eight and will host Penn next Friday night in the league title game at 7 p.m. Cornell will host Post Friday at 7 p.m. to close the year.
-----
Franklin Pierce (45) at Caldwell (7)
Franklin Pierce rolled to a 45-7 win on the road at Caldwell after putting up 545 yards of total offense and a school record 435 rushing yards, while holding Caldwell to 147 yards.
Kobie Smith led the way with 269 rushing yards and two touchdowns on 24 carries. Tionne Brown added 63 yards and two scores on the ground and Jared Lubas and Jose Melo each threw one touchdown. Brown caught three passes for 49 yards and one of those scores, while Andrew Hoenig also caught a 37-yard TD pass. Demitri Moreno led the defense with 12 total tackles, including three tackles for loss.
Vincent Crisafi threw for 67 yards to lead Caldwell, while Nysir Smith threw a 12-yard TD pass to Zion Rodriguez. Colin Williams led the defense with nine total tackles, including one TFL, and one blocked kick.
Caldwell will travel to Navy Friday night to close the season, while Franklin Pierce will travel to Chestnut Hill Friday night.
-----
Chestnut Hill (56) at Post (14)
Chestnut Hill racked up 520 yards of offense and rolled to a 56-14 win on the road at Post.
Raevon Floyd-Bennett rushed for 164 yards and one touchdown to lead two backs with at least 100 yards for the Griffins. Sef Penson also rushed for 112 yards and one score and Michael Marino threw for 129 yards and three touchdowns. David Navas added two TD passes and Reggie Robinson, Jr. caught two passes for 79 yards and two TDs. Josean Perez recorded seven tackles and Kadeem Pankey finished with six tackles and 2.5 TFL.
Khaliq Little rushed for 82 yards and one TD to lead Post. David Mosley threw for 75 yards and ran for 57 yards and David Givens caught five passes for 78 yards. Calvin Harris recorded eight total tackles and one forced fumble to lead the Post defense.
Chestnut Hill will host Franklin Pierce Friday night at 7 p.m. to close the year, while Post will visit Cornell Friday night.
-----
WEEK 8 GAMES
11/3 – Post at Cornell – 7 p.m.
11/3 – Mansfield at Penn – 7 p.m.
11/3 – Caldwell at Navy – 7 p.m.
11/3 – Franklin Pierce at Chestnut Hill – 7 p.m.