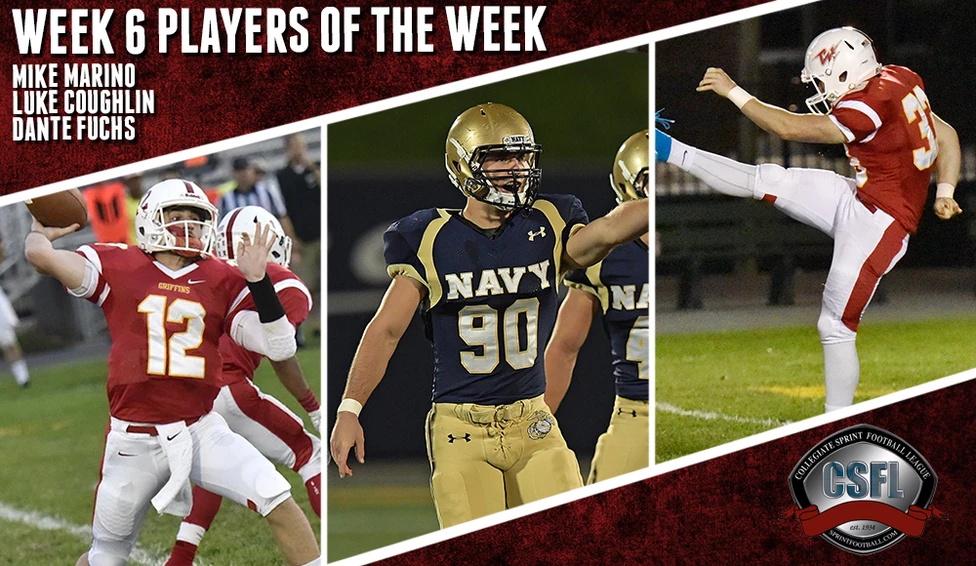 Week 6 Review
By: CSFL Staff | Collegiate Sprint Football League | October 24, 2017
Week six of the 2017 season saw four runaway games with the closest margin of victory in any game being 35 points. Army West Point remained unbeaten on the year, while Navy and Penn also posted wins to set up a divisional showdown in week seven and Chestnut Hill came away with a convincing win. Next week will decide the two divisional winners that will meet for the league title in two weeks.
WEEK 6 PLAYERS OF THE WEEK
Offensive Player of the Week: Mike Marino, QB, Chestnut Hill (Blue Bell, Pa.)
Marino accounted for six total touchdowns, all in the first half, in leading Chestnut Hill to a 49-7 win over Caldwell last week. He completed 9-of-15 passes for 183 yards and four touchdowns through the air and added two rushing touchdowns before taking a seat for the second half.
Defensive Player of the Week: Luke Coughlin, DL, Navy (Islip, N.Y.)
Coughlin helped Navy to a convincing 49-14 win over Cornell last week after leading the defense with nine total tackles, two tackles for loss, one sack and one forced fumble.
Special Teams Player of the Week: Dante Fuchs, P/K, Chestnut Hill (Sinking Spring, Pa.)
In addition to hitting all seven extra point attempts in a 49-7 win over Caldwell, Fuchs averaged 47.0 yards per punt on three punts.
WEEK 6 REVIEW
Recaps from each of the four games played in week six of the CSFL can be found below, along with a look at the matchups for week seven, which include two games that will decide the division winners. Franklin Pierce had the bye last week and will return to action this Saturday at Caldwell. Mansfield has the bye this week.
-----
Post (7) at Penn (42)
Penn put up 495 yards of offense and cruised to a 42-7 win over Post at home. The Quakers held the Eagles to 151 total yards.
Eddie Jenkins was 10-of-15 for 204 yards with one touchdown and also ran for a score in leading the Penn offense. Jake Klaus rushed for 78 yards and three touchdowns on just nine carries and also caught two passes for 34 yards. Marcus Jones had three grabs for 64 yards and one score and Max Jones also had one rushing TD. Matt Gorman led the defense with eight total tackles, while Connor Ashton added seven stops, one TFL and one interception.
David Mosley completed 8-of-16 passes for 74 yards with one TD and one interception for Post. The TD pass went to Golden Borden from 10 yards out. Mosley also rushed for 42 yards. Trevor Patterson led the defense with three tackles for loss and one sack, while Calvin Harris added one interception.
Penn will travel to Navy Friday night for a 7 p.m. game that will decide the South Division winner, while Post will host Chestnut Hill Saturday at 6 p.m.
-----
Caldwell (7) at Chestnut Hill (49)
Mike Marino accounted for six touchdowns in the first half as Chestnut Hill pulled away early for a 49-7 win over Caldwell.
Marino threw for 183 yards and four touchdowns with no interceptions and also rushed for 16 yards and two scores. Domoree Hill caught three passes for 97 yards and one TD, while Tyler Clayton and Reggie Robinson, Jr. each caught one TD pass as well. Brian Layden posted 10 total tackles and Kyle Johnson-Hackett added eight tackles, three TFL and one sack to lead the defense.
Caldwell was paced by Quazier Dailey with 50 rushing yards, while Zavion Stevens scored the lone TD for the Cougars and finished with 22 rushing yards. Jared Dockett caught two passes for 51 yards. Royce Francisco finished with five tackles and two TFL to pace the defense.
Chestnut Hill will travel to Post Saturday for a 6 p.m. kick in week seven, while Caldwell will host Franklin Pierce Saturday at 2 p.m.
-----
Cornell (14) at Navy (49)
Navy scored the first 35 points of the game and racked up 467 yards of offense in a 49-14 win at home over Cornell in a rare Friday morning game that started before noon.
Braydon Chmiel completed 13-of-18 passes for 228 yards and five touchdowns to lead the Navy offense. He also rushed for 25 yards. His five TD passes all went to different receivers and all came from at least 15 yards out. Sam Shaunak caught four passes for 86 yards and one score. Other TD passes went to Eric Spicer, Dane Livengood, Austin Rogers, Walt Fagan and Ram Nagarajah. Jacob Hudson was 2-fo-2 for 54 yards and one TD as Navy scored six passing TDs in the game. The defense was paced by Dean Rye and Luke Coughlin with nine stops each. Coughlin added two TFL and the game's lone sack.
Cornell was led by Will Griffen, who rushed for 54 yards with one touchdown and added three catches for 16 yards. Brooks Panhans also rushed for 54 yards and passed for 41 yards and one score, which went to Connor Young. Alfonso Nazzaro led the Cornell defense with 11 total tackles, while Harold Green had two TFL.
Cornell will host Army West Point at 7 p.m. Friday night to decide the winner of the North Division, while Navy will host Penn Friday night to decide the winner of the South Division.
-----
Army West Point (62) at Mansfield (14)
Army continued to roll through its schedule in convincing fashion with a 62-14 road win at Mansfield in which the Black Knights put up 439 yards of offense.
Keegan West completed 15-of-20 passes for 164 yards with three touchdowns and no interceptions to lead the offense. Brady Miller completed 7-of-11 passes for 81 yards and one score. Tom Williamson caught two TD passes and Mike Shannon and John Descisciolo each finished with just over 50 receiving yards in the game. Clayton Carter also caught one TD and Jake Gigliotti rushed for two scores and 63 yards, while Matthew Sauter added 58 rushing yards and one score. Connor Long led the defense with five total tackles and two sacks. Tate Blessinger had one sack and one interception and Desmond Young finished with one interception and four pass breakups.
Mansfield got 188 total passing yards out of three quarterbacks with Nick Cherasaro seeing most of the action. He completed 14-of-34 passes for 109 yards and one TD. Adam Hutchison threw for 59 yards and ran for one TD. D.J. Mclean caught four passes for 81 yards and Jeff Bagwell caught one TD pass. Josh Friebis led the Mansfield defense with a league-high 14 tackles and one TFL. Kyle Post had 12 stops and Nic Anastasi and Nicko Bryant, Jr. each had 10 tackles.
Army will travel to Cornell Friday night at 7 p.m. to decide the North Division winner, while Mansfield will have a bye in week seven.
PLAYOFF SCENARIOS
Only four teams remain alive with a chance to reach the CSFL title game in two weeks. In the North Division, this week's game between Army West Point and Cornell will decide the division's representative, while in the South Division, this week's game between Penn and Navy will decide the division. We'll know by the end of the night Friday what the match up for the league title game will be, as the outcomes of the week eight games won't be able to change the division winners.
WEEK 7 GAMES
10/27 – Army West Point at Cornell (7 p.m.)
10/27 – Penn at Navy (7 p.m.)
10/28 – Franklin Pierce at Caldwell (2 p.m.)
10/28 – Chestnut Hill at Post (6 p.m.)