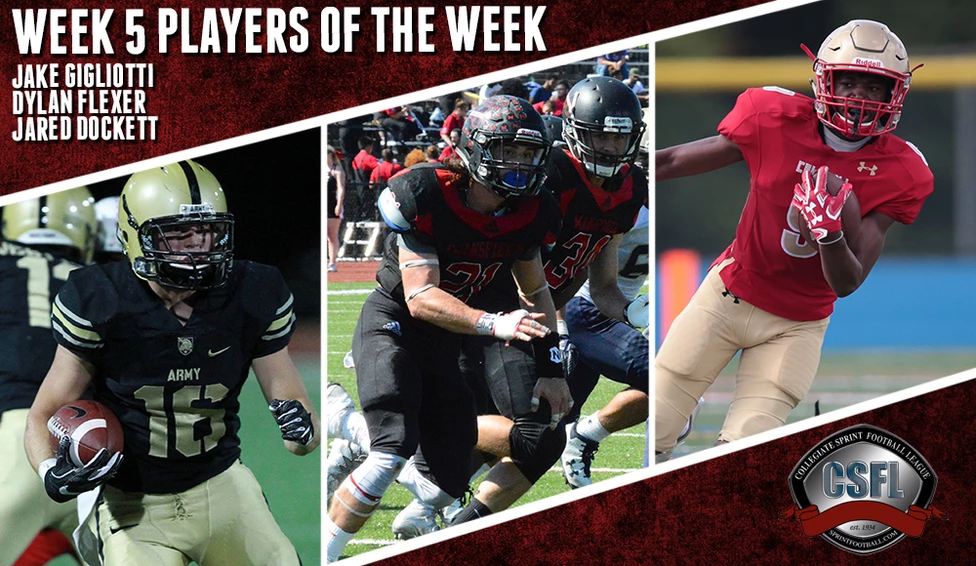 Week 5 Review
By: CSFL Staff | Collegiate Sprint Football League | October 17, 2017
The fifth week of the CSFL season saw Army West Point remain unbeaten with a win over Chestnut Hill, Navy improve to 4-1 with a win over Post, Mansfield pick up its first win of the season over Caldwell and Cornell score a final minute comeback win over Franklin Pierce.
WEEK 5 PLAYERS OF THE WEEK
Offensive Player of the Week: Jake Gigliotti, RB, Army West Pont (Yorba Linda, Calif.)
Gigliotti posted his first-career 100-yard rushing effort after rushing for 182 yards and two touchdowns on 20 carries in Army's 52-12 win over Chestnut Hill. In addition to averaging 9.1 yards per carry, Gigliotti also caught two passes for 34 yards to finish with 216 all-purpose yards, becoming the first Army player to eclipse 200 all-purpose yards in a game this season.
Defensive Player of the Week: Dylan Flexer, DE, Mansfield (Lehighton, Pa.)
Flexer was dominant in leading the defense in Mansfield's 49-19 win over Caldwell. He recorded a Mansfield record and CSFL season-high 5.0 sacks for a loss of 51 yards. He also forced one fumble and finished his day with six total tackles for loss. The senior has recorded at least 2.0 sacks in each of the last four games and now leads the CSFL in sacks (11.0) and tackles for loss (15.0) on the year.
Special Teams Player of the Week: Jared Dockett, WR/KR, Caldwell (Bloomfield, N.J.)
Dockett posted Caldwell's first 100-yard receiving game as he finished with four receptions for 107 yards in the loss at Mansfield, but earns the weekly honor for his special teams effort. He returned three kickoffs for a total of 114 yards, including a 78-yard return for a touchdown, which is the only kickoff return TD in the league this year. In total, Dockett racked up 242 all-purpose yards in the game.
WEEK 5 REVIEW
Recaps from each of the four games played in week five of the CSFL can be found below, along with a look at the matchups for week six. Penn had the bye last week and will return to action this Friday night at home against Post. Franklin Pierce has the bye in week five.
-----
Chestnut Hill (12) at Army West Point (52)
Army continued to roll through the league and remained unbeaten after putting up 490 yards of offense in a 52-12 home win over Chestnut Hill. The Griffins were held to 194 yards of total offense.
Keegan West and Jake Gigliotti accounted for most of the offense for Army with GIgliotti rushing for 182 yards and two scores and finishing with 216 all-purpose yards. West completed 13-of-16 passes for 229 yards with three touchdowns and no interceptions. He also rushed for one score to account for four TDs. Tom Williamson caught five passes for 85 yards and two TDs. Mike Shannon caught three passes for 74 yards and one score and Ty Galyean added three catches for 28 yards and one TD. The Black Knights defense recorded eight sacks in the game with James Scroggins coming up with two of those to go along with one forced fumble and one fumble recovery. Connor Long added three TFL and finished with a team-high five tackles.
Chestnut Hill was paced by David Navas at quarterback. Navas completed 17-of-34 passes for 198 yards and two touchdowns. Both scoring plays went to Domoree Hill, who finished with six catches for 120 yards and two TDs. The Griffins got all of their yardage through the air after being held to negative 10 rushing yards in the game. Marcel Mitchell led the defensive effort with seven total tackles, 1.5 tackles for loss and a half-sack. Brian Layden and Marcus Hems each recovered one fumble.
Army will travel to Mansfield Saturday for a 1 p.m. kickoff, while Chestnut Hill will host Caldwell Friday evening at 7 p.m.
-----
Mansfield (49) at Caldwell (19)
Mansfield jumped out to a 35-12 halftime lead and cruised to its first win of the season, 49-19 on the road at Caldwell.
The Mountaineers put up 451 yards of offense to the Cougars' 370 yards.
David Butler handled the bulk of the load for Mansfield, rushing for four touchdowns and 94 yards on 18 carries. Damir Washington added six carries for 64 yards and one score. Nick Cherasaro was 12-of-25 in the passing game with 168 yards, one touchdown and one INT. D.J. McLean caught three passes for 76 yards and one score and Jeff Bagwell added four grabs for 73 yards. Dylan Flexer was dominant in the pass rush all day, finishing with a school record 5.0 sacks and 6.0 tackles for loss. He also forced one fumble. Kane Kania added 12 tackles, 2.5 TFL and one fumble recovery and Josh Friebis added 10 tackles and a fumble recovery.
Caldwell was paced by Jared Dockett, who returned a kickoff for a touchdown and recorded the first 100-yard effort for a receiver in the program's first year. He finished with 107 receiving yards and 242 all-purpose yards. Carl Watson rushed for 87 yards and one score on just four carries after busting a 66-yard scoring run. Nathan Harris-Norton and Quintin Quartararo each had eight tackles to pace the defense for Caldwell, while Sid Douglas added seven stops and one TFL, Jamar Buckner came down with one interception and Royce Francisco forced and recovered one fumble.
Mansfield will host Army Saturday at 1 p.m., while Caldwell will travel to Chestnut Hill Friday night for a 7 p.m. game.
-----
Cornell (19) at Franklin Pierce (14)
In what proved to be the best game of the week, Cornell rallied back from down 14-3 at halftime and scored the winning points with just 28 seconds left to defeat Franklin Pierce on the road.
Cornell QB Connor Ostrander rushed in from five yards out with 28 second left to put Cornell up 19-14 and Dominic LaBell came down with an interception on the next possession for the hosts to seal the win.
Ostrander was the star of the game for Cornell, rushing for 120 yards and one touchdown on 26 carries and passing for 90 yards and one score with one INT. His TD pass went to Karriem Royster, who finished with 28 yards and one score. Ben Finkelstein played a big role in the win as well, as the placekicker booted two field goals from 26 and 22 yards and scored seven of his team's 19 points. Cornell was paced by Ian Rawn on defense with eight tackles. Alfonso Nazzaro added six stops and Collin Stockton came up with 2.0 TFL.
Kobie Smith led Franklin Pierce with 84 rushing yards and one score, while Tionne Brown caught 10 passes for 83 yards and one touchdown. Jared Lubas completed 14-of-23 passes for 110 yards with one TD and one INT. Demitri Moreno led the Ravens defense with 11 total tackles, including 3.0 TFL. Jon Nogueira added nine stops and one TFL and Ryan Becerra recorded one interception.
Cornell will travel to Navy Friday for an 11:30 a.m. kickoff, while Franklin Pierce will have the bye in week five.
-----
Navy (39) at Post (0)
Navy was dominant in posting a 39-0 shutout on the road at Post as the Midshipmen put up 384 yards of offense while holding the Eagles to just 54 total yards.
Braydan Chmiel led the offensive attack in his first startin, completing 21-of-37 passes for a Navy season-high 301 yards with two TDs and no INT. He also rushed for 40 yards and one score on 13 carries. JT Thompson caught six passes for 88 yards and Austin Rogers caught five passes for 93 yards. The TD tosses went to Dane Livengood and Sam Shaunak. Livengood also rushed for one score, as did Brennen Means, who rushed for 52 yards. Sheppard Wilson paced the Navy defense with six tackles, one sack and one forced fumble. Luke Coughlin added 2.0 sacks, one forced fumble and one fumble recovery and Caiden Groff also had one forced and one recovered fumble.
Post finished with negative 36 rushing yards after Navy recorded six sacks in the game. Buddy Enriquez passes for 42 yards and David Mosley passed for 48 yards. Alez Glarza caught five passes for 32 yards. Hansley Dalambert paced the Post defense with a strong effort that included a league-high 6.5 tackles for loss. He finished with nine total stops, including one sack. Eleodoro Perez added two sacks and Calvin Harris recovered one fumble.
Navy will host Cornell Friday at 11:30 a.m., while Post will travel to Penn Friday night at 7 p.m. as the Quakers return from having the bye in week five.
WEEK 6 GAMES
10/20 – Cornell at Navy (11:30 a.m.)
10/20 – Post at Penn (7 p.m.)
10/20 – Caldwell at Chestnut Hill (7 p.m.)
10/21 – Army West Point at Mansfield (1 p.m.)