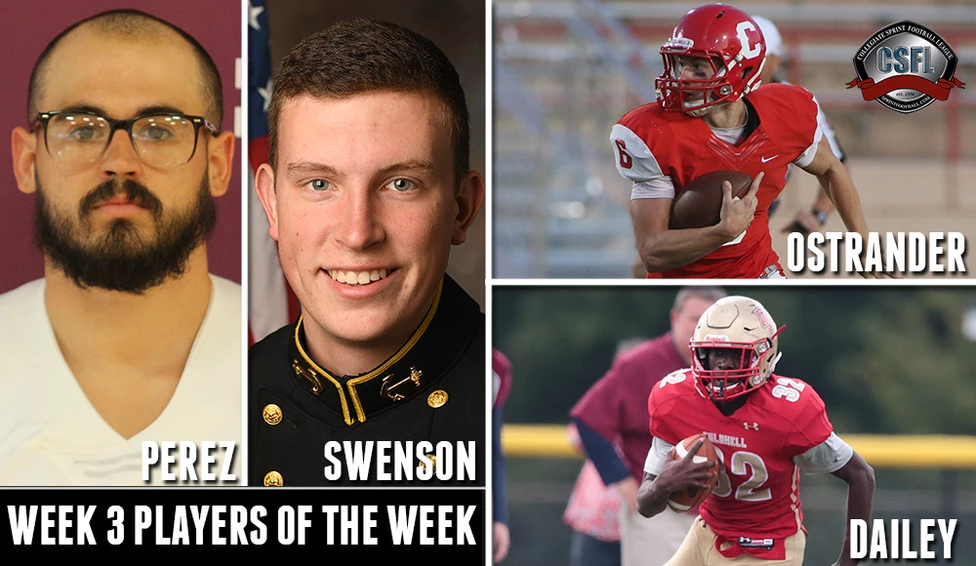 Week 3 Review
By: CSFL Staff | Collegiate Sprint Football League | October 3, 2017
The third week of the CSFL season saw Army West Point remain unbeaten with a close victory against defending champion Penn, Navy improve to 3-0 with a shutout win over Franklin Pierce, Caldwell pick up its first program victory on the road at Post and Cornell come away with a win at Mansfield.
Before we get into the Players of the Week and the review, the CSFL would like to pass along condolences to the Franklin Pierce sprint football program and the entire Ravens' community after the sudden passing last week of assistant coach Nick Seymour, who was tragically killed in a car accident. Our thoughts and prayers are with coach Seymour's family, friends and everyone at Franklin Pierce that has been impacted by his loss. To read more about coach Seymour, including many touching tributes from those at Franklin Pierce that knew him best, click HERE.
WEEK 3 PLAYERS OF THE WEEK
Co-Offensive Player of the Week: Connor Ostrander, QB, Cornell (Longmeadow, Mass.)
Ostrander was responsible for all five of Cornell's touchdowns in a 35-14 victory on the road at Mansfield, throwing for three and rushing for two more. He completed 26-of-36 pass attempts for 286 yards and three touchdowns. Those passing numbers are the best single-game effort in the league this season.
Co-Offensive Player of the Week: Quazier Dailey, RB, Caldwell (Prospect Park, N.J.)
Dailey turned in a huge day on the ground with 17 carries for 154 yards and two touchdowns to help lead Caldwell to the program's first win. He averaged 9.1 yards per carry and ripped off a 59-yard run, the longest in the CSFL this season. Dailey posted the program's first 100-yard rushing effort and his 154 yards are the most by any back in a single-game in the CSFL this year.
Defensive Player of the Week: Eleodoro Perez, DB, Post (Chino, Calif.)
Perez put together a stellar defensive performance in a close loss for Post. He recorded 13 total tackles, including two tackles for loss and one sack. He also forced a fumble, recovered it and returned it 26 yards for a touchdown that gave Post a lead in the second half.
Special Teams Player of the Week: Jared Swenson, PK, Navy (Seymour, Wis.)
Swenson repeats as the special teams honoree for the second straight week after tallying nine points in Navy's 33-0 win over Franklin Pierce. He finished the game with two field goals, from 23 and 25 yards, and made all three of his PAT attempts. This season, Swenson is 6-for-7 in field goal attempts and 11-for-11 in extra point tries for a team-high 29 points.
WEEK 3 REVIEW
Recaps from each of the four games played in week three of the CSFL season and a look at week four matchups can be found below. Chestnut Hill had the bye in week three and will return to action on the road at Mansfield this Saturday. Caldwell has the bye in week four.
Army West Point (24) at Penn (14)
In an early season showdown of divisional favorites, Army West Point came away with a 24-14 road win over defending champion Penn, handing the Quakers their first loss in the last two seasons. Army remained atop the North Division standings with a 3-0 overall record and 2-0 mark in division games. Penn dropped to 2-1 overall, but remains tied with Navy atop the South Division standings at 2-0 in division play.
Army was dominant early, opening up a 17-0 lead at halftime and extending the lead out to 24-0 before Penn scored twice in the final four minutes.
Army posted a 275-125 edge in total offense after passing for 2014 yards and rushing for 71 yards. The Black Knights were able to overcome six turnovers on offense after throwing four interceptions and losing two fumbles. Penn managed 157 yards through the air, but rushed for -32 yards.
Keegan West completed 17-of-27 passes for 198 yards with two TD and three INT for Army. Ty Galyean caught five passes for 79 yards and one score and Clayton Carter caught five passes for 78 yards and one score. Curtis Jerzeric finished with seven tackles, including 4.0 TFL and 2.0 sacks, to lead the Army defense. Connor Long also had seven tackles and 2.0 TFL.
Eddie Jenkins completed 12-of-33 passes for 157 yards with one TD and one INT for Penn, but was under pressure often and was sacked seven times. Aidan Kelly caught seven passes for 103 yards and one touchdown. Michael Doulong returned an interception 55 yards for the first Penn TD of the game with 3:06 to play in the fourth. Matt Gorman registered 11 tackles, 3.0 TFL, one sack, one forced fumble and one interception to pace the defense.
Army will host Navy Saturday at 1 p.m. in the annual Star Game, while Penn will travel to Cornell Friday night for a 7 p.m. kickoff in week four.
-----
Franklin Pierce (0) at Navy (33)
Franklin Pierce should be commended for the way the team handled themselves just days after the tragic loss of an assistant coach. The Ravens boarded buses just two days after coach Seymour's death and stepped on the field at Navy just three days later.
The score of the game didn't mean as much to the Ravens as just being out on the field honoring coach Seymour that day.
Navy improved to 3-0 overall with a 33-0 win, while Franklin Pierce dropped to 1-2. The Midshipmen put up 347 yards of offense after throwing for 215 yards and rushing for 132, while the Ravens managed 82 yards, with 59 on the ground.
Brandon Coleman paced Navy with 144 passing yards and one touchdown. He also rushed for 30 yards. Jay Cooke caught three passes for 73 yards and 11 different players caught at least one pass for the Mids. Sheppard Wilson recorded a team-high eight tackles.
Tionne Brown rushed for 33 yards and Sekou Veillard caught three passes for 17 yards to pace the Ravens offense. Bailee Johns recorded a game-high 13 total tackles, including 2.0 TFL and Demitiri Moreno registered 10 tackles and 1.0 TFL.
Navy will travel to Army for the annual Star Game Saturday, while Franklin Pierce will travel to Post Saturday.
-----
Caldwell (28) at Post (19)
Caldwell scored 14 unanswered points in the third and fourth quarters to complete a comeback victory, 28-19, on the road at Post for the program's first win in just its third game. The Cougars improved to 1-2 with the win, while Post dropped to 0-2.
Caldwell put up 323 yards of total offense after rushing for 285 yards on 73 carries and passing for 38 yards on just 10 attempts. Post went for 223 yards of total offense, with 186 coming through the air and 37 on the ground.
Quazier Dailey is establishing himself as one of the top backs in the league and carried the offense to the tune of 154 yards and two touchdowns on 17 carries. Zavion Stevens added 86 yards and one TD on 18 carries. Vincent Crisafi completed just three passes, but two of those were touchdowns, with Carl Watson and Nysir Smith each pulling down one TD. Quintin Quartararo paced the defense with 10 tackles, one sack and one forced fumble. Royce Francisco added nine tackles and 2.5 TFL and Colin Williams had 3.0 TFL and 1.5 sacks.
Buddy Enriquez paced the offense for Post, throwing for 186 yards and rushing for one TD. Devin Givens caught six passes for 77 yards and Golden Borden caught three passes for 50 yards. Luis Medina rushed for 42 yards. Eleodoro Perez forced, recovered and returned a fumble for a touchdown and finished with 13 total tackles, 2.0 TFL and one sack. Quenntin Thompson posted a league-high 14 tackles and came up with one interception.
Caldwell has the bye in week four, while Post will host Franklin Pierce Saturday.
-----
Cornell (35) at Mansfield (14)
Cornell scored 14 unanswered points in the second half to pull away for a 35-14 win at Mansfield Saturday night. The Big Red improved to 2-0 on the year with the win, while Mansfield dropped to 0-3.
Cornell posted a 412-151 edge in total offense and held the Mounties to just six first downs in the game. The Big Red threw for 286 yards and rushed for 126, while Mansfield threw for 117 and rushed for 34.
Connor Ostrander led the Cornell offense with the most passing yards in a game in the league this season, finishing 26-of-36 for 286 yards with three TD. He also rushed for two TD to account for all five of his team's scores. Karriem Royster caught six passes for 108 yards and one TD and Jack Nicoletti caught six passes for 67 yards and one score. Will Griffen rushed for 94 yards on 14 carries. Alfonso Nazzaro recorded a team-high seven tackles, while Conrad McCarthy had 2.0 TFL and 1.5 sacks and Dominic LaBell forced and recovered one fumble.
Mansfield was led by Nick Cherasaro with 77 passing yards and one TD. Adam Hutchison also threw one TD pass. D.J. McLean caught six passes for 38 yards and one score and Chad Steinmetz caught two balls for 17 yards and one TD. Kyle Post tied the Mansfield record for interceptions and also blocked two kicks to pace the defense. Kane Kania finished with 12 total tackles, including 2.5 TFL.
Cornell will host Penn Friday night, while Mansfield will host Chestnut Hill Saturday.
WEEK 4 GAMES
10/6 – Penn at Cornell (7 p.m.)
10/7 – Franklin Pierce at Post (11 a.m.)
10/7 – Chestnut Hill at Mansfield (Noon)
10/7 – Navy at Army West Point (1 p.m.)