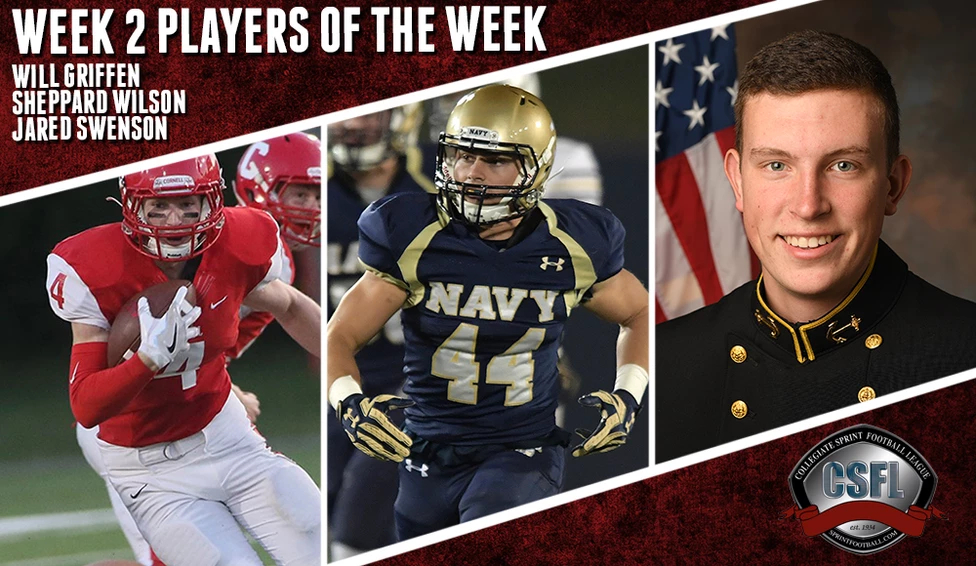 Week 2 Review
By: CSFL Staff | Collegiate Sprint Football League | September 26, 2017
The second week of the 2017 CSFL season saw Army West Point and Navy cruise to convincing wins, defending champion Penn win a backyard rivalry game and Cornell open its season with a victory over Caldwell. Three teams are now 2-0 in conference play after two weeks of the season.
WEEK 2 PLAYERS OF THE WEEK
Offensive Player of the Week: Will Griffen, RB, Cornell (Schuylerville, N.Y.)
Griffen accounted for 140 all-purpose yards and three touchdowns in leading Cornell to a 48-20 win over Caldwell. He rushed for 88 yards and three scores on just 14 carries and added 44 kickoff return yards and eight receiving yards.
Defensive Player of the Week: Sheppard Wilson, LB, Navy (Charlotte, N.C.)
Wilson helped lead Navy to a 41-14 victory at Mansfield in which the final score looked at lot more lopsided than most of the game. Leading 17-14 at the start of the fourth quarter, Wilson recorded an interception and took it back 19 yards for a touchdown that sparked a 24-point fourth quarter and secured the victory for Navy. He finished the game with three tackles, including a half-sack, and also added two pass breakups and a blocked punt, which set up Navy's first touchdown of the game.
Special Teams Player of the Week: Jared Swenson, PK, Navy (Seymour, Wis.)
Swenson tallied 11 total points in Navy's 41-14 victory on the road at Mansfield. He converted all five of his PAT kicks and made two field goals, one from 35 yards and another from 27 yards, in addition to sending his only kickoff of the day through the end zone for a touchback.
WEEK 2 REVIEW
Recaps from each of the four games played in week two of the CSFL season and a look at week three matchups can be found below. Post had the bye last week and will return to action at home this weekend against Caldwell. Chestnut Hill has the bye in week three.
Caldwell (20) at Cornell (48)
Cornell (1-0) scored 42 points in the first half, including 28 in the second quarter to pull away early for a 48-20 win over Caldwell (0-2) in the Big Red's season opener.
Caldwell ran nearly 40 more plays in the game and finished with 393 yards of total offense after running for 215 yards and throwing for 178 yards, but Cornell was efficient, averaging 7.1 yards per play and finishing with 272 rushing yards and 103 passing yards for 375 total yards.
Will Griffen paced the attack for Cornell with three rushing touchdowns and 88 yards on the ground. Dean Ames added 71 yards and one score and Connor Ostrander rushed for 63 yards with one TD. He also passed for 99 yards. Brooks Panhans ran for 35 yards and one score and threw for one touchdown, which went to Ryman Seeley. The Cornell defense was led by Amanze Udebiuwa with 11 total tackles and Kenneth Fest with 10 tackles, 2.0 sacks and 2.5 tackles for loss. Harold Green also had two sacks and 2.5 tackles for loss as the defense racked up 16 total TFL.
Caldwell was paced by Carly Watson, who finished with 178 yards of total offense after rushing for 98 yards and two scores on just 12 carries and catching seven passes for 80 yards. Zavion Stevens rushed for 79 yards and Nysir Smith rushed for 47 yards and one TD while also catching three passes for 34 yards. Ryan Mondo threw for 122 yards. Quintin Quartararo paced the Caldwell defense with five total tackles, while Otto Fricker added four stops, one TFL and one blocked kick.
Caldwell will travel to Post at noon this Saturday, while Cornell will visit Mansfield Saturday night at 7:30 p.m.
-----
Penn (20) at Chestnut Hill (7)
While it has been known to be an explosive offense over the last two years, defending champion Penn (2-0, 2-0 South) leaned on its defense to come away with a 20-7 win against inner-city rival Chestnut Hill (0-2, 0-2 South) in week two.
The Quakers put up 355 yards of offense and got timely scoring, but it was the defensive effort that earned the win after Penn held the hosting Griffins to just eight first downs and 56 rushing yards. Chestnut Hill threw for 162 yards to finish with 218 yards of offense, while Penn passed for 192 and added 163 on the ground.
Eddie Jenkins led the offense for Penn by throwing for 192 yards and one touchdown and also rushing for 79 yards and one score. He gained 117 total yards on the ground, but was sacked seven times for a loss of 38 yards to bring that rushing tally back down under 100 yards. Jake Klaus added 84 rushing yards and one TD on 23 carries. Aidan Kelly caught four passes for 111 yards and the lone receiving TD of the game for the Quakers. Matt Gorman led the Penn defense with eight tackles and one sack, while Andreas Wang added two sacks and Tracey Woods, Jr. broke up four passes.
Chestnut Hill was led by Michael Marino, who threw for 162 yards and one touchdown, which was an 81-yarder to Domoree Hill for the Griffins lone score of the game. Joe Lee caught four passes for 33 yards and Hill finished with two catches for 87 yards. Brian Layden led the defensive effort with a game-high 10 total tackles, including one sack. He also recovered one fumble. Marcell Mitchell finished with three sacks and four tackles for loss.
Penn will host Army West Point Friday night in the marquee matchup in week three, while Chestnut Hill will have the bye in week three.
-----
Navy (41) at Mansfield (14)
This game stayed tight through three quarters before Navy (2-0, 2-0 South) opened the fourth quarter with a pick six and exploded for 24 points in the final 15 minutes to pull away for a 41-14 win over Mansfield (0-2, 0-1 South).
The Midshipmen put up 455 yards of total offense after running for 299 yards and throwing for 156. Mansfield managed 242 yards of offense after throwing for 189 yards and rushing for 53. Both teams turned the ball over at least three times with Navy fumbling twice and throwing one interception and Mansfield throwing three picks and losing two fumbles.
Navy was led by Brandon Coleman, who rushed for 103 yards on just 14 carries and also threw for 68 yards. Braydan Chmiel rushed for 74 yards and threw for 88 yards and one touchdown. Navy got three rushing TDs in the game with one each from Mac Lavis, Stefano Saragusa and Miles Whitlow. Matt Vogel caught four passes for 69 yards. Mason Hooten paced the Navy defense with six total tackles, two interceptions and one sack. Sheppard Wilson added one pick six, which came at the beginning of the fourth quarter and sparked the run to end the game.
Mansfield was led by Nick Cherasaro, who threw for 189 yards and ran for one TD in the game, but was intercepted three times. D.J. McLean caught five passes for 51 yards. Shaun Jackson added three catches for 46 yards and Jakob Woods caught two passes for 40 yards. David Butler rushed for 24 yards and one TD. Josh Friebis led the Mansfield defense with a game-high 14 total tackles and one fumble recovery. Kyle Post added 10 tackles and Dylan Flexer recorded 2.0 sacks and 2.5 tackles for loss.
Navy will host Franklin Pierce this Saturday at noon, while Mansfield will host Cornell Saturday night at 7:30 p.m. for its Homecoming game.
-----
Army West Point (51) at Franklin Pierce (0)
Our final game of the week proved to be another decisive victory for Army West Point (2-0, 2-0 North) as the Black Knights recorded their second straight shutout to open the year with a 51-0 win at Franklin Pierce (1-1, 0-1 North).
Army was dominant in all phases and posted 311 total yards of offense while holding the Ravens to just 164 total yards and five first downs.
Quay Gilmore rushed for 109 yards and two touchdowns to go over 100 yards for the second week in a row for Army. Keegan West threw for 110 yards and one touchdown and also rushed for one score. Brady Miller passed for two touchdowns on just three completions. Tom Williamson caught three passes for 66 yards and one TD and Jake Gigliotti and John Descisciolo each caught one TD pass. Desmond Young and Nathan Lopez each had six tackles for Army, while James Scroggins had one sack and Curtis Jerzeric returned one fumble for a touchdown.
Jared Lubas led the Franklin Pierce offense with 108 passing yards. Tionne Brown caught five passes for 35 yards and Kobie Smith caught one pass for 62 yards. Smith also rushed for 17 yards to lead the ground game for the Ravens. The defense was led by Ryan Becerra with 10 total tackles and two pass breakups. Bobby Kierce added two tackles for loss.
Army will travel to Penn for a big early season matchup Friday night, while Franklin Pierce will travel to Navy Saturday at noon.
WEEK 3 GAMES
9/29 – Army West Point at Penn (7 p.m.)
9/30 – Franklin Pierce at Navy (Noon)
9/30 – Caldwell at Post (Noon)
9/30 – Cornell at Mansfield (7:30 p.m.)