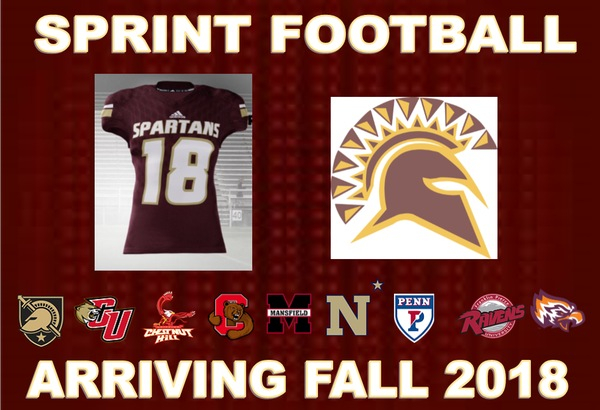 St Thomas Aquinas joins CSFL
By: CSFL Staff | Collegiate Sprint Football League | December 7, 2017
The Collegiate Sprint Football League and commissioner Matthew Munnelly are excited to announce the addition of St. Thomas Aquinas College as the 10th full-time member of the league. The Spartans will begin competing in 2018, growing the league to 10 members for the first time in its storied history.
"We're thrilled to announce the addition of St. Thomas Aquinas to the Collegiate Sprint Football League as our 10th member," said Munnelly. "In the last decade, we've seen the league double in size, providing hundreds of student-athletes with an opportunity to continue playing the game they love. The 2018 season will be an exciting new chapter in our sport's history and we're looking forward to the Spartans being a big part of that."
Located in Sparkill, New York, St. Thomas Aquinas will be the first ever collegiate football team at any level in Rockland County.
"St. Thomas Aquinas College is honored to join the Collegiate Sprint Football League," said college president Dr. Margaret Fitzpatrick, S.C. "The STAC Football Spartans will continue the College's tradition of academic excellence, competitiveness and service to the community. We recognize these same values in the member institutions of our League. St. Thomas Aquinas College is proud to stand alongside the student-athletes of the CSFL."
Gerald Oswald, director of athletics, echoed president Fitzpatrick's sentiments on the addition of a sprint football team at the college.
"Sprint football will add increased excitement and enhance the student life experience," said Oswald. "Our athletic department has built a strong reputation and this will create another opportunity to engage the local community to become more involved with the college. We are thankful to be added into this prestigious league and we look forward to our first game next fall."
In announcing its newest sport Thursday, STAC also made the announcement that Matthew Berry has been named the head coach of the Spartans and will lead the team into its inaugural season in 2018.
Barry comes to STAC with more than 20 years of coaching and leadership experience.
"We are excited to bring sprint football to STAC and to the county," said Barry. "With STAC's extensive athletic program, it couldn't be a better place or time to introduce college football. We're looking forward to building a successful program and giving student-athletes another chance to excel both on the field, in the community and in the classroom."
STAC becomes the 10th member of the CSFL and will compete in the North Division beginning in 2018, giving the league two balanced divisions with five teams in each division. The North Division will consist of Army West Point, Cornell, Franklin Pierce, Post and STAC, while the South Division will remain unchanged with Penn, Navy, Chestnut Hill, Mansfield and Caldwell.
Sprint football becomes the 21st intercollegiate sport offered at STAC, joining 20 NCAA Division II men's and women's teams.