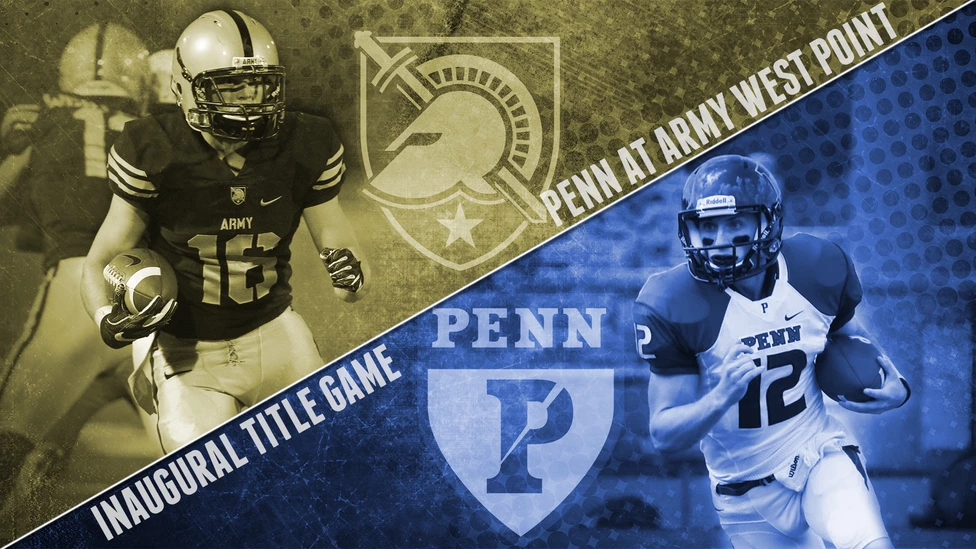 CSFL Title Game Preview
By: CSFL Staff | Collegiate Sprint Football League | November 8, 2017
Defending Collegiate Sprint Football League champion Penn (6-1) will travel to undefeated Army West Point (7-0) Friday night, Nov. 10, for the inaugural CSFL Championship game between the North and South Division winners. Kickoff is set for 7 p.m. at West Point's Shea Stadium on the banks of the Hudson River.
LIVE COVERAGE
- Live Video Link - $6.95 Subscription Fee
FIRST EVER TITLE GAME
This game marks the inaugural title game for the CSFL as the league was split into two divisions this season for the first time after growing to nine total teams. Army West Point won the North Division with a perfect 3-0 mark in divisional play, while Penn won the South Division with an unblemished 4-0 record in the division. They will meet for the Robert L. Cullen league championship trophy.
CHAMPIONSHIP HISTORY
This game will feature the last two CSFL champions as Army West Point won the league title in 2015 and Penn won it last year. Army has won a total of 34 CSFL titles in program history and is looking to wrap up its 19th perfect season. The Black Knights were also perfect in 2012, 2013 and 2015). Penn is looking for its sixth CSFL title and its third in the last eight seasons. The Quakers were perfect last year to claim the title and also won the 2010 championship.
RECORDS
Army enters the game with a perfect 7-0 mark and is coming off a bye week last week. Penn enters the game at 6-1 overall with the only blemish being a 24-14 loss to Army back on Sept. 30.
SCOUTING ARMY
Army has been dominant most of the year with the first meeting against Penn, a 24-14 win, marking the only game this season in which the Black Knights were held under 40 points. That game was also the only game this year for Army in which its opponent stayed within 34 points of the Black Knights.
Army's defense was a powerhouse all year, posting three shutouts and leading the league in scoring defense (6.6 points per game) and total defense (154.9 yards per game). The offense was also dominant and led the league on the year in scoring (50.6 points per game) and total offense (388.1 yards per game).
Keegan West leads the way from the QB spot after posting league-highs of 1,323 passing yards and 15 touchdowns. West also rushed for three touchdowns for account for 18 scores on the year. Jake Gigliotti leads the way on the ground with 471 rushing yards and a league-high 10 touchdowns. Tom Williamson enters the game with 20 catches for 399 yards and six touchdowns, while Ty Galyean and Clayton Carter both have 23 catches with Galyean going for 301 yards and five scores and Carton going for 283 yards and four scores.
The defense posted 85 tackles for loss and 34 sacks in just seven games on the year. James Scroggins leads the way with 37 total tackles, 13.5 TFL and 7.0 sacks. Connor Long has 33 total stops, including a team-high 17.0 TFL and 8.5 sacks. Curtis Jerzerick has added 10.5 TFL and 5.0 sacks, while Tanner Andrews has two interceptions.
SCOUTING PENN
Penn enters the title game ranked in the top three in nearly every statistical category in the league this season. The Quakers rank second in the league in scoring defense (13.4 points per game) and third in total defense (237.0 yards per game), while ranking third in scoring offense (36.1 points per game) and second in total offense (374.3 yards per game).
This game will feature the top two passers in the league as Penn QB Eddie Jenkins leads the league in passing average at 201.7 yards per game. He skipped last week's game to rest, but still threw for 1,210 yards with 11 TD and just three INT in six games this year. Jenkins also rushed for six touchdowns and 235 yards this year to account for 17 total TDs. Jake Klaus leads the ground game for Penn after ranking second in the league in average rushing this year at 76.1 yards per game. He ran for 533 yards and nine touchdowns to finish second in rushing TDs only to Army's Jake Gigliotti. Aidan Kelly is the top receiving threat for Penn after finishing the regular season ranked second in the league at 70.2 yards per game. He pulled in 23 passes for 421 yards and three touchdowns. Marcus Jones ranks seventh in the league at 44.0 yards per game and has 20 catches for 308 yards and six touchdowns.
Matt Gorman paces the defense with 60 total tackles, including 7.0 TFL and 2.0 sacks. Matteo Murgia has 38 total stops with 7.0 TFL and 2.0 sacks and Tom Console has 36 stops and a team-high three interceptions, matching Tracey Woods, Jr. in that category. Quinn Karam has 34 tackles, two forced fumbles and two fumble recoveries and Josh McBriar has 4.5 TFL.
FIRST MEETING THIS YEAR – SEPT. 30
In an early season showdown of divisional favorites, Army West Point came away with a 24-14 road win over defending champion Penn, handing the Quakers their only loss in the last two seasons.
Army was dominant early, opening up a 17-0 lead at halftime and extending the lead out to 24-0 before Penn scored twice in the final four minutes.
Army posted a 275-125 edge in total offense after passing for 2014 yards and rushing for 71 yards. The Black Knights were able to overcome six turnovers on offense after throwing four interceptions and losing two fumbles. Penn managed 157 yards through the air, but rushed for -32 yards.
Keegan West completed 17-of-27 passes for 198 yards with two TD and three INT for Army. Ty Galyean caught five passes for 79 yards and one score and Clayton Carter caught five passes for 78 yards and one score. Curtis Jerzeric finished with seven tackles, including 4.0 TFL and 2.0 sacks, to lead the Army defense. Connor Long also had seven tackles and 2.0 TFL.
Eddie Jenkins completed 12-of-33 passes for 157 yards with one TD and one INT for Penn, but was under pressure often and was sacked seven times. Aidan Kelly caught seven passes for 103 yards and one touchdown. Michael Doulong returned an interception 55 yards for the first Penn TD of the game with 3:06 to play in the fourth. Matt Gorman registered 11 tackles, 3.0 TFL, one sack, one forced fumble and one interception to pace the defense.
ONLY GAME THIS WEEK
The league title game will mark the only game this week and the final event of the 2017 season after the rest of the league wrapped up competition last week.
ALL-LEAGUE ANNOUNCEMENT
With the rest of the league already done competing for the year, the next big announcement from the CSFL will be the annual All-CSFL team. That announcement will come in late November or early December after the coaches meet to vote on the annual awards.