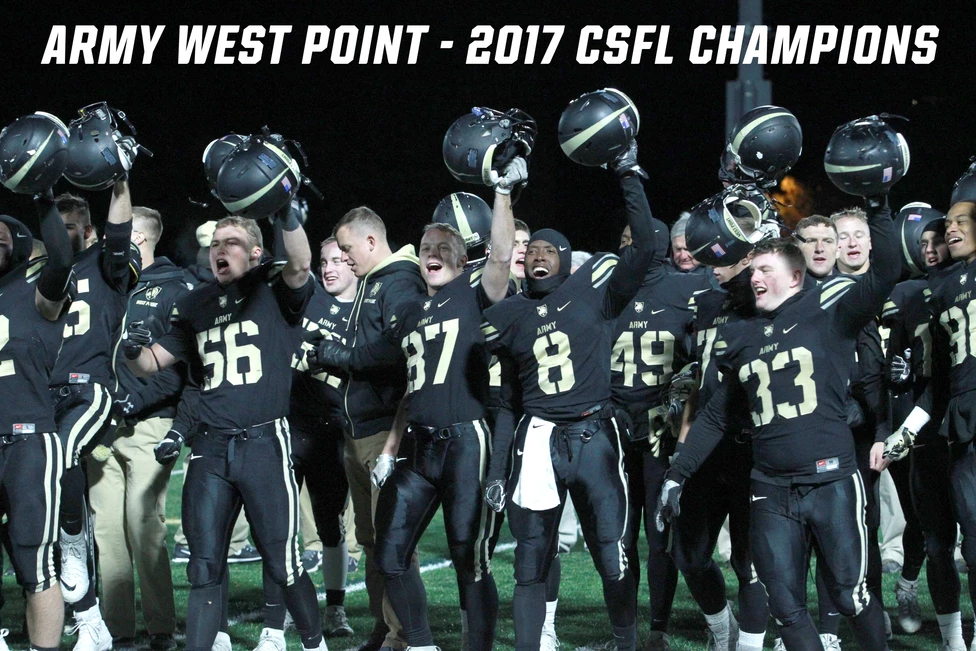 Army West Point wins CSFL title
By: CSFL Staff | Collegiate Sprint Football League | November 12, 2017
In what turned out to be a defensive battle that featured no offensive touchdowns, Army West Point came away with a 10-0 victory over Penn Friday night in the inaugural CSFL Championship game from Shea Stadium at West Point. The Black Knights wrapped up their 35 overall title with the win.
Penn dominated the possession in the game, posting a 40:14 to 19:46 advantage and held Army's dominant offense to a season-low 132 total yards, but couldn't convert in the red zone. The Quakers made three trips inside the Army 20-yard line and came away with zero points.
Army got just enough scoring, even though its offense never found the end zone. Peter Davis booted a field goal on the first Army drive to get the scoring started and the only other points on the night would come from Jake Marchillo, who returned a blocked punt five yards for a touchdown late in the second quarter.
Penn posted a 291-132 edge in total offense after throwing for 214 yards and rushing for 77. Army threw for 83 yards and ran for 49.
Keegan West threw for 52 yards and Brady Miller threw for 31 for Army. Jake Gigliotti caught three passes for 47 yards and added 34 rushing yards. Jaylen Collier rushed for 35 yards.
The Army defense was paced by James Scroggins with 1.5 sacks and the blocked punt that led to the touchdown. Curtis Jerzeric finished with nine total tackles, including 2.0 TFL, while Connor Long added one sack and Nathan Lopez added eight tackles and 1.5 TFL. Tanner Andrews recorded one interception and Desmond Young had three pass breakups.
Penn was led by Eddie Jenkins on offense as the QB threw for 214 yards and rushed for an additional 30 for a game-high 244 yards of total offense. Andrew Sutton caught six passes for 105 yards and Jake Klaus ran for 42 yards.
The Penn defense tallied nine tackles for loss in the game, led by two each from Sam Smallzman and Guesippe Bevacqua. Quinn Karam and Matteo Murgia each had six total stops and one TFL. Tracey Woods, Jr. had one interception.
The game featured the last two CSFL champions after Army won the title in 2015 with an undefeated season and Penn won the 2016 crown, also with an undefeated season. It marked the first ever official title game for the league, which split into two divisions this season for the first time.
Army finishes the year at 8-0, wrapping up the 19th perfect season in program history. Penn finishes the year at 6-2, with both losses coming to the Black Knights.
The CSFL will announce its postseason awards in the coming weeks.