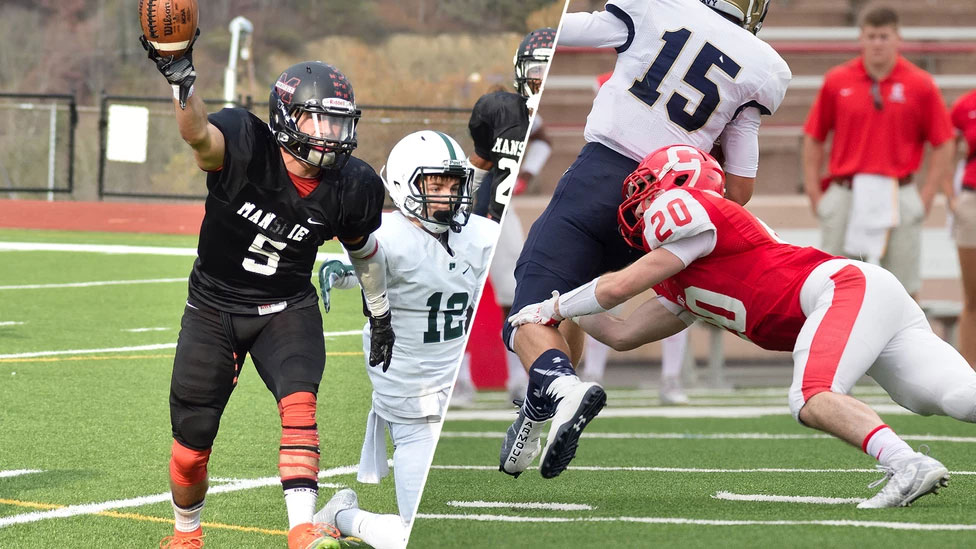 2017 Season Opens This Weekend
By: CSFL Staff | Collegiate Sprint Football League | September 14, 2017
The Collegiate Sprint Football League will open the 2017 season with a slate of four games this weekend, highlighted by Caldwell hosting its inaugural game against the defending league champions from Penn.
Navy and Chestnut Hill will kick things off with the lone Friday night game of the week, while Penn will travel to Caldwell, Mansfield will visit Franklin Pierce and Post will travel to Army West Point Saturday. Cornell will have the bye week in the first week and will open the season Sept. 22.
In addition to Caldwell making its debut in the league in 2017, the CSFL will also experience two more significant changes. The league's coaches voted unanimously in the offseason to increase the playing weight from 172.0 pounds to 178.0 pounds. The coaches also voted to split the league into two divisions, a north and south, and establish a championship game that will feature the winner of each division playing in an official title game the week after the regular season ends.
The North Division will consist of Army West Point, Cornell, Franklin Pierce and Post, while the South Division will be Caldwell, Chestnut Hill, Mansfield, Penn and Navy.
A brief look at the four match ups for week one and a snapshot of each team entering the 2017 season can be found below. For any live coverage options of games throughout the year, visit the host school's website and schedule page.
-----
NAVY at CHESTNUT HILL – Friday, Sept. 15 – 7 p.m.
Last Season: Navy (6-1), Chestnut Hill (2-5)
Last Year's Score: Navy won 43-0
NAVY MIDSHIPMEN
Navy enters the season under the direction of third-year head coach Major Jeff Polson, USMC, who owns an 11-3 record in his first two seasons. The Midshipmen finished in second place in the league last year with a 6-1 record. Five of the team's six wins were by 33 or more points. The Mids' lone loss was in overtime on the road to Penn, the eventual league champions, by a score of 29-23. A total of 18 Midshipmen were selected to the All-CSFL team, including six players who earned first-team accolades. Navy returns eight of those 18 players from last season: Mac Lavis (RB), Dane Livengood (TE), Patrick McMahan (PR), Jonathan Meier (OL), Alex Oldham (LB), Bryant Schlade (DL), George Skinner (P), and Miles Whitlow (WR). Navy's offense ranked first in the CSFL in total yardage at 403.7 yards per game on the strength of the number one rushing offense (210.3 yards per contest). The Mids also led the league in scoring offense at 37.6 points per game average. Defensively, Navy was second in the league in yards and points allowed per game with respective averages of 203.0 yards and 8.7 points.
CHESTNUT HILL GRIFFINS
Chestnut Hill enters the season under third-year head coach Mike Pearson, who guided the program to a 2-5 overall record last fall in its first officially counted games in the league. Hopes are high in Philadelphia this fall as the team looks to improve on that mark and push towards a winning season. To accomplish that feat, the Scarlet and Gold will unite behind a leadership core that includes 2016 CSFL Freshman of the Year quarterback Michael Marino and nine other All-CSFL performers from a year ago. Marino led the passing attack for the Griffins, throwing for 1,044 yards with seven touchdowns and six interceptions. Reggie Robinson Jr. is Marino's top returning target after leading the team in receiving yards (273, 54.6 yards/game) last fall. The Griffins also used a balanced rushing attack in 2016, with a pair of players registering more than 100 yards on the year. Jonathan Barber, who has moved to the wide receiver ranks, led the rushing attack. Dasantae Callis, who rushed for 381 yards in five games (76.2 yards/game) during the inaugural 2015 season, also returns at running back. Brian Layden led the defense with 48 tackles, 5.0 sacks and 10.5 tackles for loss. Jonathan Baldwin was second on the team in tackles with 45, including 7.0 tackles for loss and 0.5 sacks. Kadeem Pankey recorded a team-best three interceptions to go along with 39 tackles.
-----
MANSFIELD at FRANKLIN PIERCE – Saturday, Sept. 16 – Noon
Last Season: Mansfield (2-5), Franklin Pierce (4-3)
Last Year's Score: Franklin Pierce won 19-13
MANSFIELD
Mansfield second-year head coach Rick Novak will look to build upon the Mountaineers' two wins from a year ago. The Mounties return 23 players from last season including All-CSFL selections Kyle Post, Doug Bird, Dylan Flexer, Derrick McLean and Jakob Woods. McLean is expected to be one of the top receivers in the conference in 2017 after ranking third in the CSFL in yards per game with 63.4 and fourth in touchdowns with six. The Mountaineers also return quarterback Adam Hutchison, who was second in the league in passing yards per game at 155.6. Mansfield's defense will be anchored by safety Kyle Post, who was 14th in the CSFL last year with 44 tackles. He'll be joined by another defensive veteran in linebacker Dylan Flexer, who was 31st in the league with 35 tackles. Last year, Mansfield led the league in pass defense, allowing just 135.7 yards per game to opponents. The Mounties open the season on the road at Franklin Pierce before entering a three-game home stand at Karl Van Norman Field.
FRANKLIN PIERCE
The Ravens enter their first year under interim head coach Rashad Watson, who becomes the second coach in the program's history. Watson comes to Rindge via Division II Missouri Southern State University, where he spent time in various roles across five seasons. The team's leading returning rusher is sophomore Kobie Smith, who netted 269 yards and four scores on 66 carries in 2016. Senior Jose Melo is back for another year under center, after throwing for 715 yards and seven touchdowns a year ago. The Ravens do not return any receivers that had more than 50 receiving yards in 2016 and will be looking for new standouts there. Defensively, sophomore linebacker Bailee Johns leads the returners after finishing second on the team with 42 tackles a year ago, which included a pair of sacks and nine tackles for loss. Johns also had three interceptions and a fumble recovery along the way. Linebacker Demitri Moreno returns for his senior year after a 34-tackle outing last season. Franklin Pierce returns a pair of All-CSFL selections from last season, as offensive linemen Andrew Pelkey and Christopher Bogardus each return for their junior seasons. Four other Ravens return after earning All-CSFL Honorable Mention accolades a year ago: Ryan Becerra, Bailee Johns, Demitri Moreno and Matthew LoPresti.
-----
PENN at CALDWELL – Saturday, Sept. 16 – 1 p.m.
Last Season: Penn (7-0), Caldwell (NA)
Last Year's Score: Did not play
PENN
Penn went unbeaten at 7-0 and claimed the league title last fall. The Quakers will look to reload and repeat this year under head coach Bill Wagner, who enters his 48th season on the sidelines. Penn seeks its first back-to-back championships in program history, and will attempt to do so behind a strong group of returners on defense. Senior linebacker Quinn Karam and All-CSFL safety Tom Console - who finished the 2016 campaign third in the league in tackles - will make up the core of the Penn defense. On the offensive side, while two-time defending league MVP Mike McCurdy will be missed, opposing defenses will still have their hands full. On the outside, Marcus Jones and Aidan Kelly look to build off first team All-CSFL honors from a season ago. Jake Klaus, coming off a first team accolade of his own, will be featured in the backfield along with Max Jones, also a previous first team selection. Penn finished the 2016 season averaging 32.6 points per game, while allowing 12.9 points per game. The Quakers were second in the league at 378 yards per game on offense and led the league through the air, passing for 252.1 yards per game.
CALDWELL
Caldwell University's inaugural season on the gridiron begins this Saturday against the defending league champions. The Cougars are led by head coach Daryle Weiss, who begins his first season on the sidelines at Caldwell after spending 10 years as an assistant coach at the Division III level. Joining Weiss on the sidelines this fall is an experienced group of coaches, led by renowned former James Caldwell High School coach Ken Trimmer. Caldwell features more than 40 freshmen for its first season in the CSFL, so predicting breakout performers during the Cougars' first season is difficult. Caldwell's games will count towards the league standings this year.
-----
POST at ARMY WEST POINT – Saturday, Sept. 16 – 1 p.m.
Last Season: Post (0-7), Army (5-2)
Last Year's Score: Army won 64-0
POST
Post enters the season under the direction of first-year head coach Joseph Newman, who spent the last two years as an assistant coach with the Eagles. Fans of the league will hardly recognize Post this year, as the school went through a rebrand during the offseason that resulted in a new logo and colors. Gone are the dark green themes and in are plum and bright ceramic (orange). New windscreens have been installed at LaMoy Field. On the field, Post returns two All-CSFL players in QB Buddy Enriquez and defensive back Eleodoro Perez. Enriquez thre for 931 yards and four touchdowns last year, while Perez recorded 41 tackles, including 5.5 tackles for loss. Excitement is building at Post within the program after the roster numbers have more than doubled up to 60 this year.
ARMY WEST POINT
Annually one of the favorites in the league, Army West Point will begin the season under the direction of ninth-year head coach Mark West, who retired from the U.S. Army after 24 years of service as a Lieutenant Colonel. The Black Knights return a total of eight players that were named to All-CSFL honors in 2016, including WR/PR Seth Wills, DB Christian Hess, OL Jesse Helms, DL Curtis Jerzerick, DB Taylor Ragland, QB Keegan West, DL James Scrogins and LB Jake Marchillo. Army finished second in the league in scoring last year at 36.3 points per game and led the league in defense, allowing just 6.3 points per game. The Black Knights recorded three shutouts on the year and held opponents to just 181.7 yards of offense per game.
-----
BYE WEEK – CORNELL
The Big Red enter the 2017 season looking to bounce back from last year's 2-5 record that included close losses to Chestnut Hill, Franklin Pierce and current reigning league champion, Penn. Terry Cullen, in his 40th year as head coach of the program, will be joined by co-head coach Bob Gneo, who is in his first year in the position following one year working with Cornell's defensive backs. The Big Red had 12 players earn All-CSFL Team honors last year, four of whom are back this season. The team will also have to look to new faces for contributions after graduating 14 seniors last year. Receiver Ryman Seeley looks for another breakout year after recording 287 receiving yards and scoring three touchdowns last fall. Running back Will Griffen is the top returner in the backfield after rushing for 138 yards and one touchdown last season. On the defensive side, Cornell returns a number of key members including Alfonso Nazzaro, Conrad McCarthy, Dominic LaBell, Andrew-Gerard Baddoo and Ian Rawn. Cornell also returns its top scorer from last year, kicker Ben Finkelstein, who accounted for 32 points on six field goals and 14 PATs last fall. The Big Red open the year at home Sept. 22 against Caldwell.
PLAYERS OF THE WEEK
The first set of Players of the Week will be announced Tuesday. A weekly review and Players of the Week will be announced each Tuesday throughout the year.