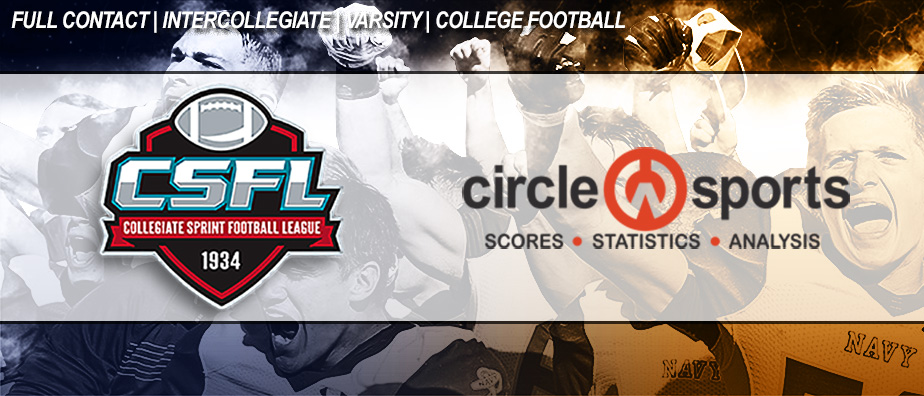 2017 Schedule, Rules Announced
By: CSFL Staff | Collegiate Sprint Football League | March 31, 2017
The Collegiate Sprint Football League has announced the dates and match ups for the 2017 season, along with a new divisional alignment, the introduction of a championship game and an increase in the playing weight limit for the 2017 season.
With the addition of Caldwell University, which is set to play its inaugural season this fall, the coaches voted to split the league into two divisions for 2017. The North Division will include Army West Point, Cornell, Franklin Pierce and Post. The South Division will include Caldwell, Chestnut Hill, Mansfield, Penn and Navy.
The winners of each division, which will be decided by each school's record against divisional opponents, will meet one week after the conclusion of the regular season in an official CSFL Championship game. That game will be played at whichever of the two divisional winners has the best overall record on the year.
Each team in the league will play a seven-game schedule and have one bye week, with the exception of Navy in 2017. Due to the uneven number of teams in the league, one rotating team will play an eight-game schedule.
In addition to the new divisional alignment for 2017, the coaches also voted to increase the playing weight from 172.0 pounds to 178.0 pounds. This marks the first change to the weight limit in the last 14 years as the 172.0 pound limit was put in place in 2003.
The league rules have been amended to reflect that the coaches and the league will evaluate the weight limit every four years to ensure the league is still meeting the needs of student-athletes and changing demographics.
The initial 2017 schedule can be found below. Exact dates and times for each game will be added to the SCHEDULE PAGE when each school finalizes its home schedule.
2017 CSFL SCHEDULE
Check the Schedule Page linked above for exact date and times as they are made available by each school.
Week 1 – Sept 15/16
Post at Army West Point
Penn at Caldwell
Navy at Chestnut Hill
Mansfield at Franklin Pierce
Bye: Cornell
Week 2 – Sept. 22/23
Army West Point at Franklin Pierce
Caldwell at Cornell
Penn at Chestnut Hill
Navy at Mansfield
Bye: Post
Week 3 – Sept. 29/30
Army West Point at Penn
Caldwell at Post
Cornell at Mansfield
Franklin Pierce at Navy
Bye: Chestnut Hill
Week 4 – Oct. 6/7
Navy at Army West Point
Chestnut Hill at Mansfield
Penn at Cornell
Franklin Pierce at Post
Bye: Caldwell
Week 5 – Oct. 13/14
Chestnut Hill at Army West Point
Mansfield at Caldwell
Cornell at Franklin Pierce
Navy at Post
Bye: Penn
Week 6 – Oct. 20/21
Army West Point at Mansfield
Caldwell at Chestnut Hill
Cornell at Navy
Post at Penn
Bye: Franklin Pierce
Week 7 – Oct. 27/28
Army West Point at Cornell
Franklin Pierce at Caldwell
Chestnut Hill at Post
Penn at Navy
Bye: Mansfield
Week 8 – Nov. 3/4
Caldwell at Navy
Franklin Pierce at Chestnut Hill
Post at Cornell
Mansfield at Penn
Bye: Army West Point
Week 9 – Nov. 10/11
CSFL Championship Game
(North winner vs. South winner – hosted by best overall record)
NORTH DIVISION
Army West Point
Cornell
Franklin Pierce
Post
SOUTH DIVISION
Caldwell
Chestnut Hill
Mansfield
Penn
Navy