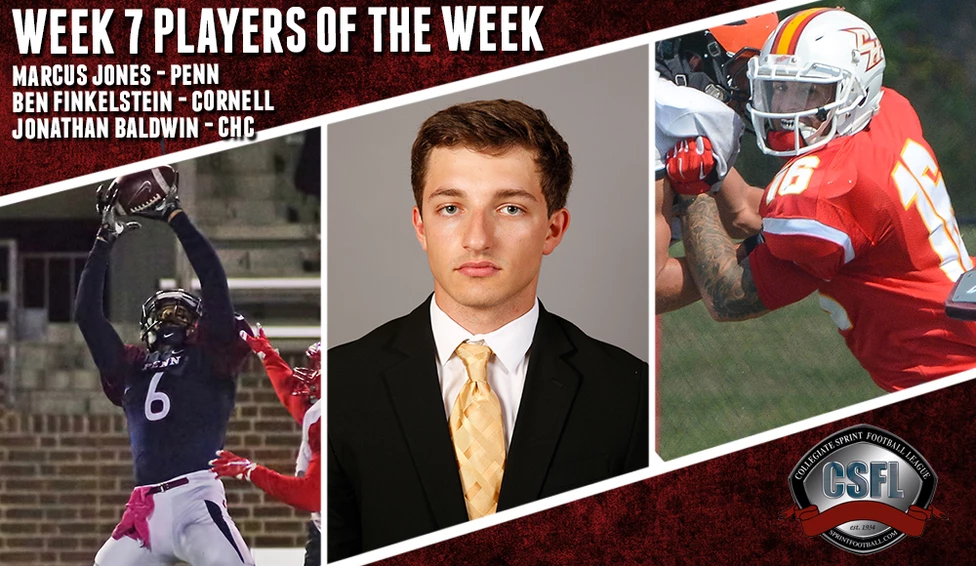 Week 7 Review
By: CSFL Staff | Collegiate Sprint Football League | November 1, 2016
Week seven of the CSFL season saw a pair of games come down to the final play in what proved to be the most exciting week of the season. Penn claimed at least a share of the league title with a double OT win over Cornell, while Franklin Pierce defeated Chestnut Hill by catching a Hail Mary for a TD on the final play of the game.
Mansfield picked up its first win of the season in the third game of the week, while Army and Navy were on a bye.
WEEK 7 PLAYERS OF THE WEEK
Offensive Player of the Week: Marcus Jones, WR, Penn (Newport, Pa.)
Jones had a career-high in catches (6) and yards (137) in Penn's double overtime victory over Cornell Friday night. His longest catch went for 47 yards on the final play of the first half, as the Quakers went for it on fourth down and the junior caught a Hail Mary pass to cut the Big Red lead to 10-6. Jones' had nearly half of QB Mike McCurdy's total passing yards of 280 for the game.
Defensive Player of the Week: Jonathan Baldwin, LB, Chestnut Hill (Charlotte, N.C.)
Baldwin headlined a valiant effort from the Chestnut Hill defense, recording a league-high 16 tackles in a last second loss to Franklin Pierce. Three of his tackles went for lost yardage in the game. He also led the Griffins in rushing with 27 yards.
Special Teams Player of the Week: Ben Finkelstein, PK, Cornell (New York, N.Y.)
Finkelstein had a productive game for Cornell and scored eight of the team's 20 points in a near upset of Penn. He converted on field goal attempts of 34 and 36 yards and also converted on two PAT kicks. He also averaged 56.7 yards per kickoff and Cornell held the Quakers to 15.3 yards per return.
----------
Week 7 Review
Recaps from each of the three games played in week seven of the CSFL season can be found below.
Penn clinched at least a share of the league title by improving to 6-0 with its win last week. The Quakers can win the outright title with a victory this week in the final game of the year. If Penn loses to Post, the winner of the Army and Navy game will be a co-champion with the Quakers.
----------
Cornell (20) at Penn (27) – 2OT
Cornell nearly pulled the biggest upset of the year and was leading 20-12 with less than one minute to play on the road at undefeated Penn, but reigning CSFL MVP Mike McCurdy had other plans.
McCurdy connected with Chaz Augustini from four yards out with just 10 seconds left in the game to cap an 11 play, 93-yard drive that took just 1:32. But, that made the score 20-18 and left Penn needing a two-point conversion to guarantee themselves a share of the league title. McCurdy came through again, hitting Jake Klaus on the try to even the game at 20-20 and force overtime.
Neither team scored in the first OT session as both quarterbacks were intercepted. In the second overtime session, McCurdy connected with Angelo Matos from three yards out to give the Quakers a 27-20 lead.
The victory was sealed when Tom Console came down with an interception at the five-yard line on Cornell's first play after the Penn TD.
Penn finished the game with a 355-336 edge in total offense after throwing for 280 yards and rushing for 75. Cornell threw for 208 yards and ran for 128.
McCurdy threw for 280 yards with three touchdowns and one interception, which came in the first overtime session. Marcus Jones was the top target, catching six passes for 137 yards with one touchdown. Aidan Kelly added 90 receiving yards and Klaus rushed for 68 yards.
Robert Pannullo led Cornell by completing 17-of-26 passes for 208 yards with two touchdowns and two interceptions, which both came in the extra sessions. He also rushed for 61 yards. Will Griffen caught seven passes for 62 yards and one score. Rob Hendricks caught two passes for 59 yards and one TD and Kevin Nathanson rushed for 67 yards. Ben Finkelstein hit both of his field goal attempts and both of his PAT kicks for the Big Red.
Chris Colavita and James Juliano each recorded 13 tackles for Penn, while Console finished with nine stops and the clinching interception.
John Zelek led Cornell with six tackles, including two sacks.
Penn will be favored against winless Post in week eight and can lock up the outright league title with a win Saturday at noon. Cornell will close the year by hosting Franklin Pierce Friday night at 7 p.m.
----------
Chestnut Hill (8) at Franklin Pierce (14)
Franklin Pierce scored 12 points in the final eight minutes of the game to comeback and steal a win away from Chestnut Hill. The dagger came with no time on the clock when Ahzir Turner caught a 39-yard Hail Mary that was deflected in the end zone to seal the win for the Ravens.
Chestnut Hill opened the game with a safety and clung to an 8-2 lead entering the fourth quarter, but Franklin Pierce put together one long drive and QB Jose Melo came through when needed with a pair of TD passes for the win.
Melo completed just six passes in the game, but those went for 124 yards and two touchdowns. Kobie Smith caught the other TD pass and also rushed for 71 yards in the win.
Franklin Pierce managed a 236-204 edge in total offense in a game that was controlled by the defenses.
Michael Marino threw for 156 yards and one touchdown to lead Chestnut Hill. The TD pass went to Raevon Floyd-Bennett, who finished with a game-high 104 all-purpose yards.
Jonathan Baldwin led the Chestnut Hill defense with 16 total tackles, including three for loss. Kadeem Pankey also had three tackles for loss and recorded one interception.
Franklin Pierce was led by Josh Castro on the defensive side of the ball with 11 total tackles and three tackles for loss.
The Ravens will visit Cornell Friday night for a 7 p.m. kickoff to end the year. Chestnut Hill will host Mansfield Saturday at noon.
----------
Post (0) at Mansfield (28)
The only game of the week that wasn't decided on the final play was in Mansfield, where the Mountaineers came away with their first win of the season by shutting out Post by a 28-0 score.
Mansfield put up only 227 yards of offense in the game, but held Post to just 135 yards. The Mounties threw for 128 yards and ran for 99 yards, while the Eagles threw for 114 yards and rushed for 21 yards.
Adam Hutchison completed nine passes for 128 yards and ran for one touchdown to lead the Mansfield offense. Trenton Smith rushed for 43 yards and one score and Jon Brown added a third rushing TD in the game. The final touchdown came from the defense with Kardale Taylor returning an interception 49 yards for a TD.
Eight different Mansfield players recorded at least a half tackle for loss in the game and Isaac Havens, Brandon Pace and Kyle Post joined Taylor in recording an interception.
Post split time at the QB position between Sayvon Willis, who completed nine passes for 55 yards and Buddy Enriquez, who completed five passes for 59 yards. Both QB was intercepted twice in the game. Jarrick Sharp was the leading receiver with three catches for 37 yards. Chris Leggio led the Eagles defense with 12 total tackles and one stop for loss.
Post will close the year by hosting unbeaten Penn Saturday at noon, while Mansfield will finish out Saturday at Chestnut Hill with a noon kick.
----------
WEEK 8 GAMES (FINAL WEEK OF 2016 SEASON)
11/4 – Army at Navy (7 p.m.)
11/4 – Franklin Pierce at Cornell (7 p.m.)
11/5 – Penn at Post (Noon)
11/5 – Mansfield at Chestnut Hill (Noon)