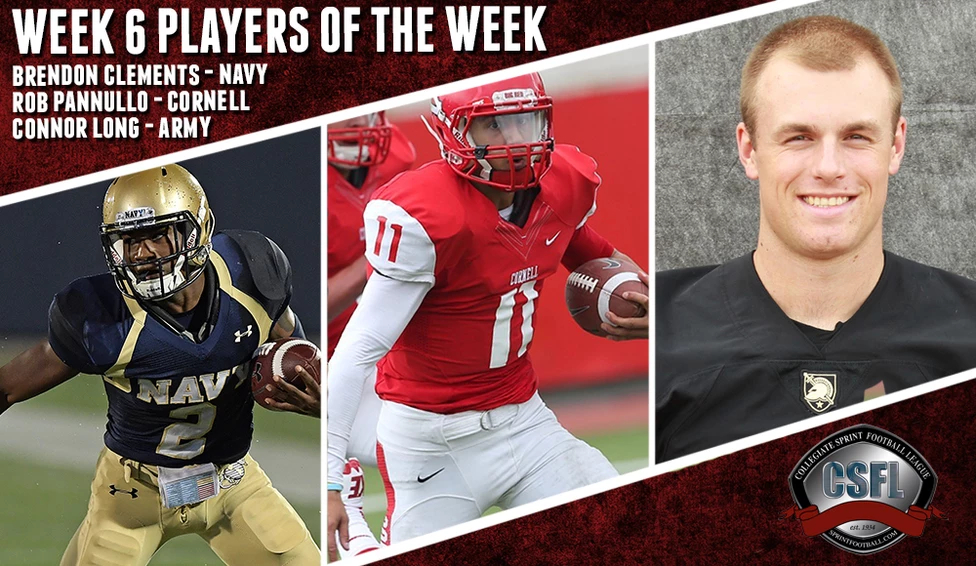 Week 6 Review
By: CSFL Staff | Collegiate Sprint Football League | October 25, 2016
Week six of the CSFL season saw the three top teams in the league all put up convincing wins with Penn remaining undefeated and Army West Point and Navy each staying one game back of the Quakers. Week six also saw Cornell come away with a win over Post in the closest game of the week.
WEEK 6 PLAYERS OF THE WEEK
Offensive Player of the Week: Rob Pannullo, QB, Cornell (North Caldwell, N.J.)
Pannullo factored into three of Cornell's four touchdowns in a 27-13 win over Post in week six. He was 7-of-14 passing for 88 yards with one touchdown and no interceptions and also ran for 120 yards and two touchdowns on 22 carries for an average of 5.5 yards per carry. He finished the game with 228 total yards of offense and the three touchdowns without turning the ball over once.
Defensive Player of the Week: Connor Long, DB, Army West Point (Mechanicsburg, Pa.)
Long recorded seven total tackles, two turnovers and scored one defensive touchdown in Army West Point's 39-8 win over Franklin Pierce. He scored the first points of the game for the Black Knights when he recovered a fumble in the end zone in the first quarter with Franklin Pierce leading 2-0. Long would add an interception later in the game and finished with seven tackles and a pass breakup as well.
Special Teams Player of the Week: Brendon Clements, RB, Navy (Miami, Fla.)
Clements earns his second straight weekly honor in the CSFL, but this time for special teams work. He tallied 106 return yards on special teams in Navy's 43-9 win over Mansfield last week after racking up 93 kick return yards on two returns and 13 punt return yards on one punt. Those numbers combined with his 118 rushing yards and two touchdowns to give Clements a total of 224 all-purpose yards in the game.
----------
WEEK 6 REVIEW
Recaps from each of the four games played in week six of the CSFL season can be found below, along with a look at next week's games. Penn can clinch at least a share of the league title with a victory in week seven, while Army and Navy are set for bye weeks before meeting in the annual star game next week.
Franklin Pierce (8) at Army West Point (39)
Army put up 423 yards of total offense and held Franklin Pierce to 53 yards on the way to a 39-8 win at West Point last week.
The Black Knights threw for 312 yards and rushed for 111, while the Ravens managed 65 passing yards and were held to negative 12 rushing yards.
Keegan West led the Army offense by throwing for 288 yards with four touchdowns and no interceptions on just 10 completions. Ty Galyean caught two passes for 105 yards and two touchdowns, including a 98-yard TD pass from West. Cooper Lycan caught three balls for 63 yards and Austin Breed added two catches for 61 yards and one score.
The Black Knights had 10 players that recorded at least a half tackle for loss in the game. James Scroggins and Zach Lechthaler each had two. Connor Long recovered a fumble for a touchdown and had one interception.
Franklin Pierce was led by Ahzir Turner and Kobie Smith in the ground game, but their efforts were whipped out in terms of total rushing yards thanks to lost yardage from sacks and missed snaps. Turner rushed for 61 yards on 12 carries and Smith added 41 yards and one touchdown on just five carries.
Bailee Johns led the Ravens defense with 10 tackles and one tackle for loss, while Ryan Becerra added nine stops and one sack and Andrew Pelkey chipped in eight stops and one sack.
Army is set for its bye week this week, while Franklin Pierce will host Chestnut Hill at noon Saturday.
----------
Post (13) at Cornell (27)
Cornell jumped out to a 20-0 lead and never looked back in handing Post a 27-13 loss last week at Cornell.
The Big Red got three touchdowns from quarterback Rob Pannullo, who rushed for 120 yards and two scores and threw for 88 yards and another TD. His effort led Cornell to a 323-224 edge in total yardage with 229 rushing yards and 94 passing yards. Post managed 229 passing yards, but was held to negative five rushing yards.
Will Griffen rushed for 60 yards and one touchdown to complete a 1-2 punch for Cornell in the ground game. Griffen finished with a game-high 156 all-purpose yards with 39 receiving yards, 18 kick return yards and 39 punt return yards. Ryman Seeley caught three passes for 39 yards and one touchdown.
Post was led by Sayvon Willis, who attempted 48 passes in the game without throwing an interception. He completed 25 passes for 229 yards with one TD. The TD pass went to Rocco Guerrera, who caught six passes for 97 yards and one touchdown.
Ryan Jackson led Cornell's defense with seven total tackles, while Marcus Weeks added six stops and a half-sack. Anrew Baddoo tallied three tackles for loss and one sack.
Chris Leggio and Tylik Lawson each tallied nine tackles to pace the Post defense, while Lawson added 2.5 tackles for loss and two sacks. Brad Grasso recovered two fumbles.
Cornell will travel to Penn this Friday night for a 7 p.m. game. Post will visit Mansfield Saturday for a 3:30 p.m. game.
----------
Mansfield (9) at Navy (43)
Navy put together a 36-0 run in the middle of the game to pull away for a 43-9 win at home over Mansfield last week.
The Mids were held to their lowest total offensive output of the season at 277, but short fields and a dominant ground game led to a convincing win. Navy rushed for 207 yards and threw for 70, while Mansfield managed 115 yards of total offense with 108 passing yards and seven rushing yards.
Brendon Clements rushed for 118 yards and two touchdowns to lead the Navy ground game. Mac Lavis added 61 yards and one touchdown. Nick Deterding threw for 41 yards and one touchdown, but was intercepted four times in the game.
Mansfield was paced by D.J. Mclean, Jr. with six catches for 58 yards and one touchdown. Adam Hutchison completed 14 passes for 108 yards with one touchdown and was not intercepted in the game.
Kyle Post led the Mountaineer defense with 10 total tackles, including eight solo and 1.5 tackles for loss. He also recorded one interception and one pass breakup. Kardale Taylor pulled down two interceptions and broke up three passes.
Navy had seven different players record at least one half sack in the victory. Alex Oldham finished with six total stops, including one tackle for loss and he also returned a fumble 55 yards for a touchdown. Eric Garmoe tallied a game-high three tackles for loss.
Mansfield will host Post Saturday at 3:30 p.m. in a battle of two teams that are still looking for their first win of the season. Navy has its bye week this week and returns to action next week to close the season at home against Army West Point.
----------
Chestnut Hill (7) at Penn (53)
Penn continued its march through the CSFL this season with a 53-7 win at home over Chestnut Hill in week six.
The Quakers are focused on completing the unbeaten season and locking up the league title and it showed in week six when they went for 491 yards and held Chestnut Hill to 131 yards. Penn threw for 313 yards and rushed for 178, while the Griffins managed 82 passing yards and 49 rushing yards.
Mike McCurdy continued his aerial assault on the league by completing 16 passes for 298 yards with five touchdowns and no interceptions. Aidan Kelly caught five of those passes for 138 yards and two scores. Marcus Jones caught eight passes for 95 yards and two scores and Andrew Sutton pulled down two passes for 44 yards and one TD. Eddie Jenkins led the ground game for Pen with four carries for 63 yards and two touchdowns.
Chestnut Hill was led by Raevon Floyd-Bennett, who scored the only points of the day for his team with a 53-yard punt return for a touchdown. He added 78 kick return yards to finish with a team-high 131 all-purpose yards.
Penn's defense was led by Quinn Karam with seven tackles and a pass breakup. Patrick Boyle added six stops and 2.5 sacks.
Chestnut Hill's defense was paced by Brian Layden, who had nine tackles, 2.5 tackles for loss and one sack.
Penn can wrap up at least a share of the league title with a win Friday night at home against Cornell at 7 p.m. Chestnut Hill will travel to Franklin Pierce Saturday for a noon game.
----------
WEEK 7 GAMES
10/28 – Cornell at Penn (7 p.m.)
10/29 – Chestnut Hill at Franklin Pierce (Noon)
10/29 – Post at Mansfield (3:30 p.m.)
Army West Point and Navy both have byes in week seven. All eight teams will be in action in week eight for the final week of the season.