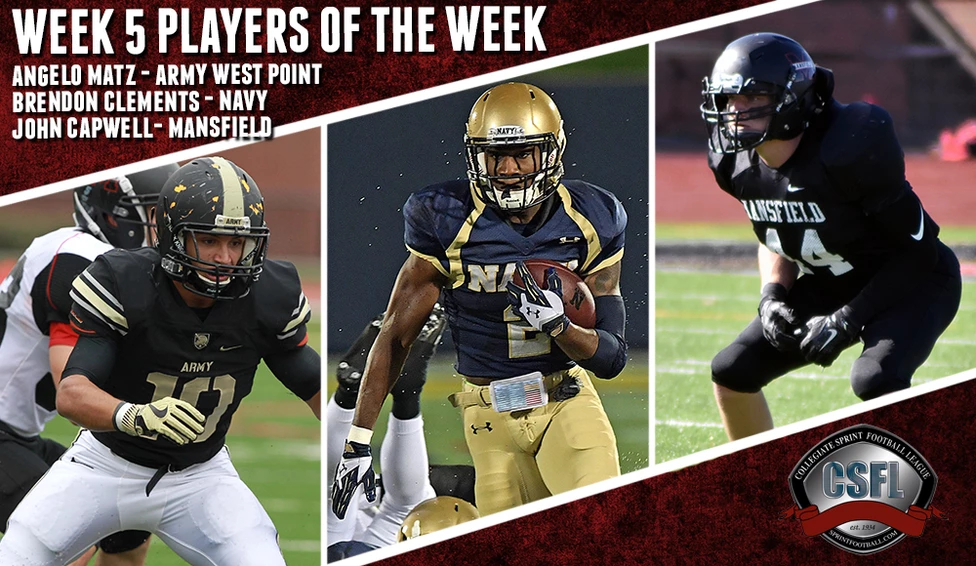 Week 5 Review
By: CSFL Staff | Collegiate Sprint Football League | October 18, 2016
Week five of the CSFL season saw Army West Point and Navy run away with shutout wins and Franklin Pierce come away with a narrow victory on the road at Mansfield in the only close game of the week. First place Penn was on a bye, as was Cornell.
WEEK 5 PLAYERS OF THE WEEK
Offensive Player of the Week: Brandon Clements, RB, Navy (Miami, Fla.)
Clements has been the leading rusher in the CSFL all year, so it's only fitting he is finally being recognized. In Navy's dominant 43-0 win over Chestnut Hill last week, he rushed for 149 yards and three touchdowns in one half before taking a seat in the second half. The 149-yard effort is the most for any player in a single-game in the CSFL this season. Clements now has three 100-yard games this year.
Defensive Player of the Week: John Capwell, LB, Mansfield (Apalachin, N.Y.)
Capwell earns his second Athlete of the Week honor of the season after leading the Mansfield defense in a 19-13 loss to Franklin Pierce. He recorded a league-high 14 total tackles, including an impressive 13 solo stops. Capwell also had 2.0 tackles for loss and recorded an interception in the game.
Special Teams Player of the Week: Angelo Matz, DL, Army West Point (Port Jervis, N.Y.)
Matz was one bright spot in Army's dominant 64-0 victory over Post last weekend. In the game, Matz blocked two punts to highlight his special teams prowess. He also had seven total tackles, 4.0 tackles for loss and 3.0 sacks to lead the defense.
----------
WEEK 5 REVIEW
Recaps from each of the three games played in week five of the CSFL season can be found below.
Chestnut Hill (0) at Navy (43)
Navy jumped out to a 36-0 lead by halftime and cruised to a 43-0 shutout victory over Chestnut Hill.
The Midshipmen improved to 4-1 with the victory, while Chestnut Hill dropped to 2-2 with the loss.
Navy managed 471 yards of offense after rushing for 215 yards and throwing for 256 yards. Chestnut Hill went for 214 yards of total offense that included 178 passing yards and 36 rushing yards.
Brendon Clements led the way for the Mids on the ground with 149 rushing yards and three touchdowns on just 17 carries, marking the highest single-game total for any rusher in the league this year. Mac Lavis added 68 yards and one touchdown on the ground and Nick Deterding was near perfect in the passing game, completing 12-of-16 passes for 189 yards with two touchdowns and no interceptions. Matt Vogel caught nine passes for 96 yards and Dane Livengood caught three passes for 84 yards and one TD.
The Navy defense was led by Bryant Shlade with six tackles, including two sacks, and Alex Oldham, who had three tackles for loss and one interception.
Chestnut Hill was led by Michael Marino, who completed 11 passes for 178 yards with one interception. Lew Roman pulled down six passes for 95 yards and Reginald Robinson, Jr. caught two passes for 56 yards. Brian Layden had two sacks to lead the defense.
Navy will host Mansfield this Friday night at 7 p.m., while Chestnut Hill will travel to Penn for a 7 p.m. kickoff Friday.
----------
Army West Point (64) at Post (0)
Army scored at least 14 points in each quarter and ran away with a 64-0 victory on the road at Post last weekend.
The Black Knights put up 516 yards of total offense after throwing for 321 and rushing for 195. Post managed just five rushing yards and threw for 132 yards to finish with 137 yards of offense.
Keegan West completed 12-of-20 passes for 256 yards and four touchdowns to pace the Army offense. Ty Galyean caught two touchdowns and Austin Breed, Marqus Burrell and Jake Gigliotti each caught one. Quay Gilmore ran for 66 yards and two scores and Jaylen Collier rushed for 62 yards and two touchdowns.
The Army defense was led by Curtis Jerzerick with 11 total tackles, including 3.0 tackles for loss and 2.0 sacks. Angelo Matz, who blocked two punts on special teams, finished with 3.0 sacks and a game-high 4.0 tackles for loss.
Post's Chris Leggio recorded the most tackles in a single-game in the league this year with 15 stops to lead the Post defense. Leggio also had one forced fumble and one blocked kick. Buddy Enriquez completed 11 passes for 115 yards and Robert Sherry III caught five balls for 52 yards to pace the offense for Post.
The Black Knights kept pace with Navy for second in the league standings with the win to improve to 4-1, while Post remained winless at 0-4.
Post will visit Cornell Friday night for a 7 p.m. kickoff, while Army will host Franklin Pierce Friday night at 7 p.m.
----------
Franklin Pierce (19) at Mansfield (13)
Franklin Pierce jumped out to a 13-0 lead and held on to beat Mansfield 19-13 last week on a day when Mansfield celebrated Homecoming and the 125th anniversary of football on its campus.
The Ravens led 13-7 until late in the fourth quarter when Kobie Smith punched in a two-yard run to cap a drive that lasted nearly six minutes and put the visitors up 19-7 with 1:58 to play. That score proved to be crucial as Mansfield went 76 yards in less than two minutes to score with seven seconds left.
Franklin Pierce posted a 267-165 advantage in total offense in a game that was controlled by the defenses. The Ravens rushed for 232 yards and threw for just 35 yards, while Mansfield ran for only 43 yards and passed for 122.
Tyler Zech led the ground game for FPU with 96 yards on 19 carries. He also caught two passes for four yards to finish with an even 100 yards from scrimmage. Smith and Charlie Nieves each rushed for touchdowns for the Ravens, who had four players with at least 33 rushing yards in the game.
Mansfield's offense was led by Adam Hutchison, who completed 12 passes for 122 yards and one touchdown, which went to D.J. Mclean, Jr. Mclean finished with four catches for 56 yards.
Franklin Pierce's defense was led by Demitri Moreno with five tackles, including two for loss. Andrew Pelkey added two sacks and Andrew Jean also had two tackles for loss. Bailee Johns grabbed one interception for the Ravens.
Mansfield was led by John Capwell, who recorded 14 tackles, including a league-high13 solo stops. He also had two tackles for loss and one interception in the game.
The Mountaineers (0-4) will travel to Navy Friday night for a 7 p.m. game, while Franklin Pierce (2-2) will visit Army Friday night at 7 p.m.
----------
WEEK 6 GAMES
10/21 - Franklin Pierce at Army (7 p.m.)
10/21 - Post at Cornell (7 p.m.)
10/21 - Mansfield at Navy (7 p.m.)
10/21 - Chestnut Hill at Penn (7 p.m.)