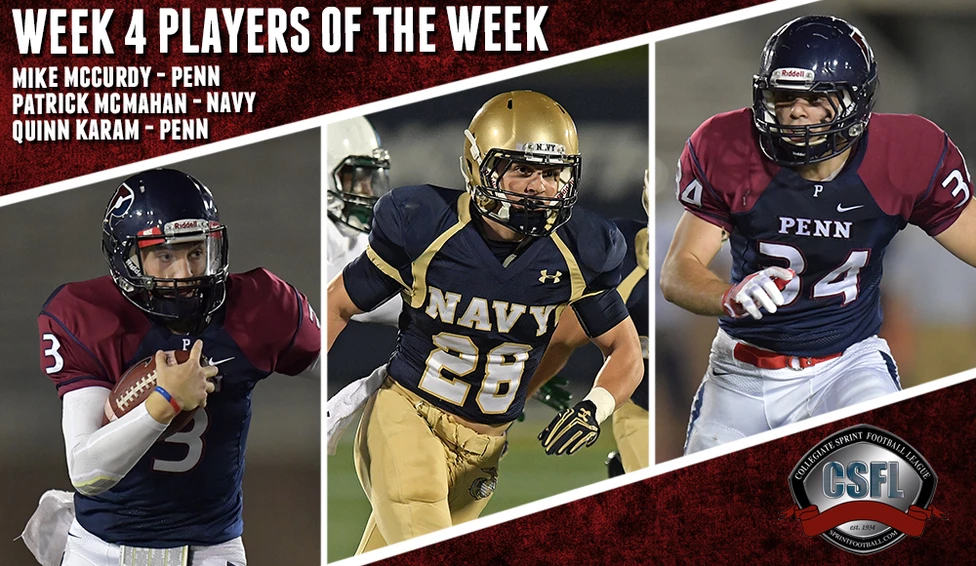 Week 4 Review
By: CSFL Staff | Collegiate Sprint Football League | October 11, 2016
The fourth week of the CSFL season saw one of the biggest shakeups of the last decade with Penn defeating Navy in overtime to improve to 4-0. The Quakers swept both service academies this season for just the second time and are now in the driver's seat for the CSFL crown. Chestnut Hill also scored a close victory over Post in week four and Army West Point rolled by Cornell in the third game of the week.
WEEK 4 PLAYERS OF THE WEEK
Offensive Player of the Week: Mike McCurdy, QB, Penn (Bethesda, Md.)
The reigning CSFL Offensive MVP, McCurdy put the Quakers on his back Friday evening, guiding Penn to a 29-23 overtime victory over Navy. The senior completed 16-of-31 passes, totaling 265 yards with one touchdown on the evening, while rushing 16 times for a season-high 74 yards and another touchdown. McCurdy's play and leadership led Penn to only its second-ever sweep of the service academies (Army West Point and Navy) and first since 2000. McCurdy recorded 13 passes for 1st downs against Navy, the second-highest total by any CSFL team this season. His 339 yards of total offense against Navy were the most produced by any player in the CSFL this season.
Defensive Player of the Week: Quinn Karam, LB, Penn (Clarks Summit, Pa.)
Karam totaled a game-high 13 tackles against Navy Friday, including getting in on one tackle for loss. The junior was key in holding the Midshipmen to a season-low 23 points on the evening, which included just 16 from the offense. His 13 total tackles are the most by a single player in any game in the league so far this season.
Special Teams Player of the Week: Patrick McMahan, DB, Navy (Windermere, Fla.)
McMahon started off Friday night's prime-time matchup at Penn with a bang as he took the opening kickoff 96 yards for a touchdown. The kick return was the first return TD for Navy since Sept. 22, 2012 when a pair of Mids, Brendan West and Stephen Medius each took kicks back for touchdowns against Princeton. In addition to the opening kickoff return, McMahan recorded 47 more yards for a grand total of 143 yards on four returns, setting a Navy school record in the process by topping the previous mark of 122 yards.
WEEK 4 REVIEW
Recaps from each of the three games played in week four of the CSFL season and a look at week five matchups can be found below. Franklin Pierce and Mansfield had byes in week four. They will return to action this Saturday at Mansfield when the Mountaineers celebrate Homecoming and the 125th anniversary of football and the university.
Navy (23) at Penn (29) - OVERTIME
In what may prove to be the game of the year in the CSFL, Penn came away with a 29-23 overtime victory over Navy Friday night to move into the driver's seat for CSFL supremacy this season. The two teams entered the game with matching 3-0 records and were the favorites to win the league title.
Penn led 23-14 midway through the fourth quarter and looked poised to complete its first sweep of both service academies since 2000, but Navy had other plans. The Midshipmen rattled off nine points in the final 6:30 and nearly won the game in regulation.
Jules Murphy kicked a field goal to cut it to 23-17 with 6:29 to play and Navy tied the game with just 24 seconds left after a 68-yard drive was capped with a TD pass from Nick Deterding to JT Thompson. The Midshipmen had a chance to win the game, but the point after try was missed to send the game to overtime tied at 23-23.
In the extra session, Mike McCurdy connected with Andrew Sutton for 17 yards to set up a Robert Diorio TD run just four plays into the period. The point after was blocked, again giving Navy a chance to win the game with a TD and successful try on their possession.
The Midshipmen never got that chance as a fumble on third and goal at the three yard line was recovered by Chris Colavita to end the game.
McCurdy finished with 339 yards of total offense, throwing for 265 yards and one touchdown and rushing for 74 yards and one score. Aidan Kelly caught six passes for 110 yards for the Quakers. Chaz Augustini added four catches for 58 yards and one score and Sutton finished with 63 receiving yards.
Defensively, Penn was paced by Quinn Karam with a league-high 13 total tackles. Tom Console added 12 total stops and Tom Tyrell came down with one interception.
Navy running back Brendon Clements was held to 69 yards on 22 carries, the lowest output of the season for the CSFL's leading rusher. Deterding finished the game with 204 passing yards and two touchdowns to go along with 36 rushing yards. Thompson had a monster night to lead the pass catchers with eight grabs for 130 yards and two touchdowns, the third highest single-game total in the league this year. Patrick McMahan broke the Navy single-game record for kick return yards with 143 that included a 96-yard TD on the opening play of the game.
Penn posted a 404-386 edge in total offense in the game, throwing for 265 yards and rushing for 139. Navy managed 280 passing yards and rushed for 106 yards.
Penn enters its bye week atop the league standings at 4-0 and will be favorites in each of its final three games of the year, beginning in week six at home against Chestnut Hill. The Quakers then close the season with a home game in week seven against Cornell and a road trip to Post the final week of the year.
Navy sits at 3-1 with the loss and is tied with rival Army West Point for second in the league standings. The two service academies will meet in week eight at Navy. The Midshipmen continue their season this Friday night with a 7 p.m. home game against Chestnut Hill.
----------
Cornell (12) at Army West Point (43)
Army West Point jumped out to a 23-0 lead in the first quarter and never looked back in handing Cornell a 43-12 defeat. The Black Knights improved to 3-1 and remained in a tie for second in the league standings with Navy, while Cornell slipped to 1-3 on the year.
Army finished with a 350-192 edge in total offense after throwing for 276 yards and rushing for 74 yards. Cornell managed 144 passing yards and 48 yards on the ground.
Keegan West was dominant in the first half in leading the offense for Army, going 18-of-23 for 249 yards with four touchdowns in the passing game. He took a seat in the second half. Austin Breed caught seven passes for 71 yards and two touchdowns and Cooper Lycan caught six passes for 55 yards and one score. Ty Galyean added 58 receiving yards and one score and Marqus Burrell led the ground game with 64 yards on just 12 carries.
Angelo Matz recorded 10 tackles and 1.5 sacks to help lead the Army defense. A total of six players recorded at least one half tackle for loss for the Black Knights. Curtis Jerzerek had a game-high 11 tackles and recovered one fumble in the win.
Cornell quarterback Connor Ostrander completed 18-of-28 passes for 144 yards with one score and one interception. Ryman Seeley caught six passes for 65 yards to lead the receivers. Robert Pannullo added three catches for 28 yards and one touchdown.
Army will travel to Post this Saturday for a noon game, while Cornell will have its bye week in week five.
----------
Chestnut Hill (14) at Post (12)
The closest game of the week came down to the wire with Chestnut Hill holding off a late rally from Post to earn a 14-12 win.
The Eagles scored the first points of the day just 1:11 into the game when Rocco Guerrera caught a five-yard TD pass from Buddy Enriquez. The PAT was blocked to put Post up 6-0. That would be the only score of the opening half.
Chestnut Hill scored 14 unanswered points in the third quarter to take the lead. The first score came on the ground when Jonathan Barber rushed in from 12 yards. Reginald Robinson, Jr. caught a 21-yard TD pass from Michael Marino with 7:35 left in the third to put the visitors up 14-6.
Post rallied and scored with 3:41 to play in the fourth quarter when Khaliq Little rushed in from one-yard out. The 2-point conversion try failed to keep the score at 14-12.
The Eagles would get the ball back one final time late in the game, but an interception by Robinson, Jr. with just under one minute to play sealed the win for Chestnut Hill.
The Griffins put up 283 yards of offense with 160 passing yards and 123 rushing yards in the win. Post managed 263 yards of offense, all coming through the air.
Marino completed 15-of-22 passes for 160 yards with one touchdown. Joe Lee caught seven passes for 52 yards and Barber rushed for 88 yards and one touchdown on 18 carries to lead the Chestnut Hill offense.
Robinson led the defensive effort with nine total tackles and the game-sealing interception for the Griffins. Tony Wilson chipped in three tackles for loss and 1.5 sacks.
Enriquez threw for 263 yards with one touchdown and one interception for Post. Jarrick Sharp pulled down nine passes for 128 yards to lead the receivers. He also managed 43 combined kick return yards to finish with a game-high 177 all-purpose yards.
Chris Leggio led the Post defense with 12 total tackles, while Eleodoro Perez added 10 tackles and 1.5 tackles for loss and Fabian Santa Cruz chipped in 10 tackles, two tackles for loss and two fumble recoveries.
Chestnut Hill is now at 2-1 on the season and will travel to Navy Friday night for a 7 p.m. kickoff. Post is 0-3 on the year and will host Army West Point at noon Saturday.
----------
WEEK 5 GAMES
10/14 - Chestnut Hill at Navy (7 p.m.)
10/15 – Army West Point at Post (Noon)
10/15 – Franklin Pierce at Mansfield (2 p.m.)
Penn and Cornell have a bye in week five.