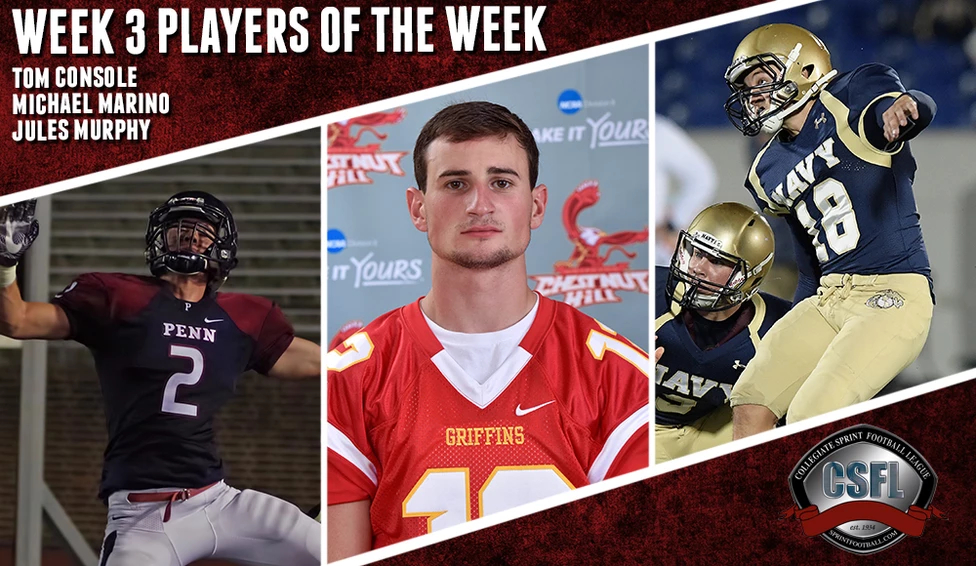 Week 3 Review
By: CSFL Staff | Collegiate Sprint Football League | October 4, 2016
The third week of the CSFL season saw Penn and Navy remain unbeaten atop the league standings, setting up a massive showdown for week four. Week three also saw Army West Point bounce back from a loss in a big way with a shutout over Mansfield and Chestnut Hill earn its first official league win over Cornell.
WEEK 3 PLAYERS OF THE WEEK
Offensive Player of the Week: Michael Marino, QB, Chestnut Hill (Blue Bell, Pa.)
Michael Marino had a hand in all four touchdowns for Chestnut Hill as the Griffins earned their first CSFL win with a 29-24 victory over Cornell last week. He threw for three touchdowns and ran for an additional score in the victory. Marino was 21-of-38 for 272 yards with three touchdowns and no interceptions. He also rushed for 17 yards and one score on just four carries.
Defensive Player of the Week: Tom Console, LB, Penn (Malvern, Pa.)
Tom Console had a hand in three turnovers and scored one touchdown of his own in Penn's 33-12 victory over Franklin Pierce on the road last week. He finished with seven total tackles, including six solo, and also recorded two interceptions and one fumble recovery. He returned his two picks a total of 65 yards and his fumble recovery came in the end zone after a botched punt attempt.
Special Teams Player of the Week: Jules Murphy, PK, Navy (Easton, Mass.)
Jules Murphy accounted for 11 points in Navy's 50-0 shutout win over Post last week, connecting on two-of-three field goals and going a perfect 5-for-5 on PAT kicks. His first two field goals of the game were good from 33 and 35 yards. His lone miss of the night came from 38 yards in the fourth quarter.
WEEK 3 REVIEW
Recaps from each of the four games played in week three of the CSFL season, along with brief notes on each team, will be added Tuesday evening.
Post (0) at Navy (50)
Navy was dominant all night in a 50-0 victory over Post to improve to 3-0 last Friday.
The Midshipmen put up 445 yards of offense and held Post to just 114 total yards and five first downs. Navy rushed for 277 yards and threw for 168, while Post threw for 139 and was held to -25 rushing yards.
Brendon Clements led the ground game for Navy with 15 carries for 124 yards and two touchdowns, increasing his CSFL rushing lead. Mac Lavis added 15 carries for 78 yards and one score.
Jon Saadey was 9-of-10 passing for 136 yards with three touchdowns and no interceptions. Two of those TD passes went to Miles Whitlow and the third went to Matt Vogel.
Buddy Enriquez completed 12-of-26 passes for 139 yards with one interception for Post. Jarrick Sharp pulled down five passes for 70 yards.
NAVY NOTES: Navy continued its dominant start to the early season and now leads the CSFL in scoring offense at 48 points per game and ranks second in scoring defense, allowing 6.7 points per game … Navy and Penn head into their week four matchup as the last two unbeaten teams in the CSFL … Friday night's game with Penn is a rematch of a hard-fought 2015 contest that saw the Mids' defense cause three turnovers, record a safety and allow just 237 total yards in a 29-14 victory in Annapolis … A pick-six by Kendall Mackey kicked off the scoring in the game as he returned a Mike McCurdy pass 79 yards for a touchdown in the first quarter … Offensively, Nick Deterding was a dual-threat with 159 yards and a touchdown on the ground and 78 yards and a touchdown through the air … The turning point of the game was an 81-yard run by Deterding in the third quarter that was followed up on the next drive by a blocked punt out of the end zone for a safety … That 1:45 span of play turned a 13-6 game into a 22-6 contest and sent Navy on the way to the win … Friday night's game could be one that ultimately decides the CSFL champion when the season is said and done.
POST NOTES: Post came off the bye week and had to deal with one of the top teams in the CSFL on the road at Navy … The Eagles are still looking for a groove on offense and have scored just six points in two games … the defense ranks seventh in the league, allowing 37 points per game … Post ranks eighth in the league against the run, but leads the league in pass defense, allowing just 89.5 passing yards per game … Post will host Chestnut Hill Saturday night for its home opener.
----------
Cornell (24) at Chestnut Hill (29)
Chestnut Hill jumped out to a 16-0 lead midway through the second quarter, but Cornell rallied back and took the lead with 5:10 to play with a field goal from Ben Finkelstein that made it 24-23 in favor of the visitors.
The Griffins answered that drive when Michael Marino connected with Reginald Robinson from 33 yards to put Chestnut Hill back on top 29-24. Cornell had a chance to rally back one more time, but Nathan Moser came down with an interception to seal the victory.
Cornell outgained Chestnut Hill 340-316 in total offense after throwing for 235 yards and rushing for 105 yards. Chestnut Hill passes for 272 yards and ran for 44 yards.
Marino was the star of the night, accounting for all four touchdowns after throwing for 272 yards with three scores and rushing for 17 yards and one TD. Lew Roman caught eight passes for 97 yards and one TD and Robinson finished with five catches for 94 yards and two scores.
Will Griffen led Cornell with a game-high 177 all-purpose yards that included 74 rushing yards on just four carries and nine catches for 103 yards. Robert Pannullo completed 15 passes for 235 yards with two TDs, but was also intercepted twice. He also rushed for one touchdown. Evan Ball caught three passes for 74 yards and one score and Alexander Furman caught two passes for 45 yards and one TD.
John Zelek led the Cornell defense with 10 tackles, 3.0 tackles for loss and one fumble recovery. Chestnut Hill was paced by Luke Daub on defense with 11 total tackles, while Kyle Johnson-Hackett added eight tackles and two sacks.
CHESTNUT HILL NOTES: Chestnut Hill picked up its first ever official CSFL victory after not counting in the league standings last year … The Griffins are sixth in the league in scoring offense at 14.5 points per game and fifth in scoring defense, allowing 31.0 points per game … Michael Marino is fifth in the league in total offense per game at 155.0 yards after his 272-yard effort against Cornell … Luke Daub is tied for third in the league in average tackles per game at 8.0 … Reginald Robinson leads the league in forced fumbles with two … Chestnut Hill will look to string together back-to-back wins when it travels to Post Saturday night.
CORNELL NOTES: Cornell ranks fourth in the league in both scoring offense and defense, putting up 20.3 points per game and allowing 27.0 points per game … Evan Bell ranks fourth in the league in rushing at 55.7 yards per game … Robert Pannullo is sixth in the league in passing at 120 yards per game and ranks fourth in the league in total offense at 157.7 yards per game … Cornell has the third ranked rushing offense in the league and is averaging 147.0 yards per game on the ground … The Big Red will look to bounce back Friday night with a road trip to Army West Point.
----------
Mansfield (0) at Army West Point (58)
This one was all Army as the Black Knights bounced back from their first loss of the year with a 58-0 home win over Mansfield last week.
Army forced Mansfield into five turnovers with four interceptions and one lost fumble, while the Black Knights didn't turn the ball over once.
Army finished with game with 401 yards of offense that included 246 rushing yards and 155 passing yards. Mansfield was held to just eight yards on the ground and passed for 209 yards.
Keegan West rushed for 101 yards and two scores to lead Army. He also went 6-of-10 passing for 85 yards and one touchdown in the game. Marqus Burrell rushed for 57 yards and one TD and Jaylen Collier added a 46-yard rushing score. Austin Breed caught the lone touchdown pass for Army.
The special teams and defensive units for Army also got on the board with Seth Willis returning a blocked punt 63 yards for a touchdown and Christian Hess returning an interception 14 yards for a TD.
Mansfield was led by QB Adam Hutchison, who completed 13 passes for 144 yards with three interceptions. Devyn Nelsen managed 44 rushing yards on 11 carries. D.J. Mclean, Jr. caught six passes for 61 yards and Kurt Logan pulled down five passes for 76 yards.
ARMY NOTES: Army ranks second in the league in scoring offense at 35.0 points per game and leads the league in scoring defense, allowing just 4.7 points per game … The story so far has been the Army defense and its balance … The Black Knights lead the league in defense but don't have any single player ranked in the top 10 in the league in tackles per game … the top tackler is Matt Tamburri, who ranks 12th in the league at 6.7 tackles per game … The same can be said about the offense, which doesn't feature a top five rusher, passer or receiver in the league, but the balance and sharing of the ball has led to big points … Army will host Cornell Friday night looking to get back to its winning streak.
MANSFIELD NOTES: An injury-plagued and undermanned Mountaineer team played tough against Army West Point until getting worn-down in the second half … Mansfield outgained the Black Knights 107-15 in total offense in the first quarter … Senior Kurt Logan became the school's all-time sprint football receptions leader after catching five passes for 76 yards … Logan, who currently leads the CSFL in receptions, now has 84 catches in his career for 1,032 yards … Freshman Devyn Nelsen rushed for 44 yards and currently ranks third in the CSFL in rushing … The 44-yard effort was the most rushing yards against Army this season … Adam Hutchison is second in the CSLF in passing yards per game averaging 164.0 yards per outing … Mansfield has a much-needed bye before hosting Franklin Pierce for Homecoming and the 125th Anniversary of Mountaineer Football celebration on Oct. 15
----------
Penn (33) at Franklin Pierce (12)
Penn remained unbeaten after scoring the first 21 points of the game and holding off a pesky Raven team to score a 33-12 win on the road at Franklin Pierce.
The Ravens actually ended up outgaining Penn in the game by a 324-200 margin, but turned the ball over six times. Penn turned the ball over just once, providing one of the biggest factors in the game. Franklin Pierce threw for 302 yards and rushed for 22, while Penn managed 197 passing yards and just three rushing yards.
Mike McCurdy completed nine passes for 187 yards with two touchdowns and no interceptions to lead Penn. Aidan Kelly caught three passes for 69 yards and Marcus Jones and Chaz Augustini each caught one touchdown pass. Jake Klaus rushed for 32 yards and one touchdown.
Perhaps the top player on the field for Penn was linebacker Tom Console, who came up with three turnovers on his own. He intercepted two passes and recovered one fumble in the end zone for a touchdown. In total, the Penn defense recorded 10 tackles for loss, six sacks, five interceptions and one fumble recovery. Matteo Murgia also added two interceptions and Tracey Woods had one.
Jose Melo completed 16 passes for 246 yards with one touchdown and two interceptions for Franklin Pierce. Mike Mancini added five completions for 56 yards, but was intercepted three times. Tyler Zech rushed for 44 yards and one touchdown. Alex Powell was the top receiver in the entire game, catching seven passes for 113 yards and one touchdown. Alex Revere added six catches for 108 yards as the duo combined for 221 of the team's 302 receiving yards.
The Franklin Pierce defense tallied 15 total tackles for loss, including seven sacks in the game. Josh Castro led the way with nine total stops and 3.5 tackles for loss.
PENN NOTES: The Quakers improved to 3-0 to setup a showdown in week four against Navy, a matchup that will leave the league with only one unbeaten team heading into week five … the winner of Friday night's game will be in the driver's seat to claim the league title … The Quakers will likely have to be better on offense against Navy to win after putting up just 200 yards of offense last week … Mike McCurdy continues to lead the offense with poise and has yet to throw an interception this year … the reigning MVP of the league is once again leading the league in passing at 243.0 yards per game … he has also thrown a league-high six TD passes … Andrew Sutton is leading the league in receiving at 109.7 yards per game and has the longest catch of the year in the league at 85 yards … Tom Console is leading the league in total tackle with 24 and ranks third in average tackles per game at 8.0.
FRANKLIN PIERCE NOTES: The Ravens rank third in the league in total defense, allowing just 264.3 yards per game … The offense has struggled with turnovers though, ranking seventh in the league with 10 total turnovers in three games … Alex Revere is second in the league in receiving at 77.3 yards per game … Andrew Pelkey leads the league in sacks per game at 1.17 and has 3.5 sacks on the year … Josh Castro and Bailee Johns are the top two in the league in tackles for loss per game with Castro averaging 2.17 stops behind the line and Johns averaging 2.0 … Franklin Pierce is set for a bye week this weekend and will return to action Oct. 15 at Mansfield.
----------
WEEK 4 GAMES
10/7 – Cornell at Army West Point (7 p.m.)
10/7 – Navy at Penn (7 p.m.)
10/8 – Chestnut Hill at Post (6 p.m.)
Mansfield and Franklin Pierce have bye weeks