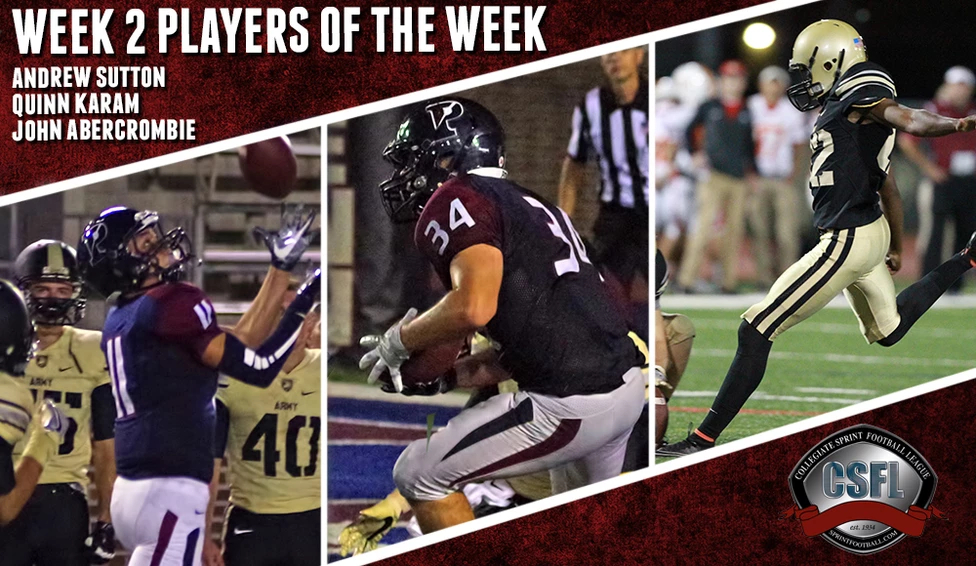 Week 2 Review
By: CSFL Staff | Collegiate Sprint Football League | September 27, 2016
The second week of the 2016 CSFL kicked off Friday night with a bang when Penn handed defending champion Army West Point a 14-9 defeat at Franklin Field. Navy got some revenge on Franklin Pierce after suffering an upset against the Ravens last year and Cornell picked up its first win of the year at Mansfield.
WEEK 2 PLAYERS OF THE WEEK
Offensive Player of the Week: Andrew Sutton, WR, Penn (Receda, Calif.)
Andrew Sutton caught five passes for 158 yards and one touchdown in Penn's victory over Army West Point Friday night. That one touchdown came on an 85-yard strike from Mike McCurdy, who broke Penn's all-time passing record in the game. The 85-yarder came with 1:18 to play in the second quarter and proved to be the game-winning points as Penn handed Army its first loss since the end of the 2014 season. Sutton finished with a game-high 166 all-purpose yards in the game.
Defensive Player of the Week: Quinn Karam, LB, Penn (Clarks Summit, Pa.)
Quinn Karam recorded seven solo tackles, one tackle for loss and a crucial interception in helping to lead the Penn defense to a 14-9 win over Army West Point. His interception came on the final play of the night with Army threatening to score the game-winning points. After a n Army timeout with six seconds left, Karam picked off a pass at the four-yard line to seal the victory. The Quakers managed to keep Army West Point out of the end zone and held the Black Knights to just three field goals in the game.
Special Teams Player of the Week: John Abercrombie, PK, Army West Point (Phoenix, Ariz.)
For the second straight week the special teams honor goes to John Abercrombie of Army West Point. He scored all nine of the Black Knights' points against Penn, converting on field goal attempts from 24, 33 and 36 yards. Abercrombie is a perfect 4-for-4 on field goal kicks through two games and has also not missed an extra point.
WEEK 2 REVIEW
Recaps from each of the three games played in week two of the CSFL season, along with brief notes on each team, can be found below.
Army West Point (9) at Penn (14)
Penn (2-0) came agonizingly close to knocking off Army West Point (1-1) and having a shot at the league title in 2015, ultimately coming up short 16-13 in double overtime. The Quakers erased that heartbreak with their first win over Army since 2008 with a 14-9 victory Friday night that included some timely big plays in the passing game and some stout defense in the second half.
The Penn defense forced three turnovers in the game, all by way of interceptions, while the offense didn't turn the ball over once. Army finished the game with a 357-269 edge in total yardage after holding Penn to -12 rushing yards, but turnovers and inability to finish scoring drives hurt the defending champions.
To make up for a loss of 41 yards from sacks, Penn quarterback Mike McCurdy had to air it out, throwing for 281 yards and both touchdowns. He connected with Andrew Sutton five times for 158 yards and one touchdown, an 85-yarder. He also connected with Aidan Kelly six times for 123 yards and the other TD as those two combined to catch 11 of McCurdy's 12 completions.
Defensively, Penn got a game-saving interception from Quinn Karam as time expired and also got picks from Robert Diorio and James Juliano in the game. Sam Smallzman and Juliano each finished with 10 tackles.
Army West Point was in the game all night, but could never land the final blow. The Black Knights racked up 251 rushing yards, but managed just 106 passing yards on 13-of-37 attempts. Quay Gilmore rushed for 83 yards and Marqus Burrell added 78 to lead the ground game. Keegan West rushed for 47 and Brady Miller added 43. Miller was 8-of-20 for 55 yards with one interception and West was 5-of-17 for 51 yards with two picks. All of Army's points came from John Abercrombie and three field goals.
The Army defense was poised all night, with the exception of the 85-yarder that ended up being the game-winner late in the second quarter. James Scroggins racked up three sacks and 3.5 tackles for loss and the defense as a whole tallied 13 tackles for loss and six sacks.
PENN NOTES: Penn QB Mike McCurdy broke the all-time career passing record at Penn and now has thrown for 4,615 yards … Penn's offense is third in the league in scoring at 22.5 points per game, but the defense has been stout, ranking second in the league allowing just 8.0 points per game … McCurdy leads all QBs in the league in passing at 271 yards per game, nearly 100 yards more per game than the next highest passer … Andrew Sutton leads all receivers in the league at 144.5 yards per game and has the longest catch in the league with his 85-yard TD against Army … Penn will hit the road to visit Franklin Pierce in week three of the season.
ARMY WEST POINT NOTES: Army entered the game with an eight-game winning streak dating back to a loss against Navy in the final game of the 2014 season … The Black Knights defense allowed two big passing scores for the first points allowed this season … Army leads the league in scoring defense at 7.0 points per game and ranks second in scoring offense, despite only scoring nine points, at 23.5 points per game … John Abercrombie is staking claim as the top kicker in the league, going a perfect 4-of-4 on FG attempts in his first two games … Marqus Burrell is sixth in the league in rushing at 53 yards per game … Army returns home to West Point to host Mansfield in week three.
----------
Navy (54) at Franklin Pierce (13)
This game was tied at 7-7 after the first quarter before Navy (2-0) scored 21 points in the second quarter and ran away with a 54-13 victory on the road at Franklin Pierce (1-1), avenging an upset two-point loss to the Ravens from 2015.
The Midshipmen put up 432 yards of total offense that included 246 rushing yards and 186 passing yards. Franklin Pierce managed 284 yards of offense with 95 on the ground and 189 through the air.
Reigning CSFL Offensive Player of the Week Nick Deterding, the starting QB for Navy, was injured early in the game, leaving freshman Jon Saadey in charge of the offense. The frosh displayed poise in his first extended action, completing 11-of-17 passes for 186 yards with three touchdowns and one interception. He also ran for 61 yards.
Brendon Clements led the offense for Navy with a big day on the ground, rushing 22 times for 139 yards and three touchdowns. JT Thompson caught four passes for 69 yards and one score. Mikes Whitlow added 48 receiving yards and one TD and Matt Vogel also caught a TD pass.
Franklin Pierce was paced by quarterback Jose Melo, who went 10-of-31 for 174 yards with two touchdowns and three interceptions. Alex Revere caught five passes for 121 yards and two touchdowns to lead the receivers.
The Navy defense got on the board twice in the game with a pair of interceptions returned for touchdowns. Kendall Mackey took one back 92 yards and Sheppard Wilson returned on 37 yards for the scores. Wilson also added nine total tackles to lead the Midshipmen, while Mackey added one sack.
Brandon Knight paced the Ravens defense with a game-high 11 tackles, including one for loss. Demitri Moreno chipped in nine stops and one tackle for loss.
NAVY NOTES: The 54 points scored by Navy was its highest point total against a CSFL opponent since Sept. 19, 2014 when the team scored 63 against Princeton … The Mids lost starting QB and All-CSFL performer Nick Deterding early with an injury, but freshman Jon Saadey stepped in and didn't miss a beat with 186 passing yards and three touchdowns through the air, as well as with 61 rushing yards … The Navy offense leads the league this year averaging 47.0 points per game through two weeks, while the defense ranks third in the league, allowing 10.0 points per game … Brendon Clements is the leading scorer in the league, averaging 12.0 points per game … he is also the leading rusher, averaging 111.5 yards per game on the ground … This Friday night's matchup will be the home opener for Navy as the Mids welcome Post and first-year head coach Joe Taylor, who was a three-year member of Navy's coaching staff with his final two serving as the Offensive Coordinator … Taylor is a 2009 graduate of the United States Naval Academy.
FRANKLIN PIERCE NOTES: Franklin Pierce's high point in week two was Alex Revere, who caught five passes for 121 yards and two touchdowns, both coming on fourth down … The Ravens rank fourth in the CSFL in scoring at 18.5 points per game and rank sixth on defense, allowing 30.0 points per game … Tyler Zech ranks fifth in the league in rushing at 55.5 yards per game … Revere ranks fifth in the league in receiving at 62.0 yards per game … The Ravens will host Penn in week three for their annual Homecoming game.
----------
Cornell (30) at Mansfield (12)
After a scoreless first quarter, Cornell (1-1) scored 21 points in the second quarter and cruised to a 30-12 win on the road at Mansfield (0-2).
Turnovers plagued the Mansfield offense for the second week in a row after the Mountaineers were able to move the ball for nearly equal yardage as their opponents again, but a pair of interceptions and a lost fumble were costly. The offensive numbers were nearly even for both teams with Mansfield putting up 347 yards of offense and Cornell going for 343 yards. The Big Red rushed for 219 yards and threw for 124, while Mansfield passes for 229 and rushed for 118.
Robert Pannullo led the Cornell Offense and accounted for three touchdowns, completing 11-of-18 passes for 124 yards and two scores and also rushing for 75 yards and one TD. Evan Ball added 134 rushing yards and one score as Cornell had two men average 5.0 yards or better per carry. Ryman Seeley caught four passes for 31 yards and one touchdown and Rob Hendricks added two catches for 56 yards and one score.
Mansfield was led by Adam Hutchison, who completed 18-of-29 passes for 190 yards with one touchdown and two interceptions. Kurt Logan caught seven passes for 76 yards, Jakob Woods caught six balls for 66 yards and D.J. Mclean, Jr. caught three passes for 61 yards and one TD. Devyn Nelsen added 71 rushing yards and Keith Brown chipped in 45 yards on the ground.
The Cornell defense was a balanced unit with no players recording more than five tackles in the game. Rene Diaz and Peter Sanchez each had one interception and Daniel Ferguson had two tackles for loss.
Mansfield's defense was led by John Capwell for the second week in a row, who finished with a game-high 10 tackles, including three for a loss and one sack. Mike Bucek also had 10 tackles and one tackle for loss. Chad Steinmetz recovered one fumble.
CORNELL NOTES: The win was the 13th straight for Cornell over Mansfield as the Big Red improved to 13-0 in the series … Cornell ranks fourth in the league in scoring after two weeks, averaging 18.5 points per game … The Big Red are allowing 26.0 points per game to rank fifth in the league on defense … Evan Ball ranks second in the CSFL in rushing at 79.0 yards per game, while Robert Pannullo is seventh at 48.0 yards per game … Daniel Ferguson blocked a punt against Mansfield that set up a scoring drive to ignite the Cornell offense … Cornell will visit Chestnut Hill Friday night for a week three matchup after the Griffins had a bye week last week.
MANSFIELD NOTES: Turnovers and penalties continued to hurt Mansfield in the second week of the season as the Mounties turned the ball over three times and committed 13 penalties … Mansfield actually outgained Cornell in total offense in the game … QB Andrew Hutchison threw for a career-high 190 yards in the game … he is currently second in the league in total offense per game at 193.5 yards per game … WR Kurt Logan leads the league in receptions with 14 that have gone for 154 yards … RB Devyn Nelson is fourth in the league in rushing at 63.5 yards per game and LB John Capwell is first in the league in total tackles with 22, recording double-digit tackles in each game … Mansfield will travel to Army West Point in week three.
----------
CHESTNUT HILL NOTES: Chestnut Hill was on a bye week last week and will return to action this Friday night with the home opener against Cornell … The Griffins dropped their week one opener 38-0 on the road at Army West Point … One schedule change took place for Chestnut Hill as the originally schedule gamed Oct. 23 against Penn will now be played on the road at Penn Oct. 21.
POST NOTES: Post also had a bye week in week two and will return to action this week … The Eagles will travel to Navy Friday night … Post was beaten 24-6 on the road at Franklin Pierce in week one.
----------
WEEK 3 GAMES
9/30 – Post at Navy (7 p.m.)
9/30 – Cornell at Chestnut Hill (7 p.m.)
10/1 – Mansfield at Army West Point (1 p.m.)
10/1 – Penn at Franklin Pierce (1 p.m.)