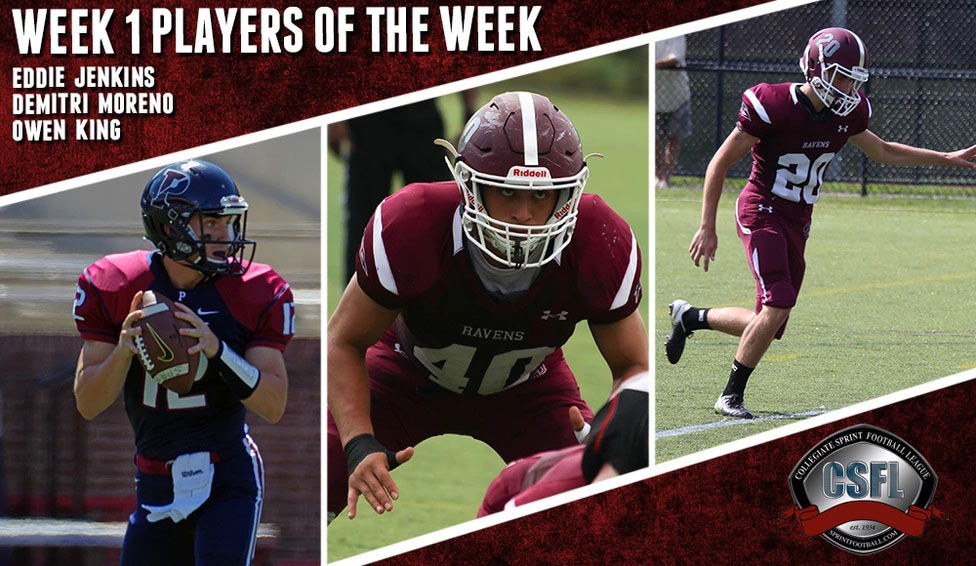 Week 1 Review
By: CSFL Staff | Collegiate Sprint Football League | September 20, 2016
The first week of the 2016 CSFL season saw defending champion Army West Point reel off its eighth straight win with a victory over Chestnut Hill, Navy cruise to a road victory at Cornell, Penn topple Mansfield in a nationally televised game and Franklin Pierce claim the "Talon Cup" with a win over Post.
WEEK 1 PLAYERS OF THE WEEK
Offensive Player of the Week: Nick Deterding, QB, Navy (Lindsborg, Kan.)
Deterding led Navy to a 40-7 road victory at Cornell with a hand in all six of Navy's touchdowns, passing for four scores and rushing for two more. He was 11-of-15 for 191 yards through the air and ran for 136 yards on 12 carries. Behind Deterding's command, the Mids scored five of their six touchdowns from 20-plus yards out, including both his touchdown runs, which went for 41 and 40 yards.
Defensive Player of the Week: John Capwell, LB, Mansfield (Apalachin, N.Y.)
Capwell was all over the field for Mansfield in its nationally televised game against Penn. He recorded 12 total tackles, including nine solo. His 12 stops were the most by any player in the league in week one. He also registered 1.5 tackles for loss, one sack and recovered a fumble.
Special Teams Player of the Week: John Abercrombie, PK, Army West Point
Abercrombie was perfect in his kick attempts in the season opener for defending champion Army West Point, converting on 5-of-5 PAT tries and one field goal from 36 yards. His 36-yarder was the longest field goal kicked in the league in week one.
WEEK 1 REVIEW
Recaps from each of the four games played in week one of the CSFL season, along with brief notes on each team, can be found below.
Chestnut Hill (0) at Army West Point (38)
Army opened its title defense in convincing fashion with a 38-0 shutout win at home Friday night over Chestnut Hill in the Griffins' first officially counted league game.
The Black Knights posted a 311-85 edge in total offense after throwing for 192 yards and rushing for 119. Chestnut Hill managed just 29 passing yards and rushed for 56 yards.
Brady Miller guided the Army offense by completing 10-of-22 passes for 132 yards and two touchdowns. Keegan West was 7-of-11 for 60 yards and one score. The Army quarterbacks combined to throw no interceptions on the night.
Jaylen Collier rushed for 61 yards and Marqus Burrell added 28 yards and one TD for the Black Knights. Clayton Carter caught three passes for 61 yards and two touchdowns, while Ty Galyean added three catches for 54 yards and one TD.
Chestnut Hill was paced by Jonathan Barber, who rushed for 30 yards and added 92 kick return yards to finish with a game-high 116 all-purpose yards.
ARMY NOTES: The Black Knights have won eight games in a row and are off to a great start in hopes of defending their league title … Both quarterbacks were successful on the day with neither turning the ball over and both accounting for at least one TD … John Abercrombie was perfect on the day in the kicking game, booting 5-of-5 PATs and converting a 36-yard field goal … Those numbers were good enough to earn him CSFL Special Teams Player of the Week honors for the first week … Army will travel to Penn in week two for a 7 p.m. game Friday night that could have major title implications … Last year, a 16-13 double overtime win over Penn ended up securing the league title for the Black Knights.
CHESTNUT HILL NOTES: Chestnut Hill got an official welcoming to the CSFL from defending league champion Army after the Griffins 2015 games did not count towards the league standings in their inaugural season … Chestnut Hill struggled to get things going offensively against what was the top defensive unit in the league last year … freshman running back Jonathan Barber led the way with 116 all-purpose yards that included 30 rushing yards … Josean Perez topped the defensive effort with nine total tackles … The Griffins will get two weeks to prepare for their next opponent as they have a bye week in week two before hosting Cornell in on Sept. 30.
----------
Navy (40) at Cornell (7)
Navy quarterback Nike Deterding was too much too handle for Cornell as he guided the Midshipmen to a 40-7 road win to open the season. Deterding had a hand in all six Navy touchdowns to walk away with CSFL Offensive Player of the Week honors.
Navy was in control for most of the game, outgaining Cornell by a final margin of 459-168 that included 191 passing yards and 268 rushing yards. Cornell managed 117 yards on the ground, but just 51 passing yards.
Deterding completed 11-of-11 passes for 191 yards with four touchdowns and one interception. He also ran for 136 yards and two scores. Brendon Clements added 84 rushing yards on 15 carries to lead the ground attack for Navy. He also caught four passes for 35 yards and one score. Mile Whitlow pulled down three passes for 89 yards and two touchdowns and Matt Vogel caught the other TD pass.
Cornell was paced by Kevin Nathanson, who rushed for 81 yards and one touchdown on just 12 carries for an average of 6.8 yard per carry.
Nick Abramson led the Navy defense with seven total tackles, two tackles for loss, one sack and one interception. Luke Coughlin added six tackles, two for loss and one sack.
The Cornell defense was led by Anfonso Nazzaro with eight total tackles and Conrad McCarthy with seven stops, one blocked kick and one interception.
NAVY NOTES: With question marks surrounding their offense following numerous key graduations from the 2015 team, the Midshipmen received strong performances from senior RB Brendon Clements (15 carries, 84 yards, 4 receptions, 35 yards and 1 touchdown) and sophomore WR Miles Whitlow (3 receptions, 89 yards and 2 touchdowns) in the season opener to go along with a dominant showing from Deterding … This week, Navy will be out to avenge last year's 18-16 home setback to Franklin Pierce … Starting the game without its starting quarterback and running back due to injuries, the Mids were still able to outgain the Ravens, 333-168, but unable to control the clock or possession of the ball as they lost that important battle, 38:43 to 21:17 and turned the ball over a season-high eight times … the Mids also missed two field goal attempts and a PAT in that upset loss … Navy is 2-1 all-time against Franklin Pierce.
CORNELL NOTES: Cornell's bright spot in the opener was Kevin Nathanson, who managed 6.8 yards per carry against a stout Navy Defense and rushed for 81 yards and the lone touchdown … Evan Ball, in his first career game, ran for 24 yards … Defensively, John Caruso registered a sack for a loss of seven yards to go along with strong showings from Alfonso Nazzaro and Conrad McCarthy … Punter Ryan Jackson had busy but productive day, booting the ball five times for an average kick of 36 yards with a long of 46 … Cornell will look to get into the win column for the first time this year with a road trip to Mansfield this Saturday for a 2 p.m. kickoff.
----------
Post (6) at Franklin Pierce (24)
Franklin Pierce claimed the Talon Cup for the fourth consecutive year with a 24-6 home win over Post in the season opener.
The win came in large part due to the effort of Tyler Zech, who rushed for three touchdowns to guide the offense. He finished with 73 yards on 27 carries. Kobie Smith added 50 yards on 12 carries and Ahzir Turner chipped in 38 yards on 13 carries to cap the three-headed rushing attack.
The ground attack for Franklin Pierce netted 135 yards, which helped offset the passing total of just 11 yards on 4-of-17 passing. The Ravens defense stole the show in the opener through, holding Post to just 132 yards of total offense that included 136 passing yards and negative four rushing yards.
Buddy Enriquez completed 18-of-40 passes for 136 yards with one TD and two interceptions for Post. The TD pass went to Jarrick Sharp, who finished with five catches for 49 yards and one touchdown, all game-highs. Rocco Guerrera added three catches for 50 yards.
Ryan Becerra led the Franklin Pierce defense with eight total tackles, 2.5 for loss and 1.5 sacks. Bailee Johns and Vincent Hall each recorded one interception and seven different players registered at least a half-sack.
Greg Volpe and Chris Leggio led the Post defense with 10 tackles each. Volpe finished with three tackles for loss and one sack as well and Leggio added one tackle for loss.
FRANKLIN PIERCE NOTES: Franklin Pierce had a short field all night, which could have something to do with the low offensive numbers, but managed to score 24 points on just 146 yards of total offense … The longest scoring drive of the night was just 27 yards for FPU, which also scored on drives of two yards, seven yards and eight yards, capitalizing on four Post turnovers … Tyler Zech was a workhorse, toting the ball 27 times and finding the end zone three times … Jacques Elias and Jason Reid each recovered fumbles for FPU … The Ravens will have their hands full in week two and will need to have more success moving the ball on offense when Navy visits for a noon kickoff Saturday … FPU will be thinking upset for the second year in a row after posting an 18-16 win over Navy last year.
POST NOTES: Post struggled offensively and was hurt by turnovers in the opener, but the bright spot was how strong the defense played, allowing less than 150 total yards of offense … QB Buddy Enriquez showed signs of being able to move the ball, but two interceptions and a fumble were costly … Bryan Sheppard was the only player to rush for positive yards in the game for Post … Jarrick Sharp was all over the field, handling the punting and return duties on top of his role as a WR on the offense … he finished with 10 punts for an average of 35.3 yards per kick, grabbed five catches for 49 yards and one score and returned three kickoffs for 46 yards … Chris Leggio, expected to be one of the top defensive players in the league, got off to a good start with 10 total tackles and Greg Volpe, who played QB last year, also recorded 10 tackles and had 3.0 tackles for loss … Post will get two weeks to prepare for its next game, Sept. 30 at Navy.
----------
Penn (31) at Mansfield (7)
Penn was too much for Mansfield in what was the showcase game of the week for the league on ESPN 3, coming away with a 31-7 victory.
The game was entertaining and likely would have been much closer if Mansfield didn't struggle to keep possession. Credit the Penn defense as the Quakers came down with four interceptions on defense and threw none on offense.
Penn finished the game with 388 yards of offense that included 261 through the air and 127 on the ground. Mansfield managed 299 total yards, with 158 passing yards and 141 on the ground.
Reigning CSFL MVP Mike McCurdy led the Penn offense by completing 16-of-28 passes for 261 yards with two touchdowns and no picks. He also rushed for nine yards. Andrew Sutton was the top receiver, recording a league-high 131 yards and one touchdown on six catches. Marcus Jones also caught one TD for Penn and Max Jones rushed for 94 yards on 14 carries for an average of 6.7 yards per carry.
Mansfield was paced by QB Adam Hutchison, who completed 15-of-30 passes for 158 yards with one touchdown and four interceptions. He also rushed for 45 yards. Devyn Nelsen added 56 yards on 11 carries to lead the rushing attack. Kurt Logan caught seven passes for 78 yards, including a highlight reel tumbling catch. D.J. Mclean Jr. caught three balls for 45 yards and one TD for the Mounties.
Robert Diorio pulled down two interceptions for Penn and finished with five tackles. Andreas Wang and Jack Hennigan had the other two picks. Tom Console led the Quakers with nine total tackles.
John Capwell led the Mountie defense with a league-high 12 tackles, 1.5 tackles for loss, one sack and a fumble recovery, numbers that earned him CSFL Defensive Player of the Week honors.
PENN NOTES: Penn defeated Mansfield for the ninth consecutive time on Saturday night … The Quakers will now host Army West Point on Friday night … Penn hasn't defeated the Black Knights since 2008 … The two teams battled to two overtimes last year with Army coming away with a 16-13 win … Reigning league MVP Mike McCurdy looked solid in the opener and target Andrew Sutton proved he could become one of the top receivers in the league in 2016 … The Penn defense got four turnovers from three different players and had a total of 15 players record at least two tackles … One of those turnovers was the final points of the game when Andreas Wang returned a pick one yard for a score … Kickoff against Army is set for 7 p.m. Friday night.
MANSFIELD NOTES: Mansfield continued to draw some of the largest crowds in the CSFL and had 3,512 fans show up for the ESPN 3 broadcast … The game was, for the most part, even statistically but the Mountaineers turned the ball over four times on interceptions including one returned for a touchdown … Three of those picks came on tipped passes … Mansfield gained 299 yards in total offense with wide out Kurt Logan went for 178 all-purpose yards in the game … Mansfield will host Cornell in the 15th Annual Josh Palmer Pigskin Classic this Saturday with a 2 p.m. kickoff.
----------
THIS WEEK'S GAMES
9/23 - Army at Penn – 7 p.m.
9/24 – Navy at Franklin Pierce – Noon
9/24 – Cornell at Mansfield – 2 p.m.
Post and Chestnut Hill have bye weeks.