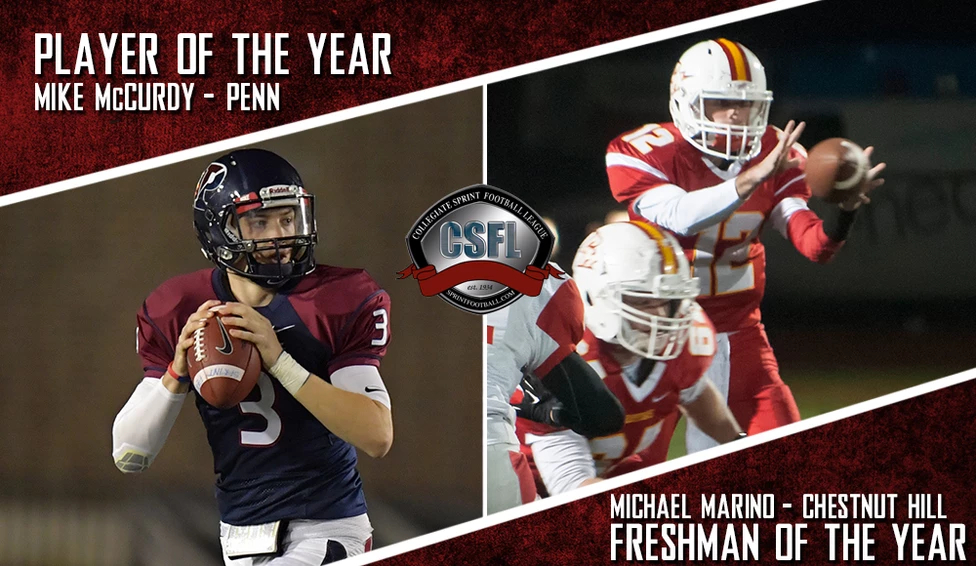 2016 Postseason Honors
By: CSFL Staff | Collegiate Sprint Football League | November 21, 2016
Penn quarterback Mike McCurdy was named the 2016 CSFL Player of the Year, taking home the Kay Trophy as the league's top performer for the second consecutive season. Chestnut Hill quarterback Michael Marino was named the Freshman of the Year to highlight the All-CSFL team that was announced Nov. 21.
The league's head coaches nominate and select the All-CSFL team each season. The All-CSFL team, which is linked above and listed below, includes 117 players from eight different schools.
Penn went undefeated to claim the 2016 league title, marking the first unbeaten season for the program since 2000 and just the second ever undefeated year for the program. That effort led the Quakers to a total of eight first team All-CSFL selections and 20 total players being named to the All-League team.
McCurdy spearheaded that list with his second straight Player of the Year honor, but his first outright after he split the award with Army's Philip Choi in 2015. The senior became the all-time passing leader in program history at Penn this year while leading his team to a 7-0 record. McCurdy led the league in total offense with 1,806 yards for an average of 258.0 yards per game. His 1,740 passing yards were more than 600 better than any other QB in the league and his 248.6 passing yards per game were nearly 100 yards better on average than the next best numbers in the league. McCurdy completed 96-of-179 passes for 1,740 yards with 17 touchdowns and only two interceptions on the season. He also rushed for 66 yards and two more scores to account for 19 touchdowns on the year.
The newly added honor of Freshman of the Year went to Michael Marino, who quarterbacked Chestnut Hill through its first official season of league play and just the second ever season of sprint football for the Griffins. The true freshman completed 86-of-195 passes for 1,044 yards with seven touchdowns and six interceptions. He also rushed for 57 yards and one score and led Chestnut Hill to two wins. Marino was named to Honorable Mention All-League honors.
Four players in the league were named to All-CSFL honors at multiple positions, including two that were honored with a pair of first team nods. Navy running back Brendon Clements earned first team honors at running back and at the all-purpose position and Chestnut Hill wide receiver Raevon Floyd-Bennett was named to first team accolades at running back and kick returner.
Post wide receiver Jarrick Sharp was named to second team honors as a wideout and a kick returner and Penn linebacker Tom Console was named to second team honors on defense and at the all-purpose position on offense.
All eight teams in the league have at least one first team honoree on the All-CSFL squad.
1ST TEAM OFFENSE
QB Mike McCurdy *.................. Penn
RB Brendon Clements................ Navy
RB Jake Klaus........................... Penn
RB Raevon Floyd-Bennett........... Chestnut Hill
RB Evan Ball............................ Cornell
WR Marcus Jones...................... Penn
WR Aidan Kelly.......................... Penn
WR Miles Whitlow..................... Navy
WR Kurt Logan.......................... Mansfield
TE Ty Galyean......................... Army West Point
OL Benjamin Friedman............... Penn
OL Ross Gilchrest...................... Navy
OL Luke Fazzari........................ Army West Point
OL Franco Pizzarella.................. Franklin Pierce
OL Caleb Minsky...................... Cornell
OL Steve Sicilia......................... Mansfield
AP Brendon Clements................ Navy
PK John Abercrombie................. Army West Point
KR Raevon Floyd-Bennett........... Chestnut Hill
PR Seth Wills........................... Army West Point
* CSFL Player of the Year
1ST TEAM DEFENSE
DL Pay Boyle........................... Penn
DL Bryant Schlade..................... Navy
DL Angelo Matz....................... Army West Point
DL Andrew Pelkey.................... Franklin Pierce
DL Brian Layden....................... Chestnut Hill
LB Chris Leggio......................... Post
LB Chris Colavita....................... Penn
LB Nick Abramson.................... Navy
LB Matt Tamburri..................... Army West Point
LB Josh Castro.......................... Franklin Pierce
DB Christian Hess...................... Army West Point
DB Kendall Mackey................... Navy
DB Brandon Knight.................... Franklin Pierce
DB Kyle Post............................ Mansfield
P Matt Caltabiano................... Penn
2ND TEAM OFFENSE
QB Rob Pannullo....................... Cornell
WR Andrew Sutton..................... Penn
WR Austin Breed........................ Army West Point
WR Ryman Seeley..................... Cornell
WR Jarrick Sharp........................ Post
TE Rob Hendricks...................... Cornell
OL Matt Hermann..................... Penn
OL Jonathan Meier.................... Navy
OL Kyle Robb........................... Navy
OL Jess Helms.......................... Army West Point
OL Chris Bogardus..................... Franklin Pierce
OL Kevin Clancy........................ Chestnut Hill
OL Kevin Meredith.................... Chestnut Hill
OL Kyle Pierce.......................... Mansfield
AP Tom Console....................... Penn
PK Mario Del Cueto................... Penn
PR Pat McMahan..................... Navy
KR Jarrick Sharp........................ Post
2ND TEAM DEFENSE
DL Arthur D'Angelo................... Penn
DL Blake Papet......................... Navy
DL Curtis Jerzerick..................... Army West Point
DL Daniel Ferguson................... Cornell
DL John Zelek.......................... Cornell
LB James Juliano...................... Penn
LB Quinn Karam....................... Penn
LB Alex Oldham....................... Navy
LB John Capwell....................... Mansfield
LB Mike Bucek......................... Mansfield
DB Tom Console....................... Penn
DB Rob Diorio........................... Penn
DB Tanner Andrews................... Arm West Point
DB Taylor Ragland..................... Army West Point
DB Kadeem Pankey................... Chestnut Hill
DB Ryan Jackson....................... Cornell
DB Kardale Taylor..................... Mansfield
P George Skinner.................... Navy
HONORABLE MENTION OFFENSE
QB Michael Marino ^................. Chestnut Hill
QB Nick Deterding..................... Navy
QB Keegan West....................... Army West Point
QB Buddy Enriquez.................... Post
RB Mac Lavis........................... Navy
RB Marqus Burrell..................... Army West Point
WR Alex Revere......................... Franklin Pierce
WR Alex Powell......................... Franklin Pierce
WR Reggie Robinson................... Chestnut Hill
WR D.J. McLean, Jr..................... Mansfield
WR Robert Sherry...................... Post
TE Matteo Murgia.................... Penn
TE Dane Livengood................... Navy
TE Craig Hannon....................... Cornell
OL/TE Jakob Woods....................... Mansfield
OL Jordan Clark........................ Franklin Pierce
OL Jason Reid........................... Franklin Pierce
OL Jonathan Weyand................ Penn
OL Steven Venango.................. Chestnut Hill
OL Shane Celone...................... Post
^ CSFL Freshman of the Year
HONORABLE MENTION DEFENSE
DL Eddie Cai............................ Penn
DL Zach Knight......................... Army West Point
DL James Scroggins................... Army West Point
DL Demitri Moreno................... Franklin Pierce
DL Josean Perez....................... Chestnut Hill
DL Tony Wilson........................ Chestnut Hill
DL Pat Curran........................... Cornelll
DL Doug Bird............................ Mansfield
LB Drew Dziwulski.................... Navy
LB Jacob Marchillo.................... Army West Point
LB Alfonzo Nazzaro................... Cornell
LB Dylan Flexer........................ Mansfield
LB Isaac Havens....................... Mansfield
LB Brandon Pace...................... Mansfield
LB Brad Grasso......................... Post
LB Andrew Jean....................... Franklin Pierce
LB Bailee Johns........................ Franklin Pierce
LB Matt LoPresti....................... Franklin Pierce
LB Jon Baldwin......................... Chestnut Hill
LB Luke Daub.......................... Chestnut Hill
LB Fabian Santa-Cruz................ Post
LB Greg Volpe.......................... Post
DB Ryan Becerra....................... Franklin Pierce
DB Nate Moser......................... Chestnut Hill
DB Devin Graves....................... Navy
DB Rex Willis............................ Navy
DB Ian Rawn............................ Cornell
DB Eleodoro Perez..................... Post
DB Bernard Peterson.................. Post