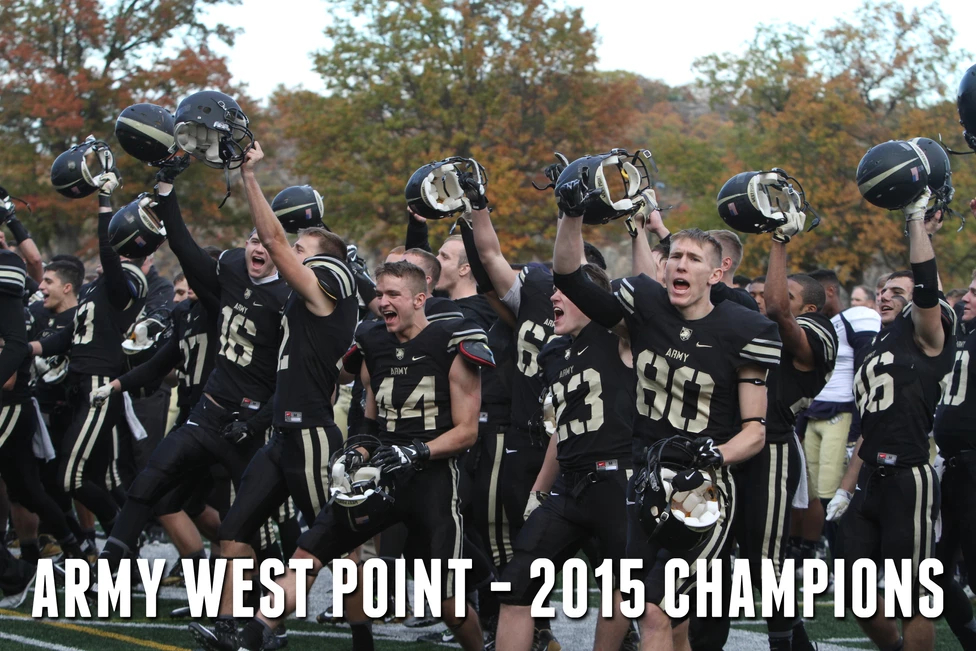 Week 7 Review
By: CSFL Staff | Collegiate Sprint Football League | November 3, 2015
The seventh week of the CSFL season featured the annual battle between Army West Point and Navy, which ended up serving as the league title game yet again. The Black Knights came away with a 24-23 victory to complete the perfect season and win the league title.
In other week seven action, Penn defeated Princeton 75-12 to finish the year 5-2 and in second place in the league standings, Cornell defeated Post 44-6 to finish with a 4-3 record and Franklin Pierce defeated Mansfield 14-3 to finish with a 4-3 record.
Just one game remains in the 2015 season, as Princeton and Chestnut Hill will meet next week to close the year.
The week seven Players of the Week are below.
WEEK 7 PLAYERS OF THE WEEK
Offensive Player of the Week: Matthew Hite, WR, Navy (Chapin, S.C.)
Hite was the go-to man for Navy in the league title game, finishing with nine catches for a career-high 241 yards and three touchdowns. His 241 yards were the most offensive yards in a single-game by any player in the CSFL season this year and came against the league's top ranked defense His touchdown grabs came from 66 yards, 50 yards and 20 yards and he finished with five catches of 20 or more yards.
Defensive Player of the Week: Matthew Tamburri, LB, Army West Point (Newburgh, N.Y.)
Tamburi earns his second Player of the Week honor after leading the Army defense in the title game win over Navy. He recorded a game-high 15 total tackles, including eight solo, and also blocked the potential game-tying extra point with a leaping effort over the top of the line after Navy scored with 3:29 to play.
Special Teams Player of the Week: Mark Dabeck, P, Army West Point (Leavenworth, Ken.)
Dabeck was key in flipping the field and keeping the field position battle in Army's favor in the win over Navy. He punted a career-high 10 times in the game and averaged 39.2 yards per punt, including a long of 51 yards.
WEEK 7 REVIEW
Navy 23 at Army West Point 24
Army trailed 17-10 nearing the end of the third quarter but scored 14 unanswered points to take a 24-17 lead early in the fourth quarter. Navy battled back and scored on a 56-yard pass play with 3:29 to play, but the game-tying extra point was blocked by a leaping Matthew Tamburri to keep the Black Knights out in front.
Navy got the ball back one more time and reached midfield, but threw three straight incompletions and the Army defense came up with a sack on fourth down to seal the victory.
Navy finished the game with 399 yards of total offense on 296 passing yards and 103 rushing yards. Army managed 259 yards of offense with 159 on the ground and 100 through the air.
The Army defense recorded four interceptions on the day to help preserve the slim victory.
Marqus Burrell led Army with 121 rushing yards and one touchdown on 26 carries. Brady Miller added 34 rushing yards and completed 11-of-18 passes for 100 yards, two touchdowns and one interception. Kevin O'Brien caught three passes for 45 yards and Ty Galean and Dexter Penick each pulled down one TD catch.
Warren Kay was perfect on the day in the placekicking game for Army, connecting on three extra points and one 37-yard field goal early in the third quarter.
Army's defense was paced by Matthew Tamburri with 15 tackles and the blocked PAT that sealed the win. Philip Choi added 12 tackles, as did Nathan Lopez, and Ryan Gallagher chipped in 11 tackles. Tanner Andrews recorded two interceptions and Lopez and Shaw Tolbert each recorded one.
Navy was paced by the monster receiving effort by Matthew Hite, who caught nine passes for a career-high 241 yards and three touchdowns. Nick Deterding completed 14-of-39 passes for 296 yards with three touchdowns and four interceptions. Deterding also ran for a team-high 80 yards on 24 carries.
The Army defense held last year's league MVP Eric Wellmon to just 23 rushing yards on 19 carries.
Navy's defense was paced by Hardy Davis with 15 tackles, including a game-high 11 solo. Kendall Mackey recorded one interception and Alex Oldham recorded three tackles for loss.
Army claims its third league title in the last four years. The only loss the Black Knights have suffered in the last four seasons was the final game of the year last fall at Navy.
Navy finishes the year at 5-2 overall and 4-2 in CSFL action to finish in a tie for second in the league standings with Penn.
Princeton 12 at Penn 75
Penn scored 42 points in the first half and rolled to a 75-12 win over Princeton to finish the year at 5-2 and lock up second place in the league standings.
The Quakers ran for 259 yards and threw for 221 to finish with 480 yards. Princeton managed 130 total yards after passing for 139, but rushing for negative nine yards.
Mike McCurdy completed 11-of-18 passes for 163 yards and two touchdowns and also ran for 32 yards and two scores in limited action for Penn. Max Jones added 76 yards and one score on the ground, Jake Klaus rushed for 73 yards and one TD, Chris Colavita ran for 54 yards and one TD and Rob Diorio added 42 yards and one TD.
Henry Mason caught five passes for 51 yards and two touchdowns. Brendan Dale added tow catches for 61 yards and one TD.
Princeton was led by Char Cowden, who completed seven passes for 137 yards and one TD, a 78-yard strike to Tyle Kane, who finished with three catches for 100 yards and one TD. Patrick Yu recorded a 21-yard interception return for a TD to highlight the Tiger defense.
Princeton will close the year by hosting Chestnut Hill at 7 p.m. Friday night.
Mansfield 3 at Franklin Pierce 14
Franklin Pierce outlasted Mansfield in an ugly game that featured less than 300 yards of total offense between the two teams.
The Ravens finished the game with 131 yards of offense with 47 passing yards and 84 rushing yards, while Mansfield finished with 141 yards on 100 passing yards and 41 rushing yards.
D.J. MacDonald paced Franklin Pierce with 68 rushing yards, while Derek Reddy scored the only offensive touchdown of the game and finished with 11 rushes for 10 yards and a score. He also completed six passes for 47 yards. Fanklin Pierce got its other points on a 32-yard fumble return for a touchdown by Andrew Jean.
Mansfield got 100 passing yards from Adam Hutchinson and 42 rushing yards from Aren Harris. Jacob Bucek caught four passes for 43 yards.
James Willette led Franklin Pierce with 11 tackles, while Josh Tilton added 10 tackles and 1.5 sacks. Shawn Wright added a game-high three sacks.
John Capwell led the Mansfield defense with 12 tackles, including 2.5 for loss.
Franklin Pierce finishes the season at 4-3 and as owners of the biggest upset of the year with its win over Navy. Mansfield finishes with a 2-5 record and a 1-5 mark in CSFL games.
Cornell 44 at Post 6
Cornell scored 14 points in the second and third quarters and ran away with a 44-6 win at Post to finish the season.
The Big Red racked up 445 yards of total offense with 293 on the ground and 152 through the air. Post managed 218 yards of offense with 103 rushing yards and 115 passing yards.
Kevin Nathanson ran for 123 yards to pace the rushing effort for Cornell. Benjamin Herrera added 87 rushing yards and one TD and Conno Ostrander rushed for three touchdowns and 18 yards. He also threw for 152 yards and one TD filling in for injured starting QB Rob Pannullo.
Nathanson also led the team in receiving with four catches for 98 yards, while Trevor Marrero pulled down one TD catch.
Post was led by Greg Volpe with 11 completions for 108 yards. Jay'Len Mahan scored the only TD of the game on a four-yard rush and also caught six passes for 78 yards.
Cornell finishes the year at 4-3 overall and in CSFL action to place fourth in the league standings. Post finishes the year winless at 0-7.
This will serve as the final full weekly report of the season. A brief recap of next week's Princeton and Chestnut Hill game will be posted and the yearly award winners and the All-Conference teams will be posted after the coaches vote at the annual meeting.