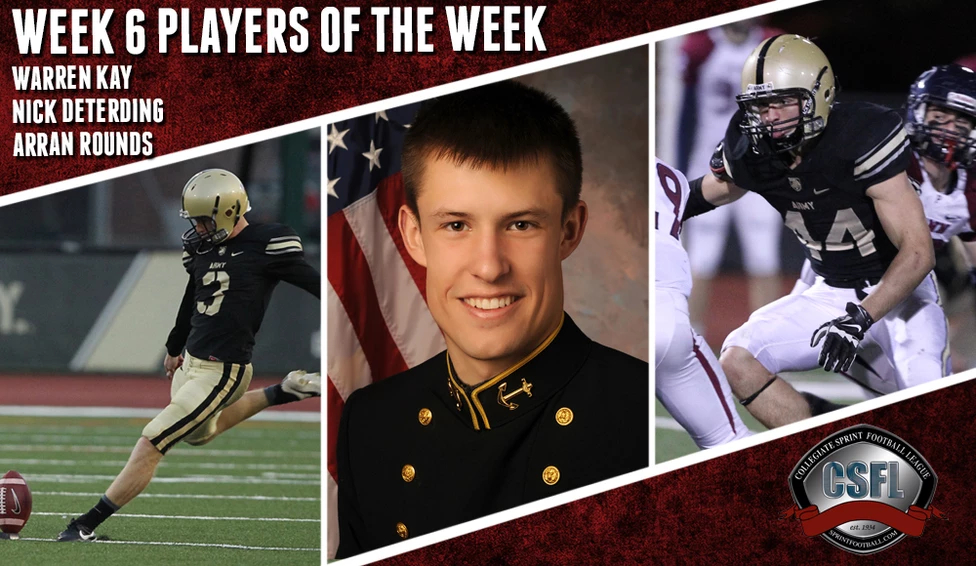 Week 6 Review
By: CSFL Staff | Collegiate Sprint Football League | October 27, 2015
Week six of the CSFL season was highlighted by a double overtime game between Army West Point and Penn, in which the Black Knights narrowly remained undefeated and kept their hopes of an outright league title alive with a 16-13 victory at home.
Navy took over control of second place in the league standings with a 35-14 win at home over Cornell. Mansfield scored a 27-0 shutout victory over Post and Franklin Pierce exploded offensively for a 45-7 victory over Chestnut Hill to round out the week six action.
Week six marked the second to last week of the season with just one week of action left on the schedule. Army will host Navy Saturday, Oct. 31 in the marquee game of the year that will once again decide the league's champion.
The week six Players of the Week are below.
WEEK 6 PLAYERS OF THE WEEK
Offensive Player of the Week: Nick Deterding, QB, Navy (Lindsborg, Kan.)
Deterding accounted for more than 70 percent of Navy's total offensive yards in the win at Cornell. He completed 14-of-25 passes for 220 yards with two touchdowns and no interceptions and also ran for 114 yards and one touchdown on 21 carries for an average of 5.4 yards per carry.
Defensive Player of the Week: Arran Rounds, DL, Army West Point (Shawnee, Kan.)
Rounds was a force for the Army West Point defense in the narrow win over Penn, recording five tackles for loss and two sacks. His tackles behind the line of scrimmage went for a loss of 28 yards for the Quakers' offense. Rounds finished with a team-high 11 total tackles, including eight solo stops.
Special Teams Player of the Week: Warren Kay, PK, Army West Point (Goshen, Ind.)
Kay scored more than half of Army West Point's final point total, including the game-winning points, in the narrow win against Penn. He opened the game's scoring with a career-high 48-yard field goal and made his only extra point attempt in regulation. He then connected on a 24-yard field goal in the first overtime period and hit the game-winner from 34 yards out in the second overtime to finish the game 3-for-3 in field goal attempts.
WEEK 6 REVIEW
Recaps from week six games and notes for each team can be found below. A CSFL title game preview for the Army-Navy showdown will be posted to the league homepage Friday.
Post (0) at Mansfield (27)
Mansfield rolled to a 27-0 victory over Post after recording five turnovers and racking up 362 yards of offense. The Eagles, still winless on the year, managed 237 yards of offense but struggled to keep possession.
Mansfield ran for 121 yards and threw for 241 in the win. Aren Harris led the way on the ground with 106 yards and one touchdown. Keith Brown added 55 yards and one score. Adam Hutchinson threw for 165 yards. Joe Bucek caught five passes for 121 yards.
The Mountie defense got two interceptions from Damarkus Jones, who also led the team with nine tackles. Evan Ruggles and Doug Bird each recovered a fumble and Nick Sander recorded one interception.
Post was led by Greg Volpe, who threw for 110 yards. Neajaun Jackson rushed for 86 yards and Jay'Len Mahan caught five passes for 80 yards.
Chris Leggio recorded a game-high 11 tackles and one fumble recovery for Post.
Mansfield will close the year with a noon game at Franklin Pierce Saturday, while Post will host Cornell Saturday at noon.
Mansfield Notes: Mansfield has recorded a school record 15 interceptions on the year and has at least one INT in each game this season … Aren Harris has already broken the Mansfield rushing record for the season and now has 534 yards with one game to go … Joe Bucek is just 39 receiving yards away from becoming the first Mansfield player to record 1,000 receiving yards in a career … The Mounties will look to close the year with a win at Franklin Pierce … the Ravens are 2-1 in the series with Mansfield … Mansfield is looking for its first three-win season since becoming a full-time member of the CSFL in 2009.
Post Notes: Post is winding down on a frustrating year in which the talent on the roster hasn't matched the results of a winless season … turnovers have been the problem for Post all year with the Eagles ranking last in the league in turnover margin at -10 … Post will get one more chance to fix those issues and battle for its first win of the season when it hosts Cornell Saturday at noon.
Franklin Pierce (45) at Chestnut Hill (7)
Franklin Pierce exploded on offense and ran away with a 45-7 win on the road at Chestnut Hill last week. The Ravens scored with an 85-yard kickoff return TD from Shannon Edwards on the first play of the game and never looked back.
FPU posted a 341-149 advantage in total offense with 291 rushing yards and 50 passing yards. Chestnut Hill was held to 92 yards on the ground and 57 through the air.
D.J. MacDonald ran for 114 yards and two touchdowns to lead the offensive effort fro FPU. Edwards added 63 rushing yards and one TD and Derek Reddy ran for 57 yards and two scores to go along with 50 passing yards.
The Ravens recovered four fumbles and snagged one interception in the game, with Josh Castro, Josh Tilton, Jacques Elias and George Petta each picking up one fumble.
Chestnut Hill was paced by Reginald Robinson, Jr., who threw for 57 yards and one score and ran for 46 yards. His TD pass was a 12-yard strike to Alexander Rivera III.
Jon Baldwin recorded a game-high 11 tackles for the Griffins.
Franklin Pierce will host Mansfield at noon Saturday to close out the year, while Chestnut Hill will take the week off before traveling to Princeton for the final game of the season Nov. 6.
Franklin Pierce Notes: FPU is 3-3 overall and will be looking to finish the year above .500 with a win over Mansfield … the Ravens are scoring 20.5 points per game and allowing 22.3, while Mansfield is scoring 11.5 points per game and allowing 24.7.
Chestnut Hill Notes: The Griffins have played admirably in their first season of having a program … they rank fifth in the league in scoring offense at 21.2 points per game and seventh in the league in scoring defense at 25.2 points per game … The Griffins will be facing Princeton for the second time this year and are looking to finish their inaugural year with a winning record.
Cornell (14) at Navy (35)
Navy rushed for 248 yards and rolled to a 35-14 victory over Cornell to set up another battle with Army for the league title.
The Midshipmen posted a 468-249 advantage in total yards after adding 220 through the air. Cornell was held to 97 rushing yards and 152 passing yards.
The Mids got a dominant performance from quarterback Nick Deterding, who threw for 220 yards and two touchdowns with no interceptions and also ran for 114 yards and one score.
Eric Wellmon added 122 yards and two touchdowns on the ground and caught a 54-yard pass. Matthew Hite caught six passes for 112 yards and both Navy passing scores.
The Mids got two interceptions from Kendall Mackey and a pair of sacks from Alex Odham.
Cornell was paced by Rob Pannullo and Kevin Nathanson. Pannullo threw for 152 yards and two touchdowns and also ran for 68 yards. Nathanson caught eight passes for 99 yards and one TD and added 17 yards on the ground.
John Zelek made a game-high 11 tackles and Chris D'Ambrosio recorded 10 tackles and recovered a fumble for Cornell.
Navy will now turn its focus to the annual battle with Army Saturday at West Point at 2 p.m. The Mids can earn a share of the CSFL title with a win. Cornell will travel to Post Saturday for a noon kickoff to close the season for the Big Red.
Navy Notes: Navy enters the final week of the season hoping for a repeat performance from last year, when it earned the league title and snapped Army's three-year long winning streak with a 27-7 win … Navy posted 388 total yards of offense and held the ball for more than 37 minutes in the win … Army was held to 217 yards of total offense, 211 lower than its season average.
Cornell Notes: Cornell enters its final week of the season at 3-3 and looking to finish above .500 on the year … the Big Red are 1-4 all-time against Post, but the Eagles enter the final week of the year looking for their first win … Nathanson recorded his first receiving touchdown in the win over Navy … Pannullo is third among all players in the league in total offense, averaging 174.2 yards per game.
Penn (13) at Army West Point (16) – 2OT
In what was easily the best game of the 2015 CSFL season so far, Army West Point narrowly escaped a home game last week with a 16-13 win over Penn.
The Quakers were the first team all season to score a single point against Army and never backed down, taking the game to double overtime before the hosts pulled off the win.
Arguably the most important player on the field for Army was kicker Warren Kay, who was 3-for-3 on field goal tries, including a pair in the extra periods. He booted a career-long 48-yarder in regulation, kicked a 24-yarder in the first overtime and then sealed the game with a 34-yarder for the win in the second OT.
Army finished the game with a 246-189 edge in total offense after running for 113 yards and throwing for 133. Penn managed just six yards on the ground and went for 183 through the air.
Brady Miller completed 13 passes of 133 yards with no touchdowns and two interceptions for Army, but he also ran for 38 yards and the Black Knights only touchdown of the game. Marqus Burrell added 62 rushing yards and Austin Breen caught six passes for 69 yards.
Arran Rounds led the Army defense with 11 tackles, including five tackles behind the line of scrimmage and two sacks.
Penn was paced by QB Mike McCurdy, who is making his case to be named the top QB in the league. He completed 18 passes for 183 yards and one touchdown with no interceptions. His TD pass went to Jack Epstein from 20 yards out.
Andrew Sutton caught six passes for 66 yards and Henry Mason added six catches for 46 yards. Max Jones ran for 56 yards on 16 carries.
The Quakers defense was paced by James Juliano with a game-high 13 tackles, including three for loss. Quinn Karam added 10 tackles and 2.5 sacks and also recorded an interception.
Army will look to complete the perfect season when it hosts Navy Saturday at 2 p.m. in the annual Star Game. Penn will look to finish the year at 5-2 when it hosts Princeton Friday night at 7 p.m.
Army Notes: Army owns the top scoring offense and defense in the league, tallying 39.2 points per game on offense and allowing just 2.2 points per game on defense … the Black Knights only loss the last three years came in the final game of the year last year … Army has used a committee effort for its success this year with no players ranking in the top 10 in the league in all-purpose yards … Marqus Burrell ranks seventh in the league in rushing at 72.5 yards per game and Brady Miller ranks eighth in the league in total offense at 124.8 yards per game … a complete preview for the Army-Navy game will be posted to the league homepage Friday.
Penn Notes: Penn will be heavily favored to beat Princeton in its final game this Friday night and could finish as high as second in the league if Army defeats Navy this weekend … the Quakers have gotten an outstanding effort from Mike McCurdy, who leads the league in total offense at 237.5 yards per game … he has accounted for 1,425 yards this season and has also accounted for more touchdowns than anyone in the league at 16 … Henry Mason is scoring more points per game than anyone in the league at 7.3 and leads all receivers at 96.0 yards per game.