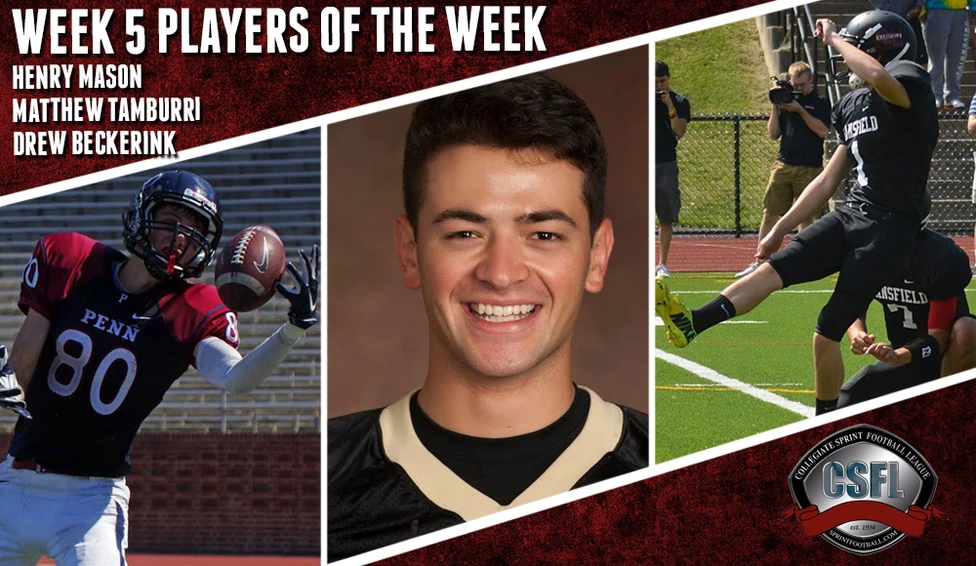 Week 5 Review
By: CSFL Staff | Collegiate Sprint Football League | October 20, 2015
Week five of the CSFL season saw another shutout victory for Army West Point, a comeback win from Penn, a road victory by Navy and a home win for Cornell.
The big news from the week was a school record fifth consecutive shutout by the Army defense in a 24-0 win at Franklin Pierce. The Black Knights have allowed zero points through five weeks of the season.
Navy returned to its winning ways with a 21-0 shutout on the road at Post. Cornell defeated Princeton, which flashed some signs of an improving offense, 52-18 at home. The closest game of the week happened in Philadelphia Friday night when Penn had to rally back to defeat Mansfield 16-13.
The week five Players of the Week are below.
WEEK 5 PLAYERS OF THE WEEK
Offensive Player of the Week: Henry Mason, WR, Penn (Greenlawn, N.Y.)
Mason, who has been one of the most dominant receivers in the CSFL all season, had another big game last week to lead Penn by Mansfield. He caught nine passes for 113 yards and one touchdown. Mason leads the league in catches with 31 and in receiving yards at an average of 106.0 per game. His 530 yards rank third in single-season history at Penn.
Defensive Player of the Week: Matthew Tamburri, LB, Army West Point (Newburgh, N.Y.)
The Army defense has received top performances from many individuals throughout the shutout streak. Last week it was Tamburri leading the way with a team-high nine tackles, including 1.5 tackles for loss and one sack. He also recorded an interception and returned it 35 yards for a touchdown in the 24-0 victory at Franklin Pierce.
Special Teams Player of the Week: Drew Beckerink, PK, Mansfield (Falconer, N.Y.)
Beckerink kept the Mounties in the game and nearly led them to an upset on the road at Penn with a pair of field goals and an extra point last week, accounting for more than half of his team's points. He was perfect on the day after connecting from 34 yards and from 37 yards and successfully converting his one PAT try in the 16-13 loss.
WEEK 5 REVIEW
Mansfield (13) at Penn (16)
Penn finished with a 24-7 advantage in first downs and held Mansfield to just 117 yards of total offense, yet had to rally back to earn a slim 16-13 victory at home last week.
The Quakers threw five interceptions to keep Mansfield in the game and the Mounties took advantage with timely scoring, including a pair of field goals from 34 and 37 yards from Drew Beckerink.
Penn trailed 13-7 with 36 seconds left in the opening half but got a huge score as time expired with a 35-yard field goal to cut it to 13-10. The Quakers needed more than a quarter and a half to find the winning score in the second half, but got it on a one-yard run from Mike McCurdy with 7:01 to play.
McCurdy completed 24-of-37 passes for 260 yards and one touchdown, but was responsible for all five interceptions. He also ran for 11 yards and one score. Henry Mason was the difference maker, pulling down nine catches for 113 yards and one touchdown.
Mansfield got a 92-yard rushing effort from Aren Harris and Anthony O'Connell was 9-of-13 for 62 yards and one touchdown, which was caught by Joe Bucek. Kyle Post and Demarkus Jones each had two interceptions for the Mountie defense.
Mansfield will host Post Saturday at 1 p.m. for Senior Day, while Penn will travel to Army West Point Friday night for a 7 p.m. kickoff.
Princeton (18) at Cornell (52)
Princeton showed some positive improvements on offense and trailed just 14-6 after the first quarter, but Cornell proved to be too much and pulled away for a 52-18 victory.
Cornell finished with 393 yards of offense, including 295 on the ground. Princeton went for 271 yards, including 189 through the air and 82 on the ground.
Rob Pannullo ran for 82 yards and three touchdowns on just seven carries to pace Cornell. JD Donnahey added 83 yards and one TD and Benjamin Herrera went for 67 yards and two touchdowns. The Big Red also got 53 yards and one rushing TD from Kevin Nathanson.
Chad Cowden was the leader for Princeton, completing 14 passes for 160 yards, three touchdowns and no interceptions. He also ran for a team-high 35 yards. His TD passes went to three different receivers with Patrick Yu, Nick Barnett and John Van Orden each catching one. Yu led the team with six catches for 66 yards.
Cornell will visit Navy Saturday night for the Mids Senior Night at 7 p.m. Princeton will take the week off and return to action Oct. 30 with a 7 p.m. game at Penn.
Navy (21) at Post (0)
Navy returned to the ground game that gave the program so much success last year and ran for 239 yards in a 21-0 win at Post. The Midshipmen attempted only two passes in the game and survived three lost fumbles in the win.
Post struggled to get things going on offense and finished with just 146 yards of offense, including 42 rushing and 104 passing.
Eric Wellmon led the way for Navy with 125 rushing yards and one touchdown on 33 carries. Nick Deterding was much more efficient running the ball, going for 103 yards and one score on just 16 carries. Deterding also complete both pass attempts to Corey Garcia for 13 yards.
Greg Volpe threw for 104 yards with two interceptions for Post. Jay'Len Mahan caught five passes for 43 yards and Malcolm Ware ran for 41 yards.
Navy improved to 4-1 overall and 3-1 in league action with the win, while Post remained winless.
The Mids will host Cornell on Senior Night Friday at 7 p.m. Post will travel to Mansfield Saturday for a 1 p.m. kickoff.
Army West Point (24) at Franklin Pierce (0)
New week, same story. The Army defense was again dominant and for the fifth straight time in as many tries did not allow a single point in a 24-0 win at Franklin Pierce.
The Black Knights looks poised to run away with the league title this year thanks to timely scoring and a dominant defense.
Army finished the game with 283 yards of offense, including 159 on the ground and 124 through the air, but managed just 13 first downs. Franklin Pierce managed 14 first downs in the game, but went for negative 31 rushing yards and finished with just 191 yards of total offense after Army recorded seven sacks for a loss of 51 yards.
Army got both offensive touchdowns through the air with Brady Miller throwing for 84 yards and one TD and Keegan West throwing for 40 yards on one score and finishing a perfect 6-for-6. Austin Breed caught eight passes for 83 yards and one TD and Ty Galyean caught one 24-yard TD pass.
Matthew Tamburri scored the other TD with a 35-yard interception return and finished the game with nine tackles and one sack. Philip Choi recorded three sacks in the game.
Derek Reddy completed 17-of-38 pass attempts for Franklin Pierce for 222 yards, but was intercepted four times and sacked seven times for a loss of 51 yards. D.J. MacDonald was the team's leading rusher with 13 yards on 14 carries. Jahlil Dean caught three passes for 44 yards and Michael Holdridge caught two passes for 34 yards.
Army will look to continue its undefeated season when it hosts Penn Friday night at 7 p.m. Franklin Pierce will travel to Chestnut Hill Friday night for a 7 p.m. kickoff.