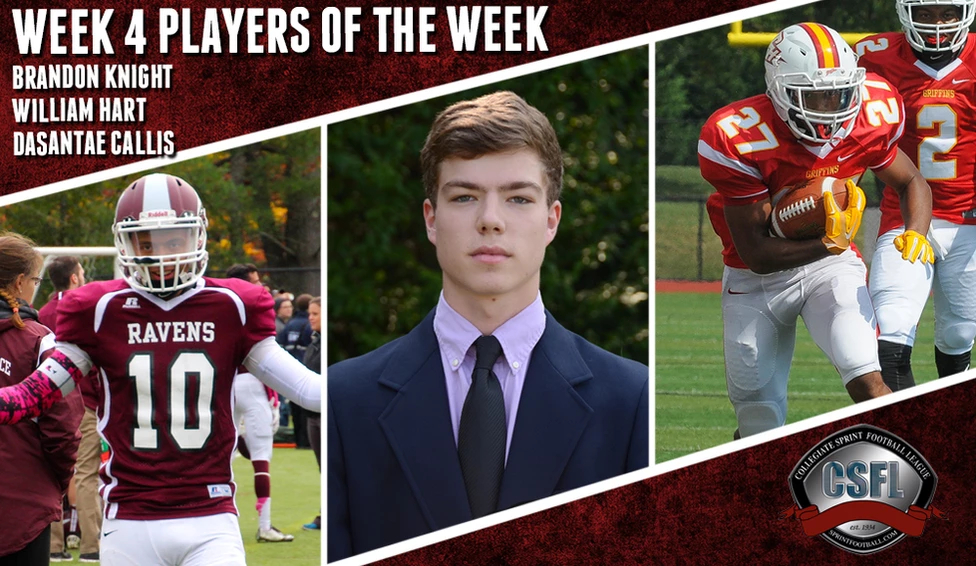 Week 4 Review
By: CSFL Staff | Collegiate Sprint Football League | October 13, 2015
Week four was a rough week to have a home game in the CSFL. All four teams that hosted a game in week four came away with a loss, including one of the biggest upsets in the last decade of the league as Franklin Pierce pulled off an 18-16 upset on the road at Navy.
When the dust settled from the week, Army emerged in the driver's seat after another convincing win. The Black Knights have still not allowed a single point through four games. Penn went on the road and took care of business at Cornell to improve to 3-1 in CSFL action and move up to second in the league standings. Chestnut Hill rallied in a back-and-forth affair and came away with a narrow win at Post.
The week four Players of the Week are below, along with brief recaps from the week's games and some team notes entering week five.
WEEK 4 PLAYERS OF THE WEEK
Offensive Player of the Week: Dasantae Callis, RB, Chestnut Hill (Folsom, Pa.)
Callis was responsible for nearly half of his team's total offensive yardage in a 24-21 win at Post. He rushed 28 times for 167 yards and added three catches for 44 more yards to finish with 211 yards of total offense. Callis averaged 6.0 yards per carry and 11.0 yards per catch.
Defensive Player of the Week: Brandon Knight, DB, Franklin Pierce (Bronx, N.Y.)
Knight led a dominant defensive effort for Franklin Pierce that saw the Ravens come away with seven interceptions in the upset at Navy. He was personally responsible for four of those after coming away with four picks and also batted down two passes to finish with six defended passes. Knight also recorded four solo tackles in the win.
Special Teams Player of the Week: William Hart, DB, Franklin Pierce (Amherst, N.H.)
Hart played a huge role in Franklin Pierce's upset of Navy after he blocked a punt deep in Navy territory that was recovered on the one-yard line. The Ravens punched it in on the next series to score their first touchdown of the game. Hart also recovered an onside kick attempt from Navy late in the fourth quarter after the Mids closed the gap to a two-point game.
WEEK 4 REVIEW
Chestnut Hill 24 at Post 21
Post scored 21 unanswered after trailing 16-0 after the first quarter, but Chestnut Hill rallied with eight points in the final two minutes to steal a 24-21 win at Post Friday night.
The Griffins got a safety with 1:44 to play to make it a 21-18 game and then scored with a 55-yard drive that took just 1:12 when Domoree Hill caught a 10-yard TD pass from Reginald Robinson, Jr. with 32 seconds left to give Chestnut Hill the win.
The Griffins put up 440 yards of total offense after running for 271 yards and passing for 169. Post finished with 94 rushing yards and 147 passing yards for 241 total yards.
Dasantae Callis went for 211 total offensive yards after rushing for 167 yards and catching three passes for 44 yards to lead the Chestnut Hill offense. Robinson, Jr. completed 12 passes for 169 yards and two touchdowns.
Post was led by Jay'Len Mahan with five catches for 132 yards and one touchdown. He had all but 15 of his team's receiving yards in the game. Malcome Ware added 112 rushing yards and two touchdowns on 24 carries to lead the ground game.
The Chestnut Hill defense recorded 10 tackles for loss, led by Alexander Rivera III with three tackles for loss and one solo sack.
Chestnut Hill will get next weekend off and return to action at home against Franklin Pierce Oct. 23 at 7 p.m. Post will host Navy Saturday at noon.
Chestnut Hill Notes: Dasantae Callis leads the league in rushing per game and is averaging 106.7 yards per game through three outings … he is second in the league in all-purpose yardage averaging 126.7 yards per game … The Griffins are off to a more than admirable start in their first season of sprint football action with a 2-1 record … they rank fourth in the league in scoring at 26.9 points per game and rank four in scoring defense as well, allowing 18.7 points per game.
Post Notes: Chris Leggio has made a career-high 14 tackles in each of the last two games and is now just 12 away from tying Kyle Lagasse for the most in Post history (146 career tackles) … the Eagles current losing streak is the longest in the six-year history of the program and the four losses this year match their most-ever in a single season … with his 65-yard TD catch this week, Jay'Len Mahan has now made a 60+ yard TD catch in each of his four seasons at Post … Mahan leads all players in the CSFL in all-purpose yardage with 554 yards and an average of 184.7 all-purpose yards per game … the next highest player averages 126.7 yards per game.
Franklin Pierce 18 at Navy 16
Franklin Pierce became the first team in the league other than Army to defeat Navy since the third week of the 2010 season when Penn took down the Midshipmen. The Ravens used a strong defensive performance that forced eight turnovers to come away with the win.
Franklin Pierce managed just 168 yards of total offense in the game, including 83 rushing yards and 85 passing yards, but took advantage of key mistakes from Navy all night. The Midshipemen went for 333 total yards, including 256 through the air and 77 on the ground, but turned the ball over eight times with seven interceptions and one lost fumble.
Brandon Knight came up with four of those picks himself to lead the defensive effort. The Ravens got one rushing touchdown from D.J. MacDonald and Derek Reddy threw for 85 yards and one TD pass to Michael Holdridge. They also got a 46-yard field goal from Kyle Salucco, who is proving to be one of the best kickers in the league.
Navy found little success on the ground and resorted the throwing the ball 37 times in the game. Nick Deterding threw for a career-high 240 yards on nine completions, but was intercepted four times. Jimmy Wynne completed five passes for just 16 yards and was intercepted three times. The bright spot offensively for Navy was receiver Matthew Hite, who caught five passes for 152 yards and two touchdowns.
Navy will look to get back into the win column when it travels to Post Saturday for a noon start, while Franklin Pierce will look to continue its momentum at home against Army Saturday at noon.
Navy Notes: Navy's defense has continued to pace the Mids through the first half of the season as they've allowed just four total touchdowns and 157.8 yards a game … after Temple Sloan highlighted the squad's effort in weeks two and three, his defensive linemate Hardy Davis came through on Friday with a season-high 14 tackles versus Franklin Pierce … fffensively, in Navy's setback to Franklin Pierce, quarterback Nick Deterding recorded a season-high 240 passing yards in two quarters of play … this Saturday, Navy goes on the road to Post University … last season in Annapolis, the Mids rolled over the Eagles with a 41-6 victory … after allowing a touchdown on the opening kickoff return, Navy outscored Post 41-0 over the next 59-plus minutes … led by Eric Wellmon's 226 rushing yards and four touchdowns, the Mids outrushed the Eagles, 325 to -16.
Franklin Pierce Notes: The victory snapped an 11-game winning streak and a 10-game home winning streak for Navy ... the Ravens became the first team outside of Army to defeat Navy since Oct. 2, 2010, when Penn picked up a 24-14 win … even more impressively, the Ravens were the first team other than Army to win on the road in Annapolis since a 28-27 overtime victory for Penn on Oct. 21, 2000 ... Franklin Pierce recorded seven interceptions on the night, blocked one punt and blocked a field goal as well in a defensive and special teams showcase ... Brandon Knight had four interceptions on his own, and broke up two other passes as well ... Kyle Salucco hit a 46-yard field goal in the fourth quarter, his longest make of the season, providing what turned out to be important insurance points.
Penn 29 at Cornell 12
Penn quarterback Mike McCurdy accounted for four touchdowns to lead the Quakers to a 29-12 win on the road at Cornell.
McCurdy passed for 178 yards and one touchdown and rushed for 44 yards and three scores to account for nearly all the points for his team. His TD pass went to Henry Mason, who continues to rank among the best in the league after finishing with 64 yards.
Penn finished the game with 336 yards of offense and a balanced attack of 158 yards on the ground and 178 through the air. Cornell managed 302 yards of offense with 173 rushing yards and 129 passing yards.
Rob Pannullo completed half of his passes for 129 yards, but did not throw a touchdown pass. He also rushed for 67 yards. Cornell got its lone score from Kevin Nathanson, who rushed for 82 yards and one touchdown. The Big Red got a pair of field goals from Michael Zazzara to account for half of their points.
Penn moved up to second place in the league standings and will host Mansfield Friday night at 7 p.m. Cornell will host Princeton Friday night at 7 p.m.
Penn Notes: Penn is now averaging 32.0 points per game and allowing just 16.5 points per game, which both rank third in the league behind Army and Navy … The Quakers lead the league in passing offense at 227.5 yards per game and have thrown for 910 yards with nine touchdown passes and four interceptions … only Army (10) has more passing TDs this season … Mike McCurdy leads the CSFL in total offense at 254.2 yards per game and is the only player in the league with more than 1,000 yards of total offense so far (907 passing yards, 110 rushing yards) … Henry Mason leads all players in the league in scoring at 9.5 points per game and receptions with 22 … he is second in the league in receiving yards per game at 104.2.
Cornell Notes: Cornell is fifth in the league in scoring average at 20.2 points per game and also ranks fifth defensively, allowing 21.0 points per game … QB Rob Pannullo is fourth in the league in total offense at 182.2 yards per game and ranks first among all quarterbacks and third among all players in the league in rush attempts … he is fifth in rushing yards with 290 and an average of 72.5 yards per game.
Army West Point 42 at Mansfield 0
Army is staking claim on one of the most dominant starts in CSFL history as the Black Knights have still not allowed a single point this season after posting a 42-0 win at Mansfield Saturday night in a nationally televised ESPN3 game.
The Mansfield defense played admirably, holding Army to a season-low 282 yards of total offense, but the Mountaineer offense could manage only 99 yards and allowed two defensive touchdowns from Army in the game.
The Black Knights threw for 168 yards and ran for 114, while Mansfield passed for 112 yards and was held to negative 13 yards on the ground.
Marqus Burrell rushed for 70 yards and one touchdown and caught another touchdown pass to lead Army's offense. Brady Miller completed 13 passes for 108 yards and two TDs and Keegan West added five completions for 60 yards. Kevin O'Brien caught five passes for 55 yards and Austin Breed added five catches for 36 yards and one score.
Army got a 61-yard fumble return for a TD from Curtis Jerzerick and a 24-yard interception return for a TD from Jake Marchillio.
Mansfield was led by Arren Harris with 45 rushing yards on 26 carries. A total of three quarterbacks took snaps in the game for Mansfield. Jakob Woods led the receivers with 35 yards. John Capwell led the defense with nine total tackles, including eight solo and two tackles for loss.
Army will travel to Franklin Pierce for a noon game this Saturday, while Mansfield will visit Penn Friday night for a 7 p.m. game.
Army Notes: Army leads the CSFL in scoring offense at 48.8 points per game and defense at 0.0 points per game … The Black Knights average a league best 390.2 yards per game on offense and allow a league best 145.5 yards on defense … The Black Knights have done their damage by committee with no players ranking in the top five in the league in total offensive yards … Phillip Choi and Arran Rounds rank second and third in the league in sacks with 6.5 and 4.0, respectively … Marqus Burrell ranks fourth in the league in rushing averaging 78.0 yards per game.
Mansfield Notes: Mansfield suffered from the turnover bug again last Saturday night when the Mountaineers turned the ball over six times in a 42-0 loss to Army West Point before 3,216 fans and a world-wide audience on ESPN 3 for LUMA 2015 .. two of those turnover were returned for a touchdown … although the offense became the latest victims of the Black Knights defense shutout streak, the Mansfield defense did some pretty impressive things like keeping Army below 300 yards total offense for the first time this season … freshman Arren Harris, the CSFL's leading rusher coming into the game, ran for 45 yards, the most for a running back against Army West Point this season … Mansfield's going to need some offensive help when they travel down the historic Franklin Field this Friday to face once-beaten Penn after the Quakers used a big first half by junior quarterback Mike McCurdy to build a 26-3 halftime lead in a 29-12 win over Cornell … Mansfield used three quarterbacks who were sacked 11 times in the loss to Army and the Mountaineers young offensive line will need to show dramatic improvement with a short turnaround time for Friday night's game at Penn … the Quakers have the top quarterback in the CSFL this season in junior Mike McCurdy along with dangerous wide receiver Henry Mason who tops the CSFL in receptions (22) and touchdowns (6).
Princeton Notes: Princeton was off again last week and will return to action this week with a 7 p.m. game at Cornell Friday night.