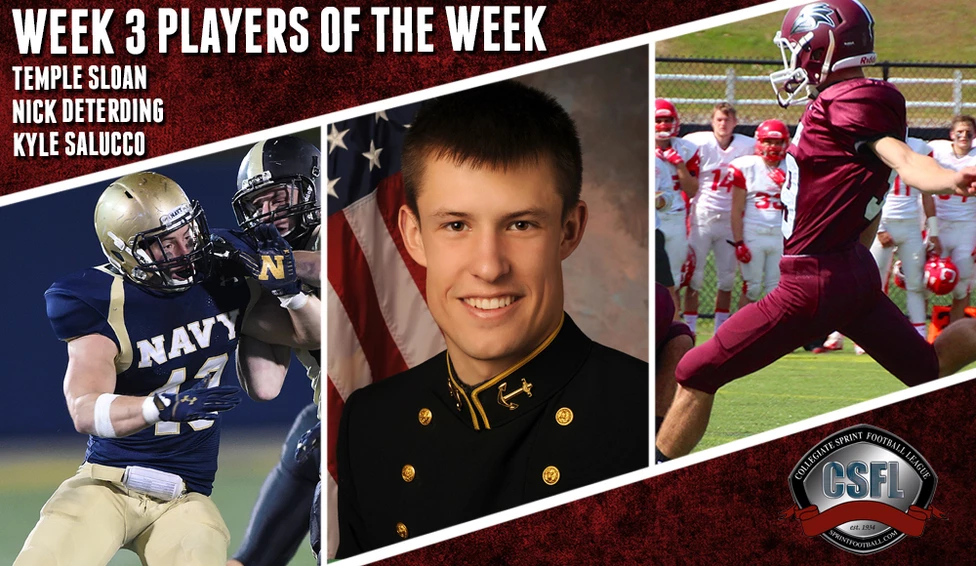 Week 3 Review
By: CSFL Staff | Collegiate Sprint Football League | October 6, 2015
Five teams entered week three of the CSFL season without a loss, but only two emerged after the week with unblemished records. To no surprise those two are once again Army West Point and Navy.
The Mids had to fight off a tough Penn team and came away with a 29-14 victory, while Army West Point continued its defensive domination with another shutout in a win over Cornell. The Black Knights have yet to allow a single point yet this year in three victories. Mansfield put a damper on the storybook start to Chestnut Hill's new sprint football program with a 22-6 victory on the road and Franklin Pierce scored its first win of the year in dominant fashion, defeating Post 38-0.
WEEK 3 PLAYERS OF THE WEEK
Offensive Player of the Week: Nick Deterding, QB, Navy (Lindsborg, Kan.)
Deterding was the star in Navy's 29-14 victory over previously unbeaten Penn last week, rushing for a game-high 159 yards on 20 carries and throwing for 78 yards as well. He scored on an 81-yard touchdown run in the third quarter and also had a 43-yard run in the game. On a wet and windy night, he also managed 78 passing yards and one touchdown to account for 237 yards of offense in the win.
Defensive Player of the Week: Temple Sloan, DL, Navy (Raleigh, N.C.
Sloan was dominant on the defensive side of the ball in the Navy win, recording 12 total tackles and an incredible 5.5 tackles for loss. That tally included 2.5 sacks. He also helped the Navy defense to score points for the second straight week when he blocked a punt in the end zone that was recovered for a safety. Sloan has 8.5 tackles for loss, 5.0 sacks and has scored eight points in the last two games alone.
Special Teams Player of the Week: Kyle Salucco, PK, Franklin Pierce (Exeter, N.H.)
Salucco repeats as the special teams honoree after being perfect in the kicking game for the second week in a row. He booted a 36-yard field goal in the victory over Post last weekend and was 5-for-5 on extra point tries. Salucco has made his last four field goal attempts.
WEEK 3 REVIEW
Army West Point 33, Cornell 0
Army continued its incredible start to the year by not allowing a single point for the third straight week and posting a 33-0 shutout at previously unbeaten Cornell last weekend.
The Black Knights finished the game with 358 yards of offense, their lowest of the season to date, with 162 yards rushing and 196 through the air. Cornell managed just 163 yards of offense that included 140 passing yards and 23 rushing yards.
Brady Miller completed 12 passes for 177 yards and two touchdowns to lead the air attack for Army, while Marqus Burrell rushed for 92 yards and two scores on 20 carries. Austin Breen caught five passes for 92 yards and two touchdowns.
Cornell was paced by Rob Pannullo, who completed six passes for 140 yards with no interceptions. Trevor Marrero caught five of those passes for a game-high 123 yards.
Army will travel to Mansfield this Saturday for a 7 p.m. kickoff, while Cornell will host Penn Friday night at 7 p.m.
Navy 29, Penn 14
What looked like the game of the week in the CSFL entering the weekend ended up being true to form as unbeaten Navy and unbeaten Penn battled closely in miserable weather last weekend. The defending champion Midshipmen came out on top 29-14 to stay unbeaten.
Navy finished the game with just 269 yards of offense on 191 rushing yards and 78 passing yards. Nearly all of that offense came from quarterback Nick Deterding, who ran for 159 yards and one touchdown and threw for 78 yards and another score.
Penn managed 237 yards of total offense with 173 passing yards and 64 yards on the ground. The Quakers were led by Mike cCurdy, who completed 14 passes for 173 yards and one touchdown, but was intercepted twice. Max Jones rushed for 60 yards and one score and Henry Mason continued to shine in the receiving game with seven catches for 106 yards and one TD.
Navy also got a dominant defensive effort from Temple Sloan, who finished the game with 5.5 tackles for loss, 2.5 sacks and a blocked punt that went for a safety.
Penn will look to get back into the win column this Friday night when it travels to Cornell for a 7 p.m. game, while Navy will put its undefeated record on the line at home Friday night against Franklin Pierce at 7 p.m.
Franklin Pierce 38, Post 0
Franklin Pierce picked up its first win of the season in convincing fashion with a 38-0 shutout last weekend over Post, which fell to 0-3 on the year.
The Ravens finished the game with 364 yards of offense and 22 total first downs, while the Eagles managed only seven first downs and finished with 112 yards of offense. FPU posted 264 rushing yards and 100 rushing yards. Post went for 73 yards through the air and 39 on the ground.
The Ravens were led by running back D.J. MacDonald with 27 carries for 172 yards and two touchdowns. Derek Reddy threw for 100 yards and one score and was not intercepted. The touchdown pass went to Shawn DeCost.
Post was led by Greg Volpe, who passes for 71 yards on 11 completions and was not intercepted. Malcome Ware ran for 35 yards and Jarrick Sharp caught four passes for 19 yards.
Franklin Pierce will travel to Navy Friday night for a 7 p.m. game, while Post will look to get into the win column for the first time this year with a home game against Chestnut Hill Saturday at 11:30 a.m.
Mansfield 22, Chestnut Hill 6
Mansfield joined Franklin Pierce in picking up its first win of the season as the Mounties recorded a 22-6 victory at Chestnut Hill Sunday. The win will count for Mansfield's overall record, but not in the CSFL standings as Chestnut Hill transitions into the league.
Mansfield put up 302 yards of offense with a balanced attack of 184 yards on the ground and 118 in the air. Chestnut Hill was held to 137 yards on 54 rushing yards and 83 passing yards.
Arren Harris was the workhorse for Mansfield with a school record 44 rushing attempts for 153 yards and two touchdowns. Austin Bennett completed 12 passes for 118 yards. Hunter Brown added 23 rushing yards and one touchdown and Drew Beckenrink kicked a 24-yard field goal.
Chestnut Hill struggled to get things going offensively with four interceptions on the day. Reginald Robinson, Jr. completed just 3-of-18 passes for 41 yards with three picks. Theophilus McBurnett completed five passes for 42 yards with one INT.
The lone points of the day for the Griffins came from the defense when Alexander Rivera III ran back a fumble recovery 15 yards for a TD in the third quarter.
Mansfield will host Navy Saturday night at 7 p.m. and Chestnut Hill will travel to Post for an 11:30 a.m. game this Saturday.
Princeton – Did no play.
Princeton hosted an intersquad scrimmage last week and will have a bye this week. The Tigers return to action Oct. 16 at Cornell.