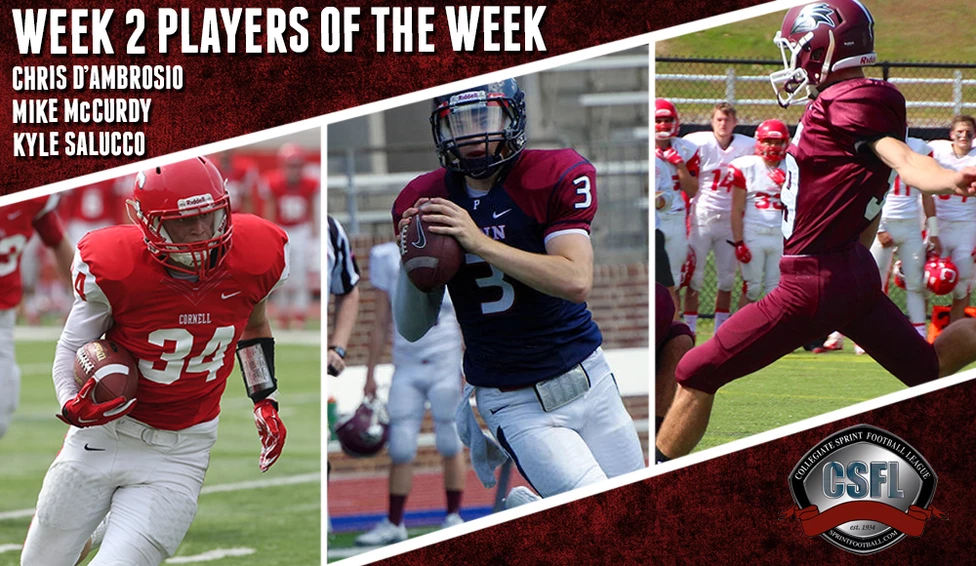 Week 2 Review
By: CSFL Staff | Collegiate Sprint Football League | September 29, 2015
The second week of the CSFL season saw a pair of dominant shutout wins from annual frontrunners Army West Point and Navy and a pair of close games won by Cornell and Penn. After the second weekend of the year Army, Penn and Cornell are all 2-0 in league action and Navy is 1-0 in CSFL games.
The week two Players of the Week can be found below, along with a brief look at each of last week's game and some notes for each team heading into week three.
WEEK 2 PLAYERS OF THE WEEK
Offensive Player of the Week: Mike McCurdy, QB, Penn (Bethesda, Md.)
McCurdy was dominant leading Penn to a 34-18 win over Post last week, throwing for 345 yards and four touchdowns and adding another 50 rushing yards to finish with 395 yards of total offense. The yardage was the fifth-most in a single-game in Penn history and he became just the second QB in program history to pass the 3,000-yard career milestone with the effort.
Defensive Player of the Week: Chris D'Ambrosio, LB, Cornell (Massapequa, N.Y.)
D'Ambrosio was a force for Cornell in a 36-15 win over Franklin Pierce, recording 14 total tackles and two sacks. He also recovered a fumble and returned it 32 yards for a touchdown in the second quarter that gave Cornell its first lead of the game.
Special Teams Player of the Week: Kyle Salucco, PK, Franklin Pierce (Exeter, N.H.)
Salucco scored more than half of his team's points in a 36-15 loss to Cornell. He was a perfect 3-for-3 in field goal attempts in the game after converting on tries of 20, 30 and 38 yards. He made two early field goals to give Franklin Pierce a 6-0 lead.
WEEK 2 - REVIEW
Army West Point (86) at Princeton (0)
This one was all Army as the Black Knights racked up 86 points and held Princeton to just two yards of total offense. Army posted a 499-2 edge in yardage and held Princeton to just four first downs while recording eight sacks for a loss of 61 yards.
It was a true committee effort on offense for Army with two quarterbacks seeing significant time and five different rushers finding the end zone. Keegan West threw for 128 yards and one score while adding a rushing TD as well. Brady Miller completed five passes for 55 yards and three touchdowns. Jaylen Collier ran for 69 yards and one touchdown on five carries and Patrick Riley added 48 yards and two TDs on seven carries. Four different players caught touchdown passes for Army and nine players recorded at least one catch.
Princeton was led by Chad Cowden, who completed nine passes for 81 yards and was intercepted once. No running backs managed to gain positive yardage on the ground. Patrick Yu caught six passes for 51 yards to lead the receivers.
ARMY WEST POINT NOTES: Army has only lost one game in the last 3+ seasons, which came against Navy in the final contest of the 2014 season … Mark West improved to 35-9 as the Army head coach …Army is leading the league in scoring at 60.0 points per game and has not allowed a single point through two games ... the Black Knights are averaging 460.5 yards of offense per game and allowing just 160.0, including negative 14.0 rushing yards per game ... four different players have taken snaps at QB for Army ... Marqus Burrell averages 75 yards per rush ... seven different players have a rushing TD for Army ... the Black Knights will travel to Cornell this Saturday for a 1 p.m. game in a battle of unbeaten teams.
PRINCETON NOTES: The Tigers' losing streak increased to 63 straight games with the loss … Princeton will have to find a way to run the ball to find offensive success as the Tigers gave managed negative 12 rushing yards through two games, allowing defenses to key on Cowden and the passing game … Princeton will get a chance to work on some things this week as they have a break from CSFL action and will play an intersquad scrimmage Saturday at 1 p.m.
Penn (34) at Post (18)
For the second straight week Post saw its chances at a win evaporate by turning the football over too many times. Penn took advantage of five turnovers from the Eagles in posting a 34-18 win on the road.
Post finished the game with more first downs (20-19) and more total yards (464-432) than Penn, but turned the ball over five times with four lost fumbles and one interception. The Eagles ran for 120 yards and threw for 344, while Penn rushed for 87 yards and threw for 345.
Mike McCurdy threw for 345 yards and four touchdowns and ran for 50 more yards to lead Penn. Henry Mason was his favorite target for the second straight week with six catches for 138 yards and two touchdowns. Andrew Sutton caught five passes for 117 yards and one score.
Greg Volpe threw for 344 yards and one touchdown and ran for 45 yards and one score for Post. Jay'Len Mahan caught six passes for 107 yards, Lahquan Legette caught six passes for 68 yards and Jarrick Sharp added seven catches for 47 yards. The long TD grab came from Rocco Guerrera. Jordan Perry added 13 carries for 40 yards and one TD.
Four different players recorded a fumble recovery for Penn, including Rob Diorio, who returned his 33 yards.
PENN NOTES: Penn is averaging 42.5 points per game and allowing 12.5 points through two games … The Quakers are averaging 402.5 yards per game in offense and throwing for 279.5 yards per game thanks to McCurdy's arm … McCurdy has completed 52.6 percent of his passes for 556 yards and seven touchdowns with just one interception so far this season … Henry Mason is emerging as one of the top receivers in the league with 11 catches for 247 yards and four touchdowns already … Penn will travel to Navy this Friday night for a 7 p.m. game in a battle of unbeatens … the Quakers nearly pulled off the upset last year before falling 21-19 to the Midshipmen.
POST NOTES: For the second straight week Post played well enough in nearly all facets of the game to come away with a win, but squandered that chance with at least five turnovers … The Eagles are averaging 391.0 yards per game in offense, but are only scoring 9.0 points per game through two games … Post has lost five fumbles and thrown six interceptions on the season … Greg Volpe has completed 54.2 percent of his passes for 606 yards and is averaging 303.0 yards per game through the air … Jay'Len Mahan is averaging 102 receiving yards per game and Jarrick Sharp is averaging 91 receiving yards per game, but neither has found the end zone yet this season … Post will look to get into the win column when it travels to Franklin Pierce Saturday for a 1 p.m. game.
Cornell (36) at Franklin Pierce (15)
Cornell rallied with 29 unanswered second half points to erase a 15-7 halftime deficit and hand Franklin Pierce a 36-15 defeat last weekend.
Franklin Pierce led early on two field goals from Kyle Salucco in the first half and got one more from him at the buzzer to take a 15-7 lead into the break. The only points Cornell could find in the opening 30 minutes came from the defense when Chris D'Ambrosio returned a fumble 32 yards for a touchdown in the second quarter.
The second half was all Cornell though. Rob Panullo and Trevor Marrero imposed their will with Pannullo finishing the game with 155 rushing yards and one touchdown to go along with 54 passing yards and one touchdown. He also threw a pair of two-point conversions to Marerro, who finished with two catches for 39 yards and one TD. Benjamin Herrera rushed for 48 yards and Kevin Nathanson and Connor Ostrander each ran for a TD.
Franklin Pierce struggled in the passing game with just six completions, but Taylor DeForge managed to throw for 116 yards and one touchdown, a 62-yarder to Michael Holdridge. D.J. MacDonald rushed for 52 yards on 12 carries and Derek Reddy added 40 yards on three carries.
Two of the top defensive efforts of the week came out of this game with D'Ambrosio recording 14 tackles to go along with his fumble return for a TD and the Ravens' James Willette recording 11 tackles and 2.5 tackles for loss.
CORNELL NOTES: Cornell is scoring 34.5 points per game and allowing just 11.0 through two games … the Big Red aren't putting up huge numbers on the offensive side, with 287.5 yards of offense per game, but are allowing only 190.5 yards per game on defense … Pannullo is proving to be a challenge for defenses with his dual threat ability as he leads the team in rushing at 113.5 yards per game and is proving capable in the passing game, completing 65.5 percent of his passes for 170 yards and three TDs … Cornell will get its first true test of the season Saturday when Army West Point visits for a 1 p.m. kickoff between unbeaten teams.
FRANKLIN PIERCE NOTES: Josh Tilton factored in on 10 tackles (six solo), including one sack for a loss of four yards for FPU in the game ... Derek Reddy had rushed for 40 yards on three carries (13.3 average) before leaving the game due to injury... The Ravens are allowing 43.5 points per game and scoring just 11.0 points per game through two weeks … FPU is averaging 231.0 yards of offense … QB Derek Reddy going down with injury last week could prove costly as he is the team's second leading rusher and had completed almost as many passes (19) as the rest of the players on the team have attempted (24) … FPU remains home this weekend and will look for its first win when winless Post visits Saturday for a 1 p.m. kickoff in the annual Talon Cup.
Navy (51) at Mansfield (0)
Navy scored in all three phases of the game to ruin Mansfield's Homecoming with a dominant 51-0 victory on the road.
The Mids got a defensive touchdown from Temple Sloan on a 53-yard fumble return and a special teams touchdown from Dan Gilmore with a 63-yard punt return TD.
Navy finished the game with 507 yards of total offense and held Mansfield to just 107. The Mids threw for 175 yards and ran for 332, while Mansfield managed just four rushing yards and 103 passing yards.
Eric Wellmon saw his first extended action of the season and picked up where he left off last year, rushing for 142 yards and one touchdown on 19 carries. Nick Deterding added 73 yards and one score with his legs and also completed 12 passes for 175 yards and two TDs. Corey Garcia caught five passes for 58 yards and Matthew Hite grabbed three passes for 73 yards and both receiving TDs.
Mansfield was led by Anthony O'Connell, who completed seven passes for 77 yards. Aren Harris ran for 59 yards and Kurt Logan and Joe Bucek each caught four passes for 45 yards. Spencer Underdown led the Mountie defense with 11 total tackles.
NAVY NOTES: While Navy's offense was impressive in the win, the Mids defensive effort was just as impressive as they were constantly in the backfield with 15 tackles for loss, nine sacks and three fumble recoveries … Hardy Davis (8 tkls, 1 FR, 1 sack), Marquis White (7 tkls, 1 FF, 3.5 sacks) and Temple Sloan (5 tkls, 1 FF, 1 FR, 2.5 sacks, 1 TD) led the stout defensive effort … Navy is scoring 59.5 points per game and has allowed a total of three points through two games this season … the Mids average 460.5 yards per game on offense and allow just 113.0 yards on defense … Wellmon looks poised to take his place as the top running back in the league and is averaging 7.3 yards per carry … Deterding has completed 55.6 percent of his passes for 106.5 yards per game and has three rushing TDs already … The defense has recorded four interceptions and four fumble recoveries through two games … Navy will host Penn Friday night at 7 p.m. and look to remain undefeated after winning its last nine games … The Mids narrowly defeated Penn, 21-19, last fall.
MANSFIELD NOTES: Mansfield continued to be plagued by turnovers and mistakes in dropping a 51-0 decision to Navy in front of 2,631 Homecoming Weekend fans on Saturday … freshman quarterback Anthony O'Connell showed some promise in his first collegiate start but got a baptism of fire from the Navy defense which recorded nine sacks … Sean Green averaged 41.0 yards on 10 punts and leads the CSFL after two weeks with a 40.4 yards per punt average … Freshman running back Aren Harris continues to be Mansfield's most consistent threat ranking fourth in the CSFL in rushing … He ran for 59 yards again Navy … Mansfield turned the ball over four times in the game in allowing the most points in a game since Army recorded a 51-7 win in 2013 … after a pair of tough games to open the season, the Mountaineers will hit the road for the first time when they travel to Philadelphia to take on newcomer Chestnut Hill in a rare Sunday game this week … Chestnut Hill head coach Mike Pearson served on the staff at Mansfield for three years … Chestnut Hill won its first-ever game over Princeton two weeks ago and had a bye this past weekend.
CHESTNUT HILL NOTES: Chestnut Hill is riding high after opening its first sprint football season with a 48-13 win over Princeton two weeks ago at home … The Griffins will get their second chance at a win and will get to do it in from of their home fans when Mansfield visits this Sunday for a noon game … the Griffins put up 48 points after rushing for 244 yards and throwing for 192 yards and three TDs against Princeton … Reginald Robinson, Jr. completed 11-of-18 pass attempts in the win … Desantae Callis ran for 127 yards and one touchdown and Theophilus McBurnett added 57 yards and two rushing touchdowns … Domoree Hill caught six passes for 111 yards and two TDs.