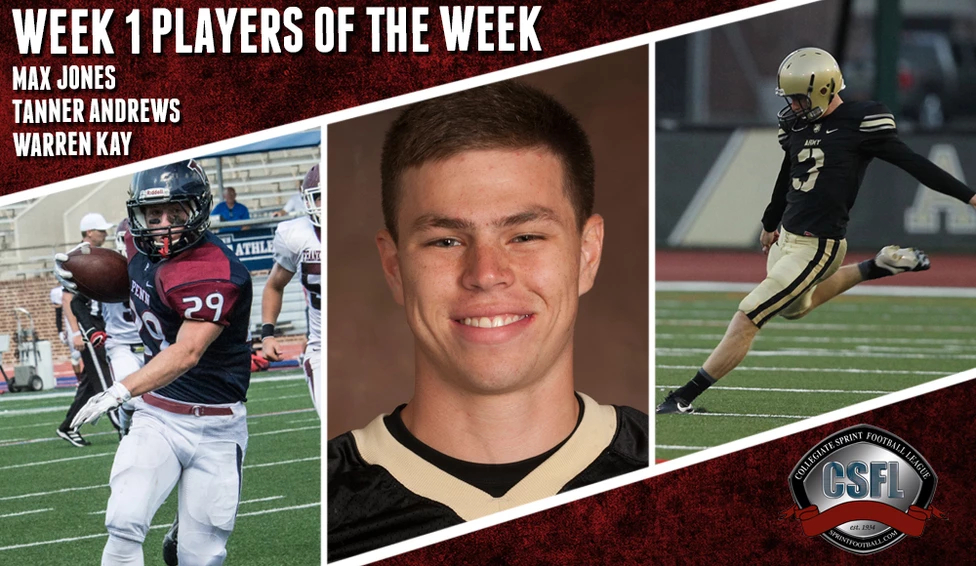 Week 1 Review
By: CSFL Staff | Collegiate Sprint Football League | September 22, 2015
The first week of action in the CSFL saw league newcomer Chestnut Hill record its first win in its first try with a 48-13 victory over Princeton. Penn posted the most convincing league victory with a 51-7 rout of Franklin Pierce, while Cornell and Army West Point also picked up big wins in CSFL action.
Cornell topped Mansfield 33-7 and Army pitched a shutout in a 34-0 win over Post. The final action in week one came from defending champion Navy, which was dominant in a 68-3 non-league victory over the Longwood Club team. The week one Players of the Week, brief game recaps and team notes can be found below.
WEEK 1 PLAYERS OF THE WEEK
Offensive Player of the Week: Max Jones, RB, Penn (Belmont, Mass.)
Penn freshman running back Max Jones had a big welcoming party in week one when he ran for 130 yards and two touchdowns on just 16 carries to lead the Quakers to a 51-7 win over Franklin Pierce. Jones added two receptions for 14 yards and another touchdown. He rushed for 125 yards and two TDs on just 10 carries in the first half, including a 65-yard score.
Defensive Player of the Week: Tanner Andrews, DB, Army (Elburn, Ill.)
Army sophomore safety Tanner Andrews was a takeaway machine in helping to lead the Army defense to a shutout in a 34-0 victory over Post Friday night. He recorded two interceptions and one fumble recovery to account for three of the Black Knights' six takeaways. Andrews also recorded four tackles and one tackle for loss in the victory.
Special Teams Player of the Week: Warren Kay, PK, Army (Goshen, Ind.)
Army senior kicker Warren Kay was perfect in the kicking game Friday night to help Army to a 34-0 victory over Post in the season-opener. He booted field goals of 38 yards and 22 yards and made all three of his extra point attempts.
WEEK 1 RECAPS AND NOTES
Post (0) at Army West Point (34)
Army West Point opened the season with a 34-0 win over Post at home Friday night thanks to an outstanding night on the defensive side of the ball. The Eagles finished the game with just two less first downs 104 less offensive yards than Army, but turned the ball over six times to take themselves out of the game.
Army finished with a 422-318 advantage in total yardage after running for 232 yards and throwin for 190. Post rushed for just 51 yards and threw for 267.
Marqus Burrell led the offensive attack for Army with 112 rushing yards and one touchdown on 18 carries. Quarterback Mitch Wear added 55 yards and one touchdown on the ground and completed 8-of-16 passes for 126 yards and one TD. Brady Miller also threw for 52 yards and one TD on four completions. Tucker VanDyke caught three passes for 40 yards and one TD and Ty Galyean had one 69-yard reception to lead the Army receivers.
Post was led by wide receiver Jarrick Sharp with six catches for 135 yards. Jay'Len Mahan added five catches for 97 yards. Quarterback Greg Volpe completed 18-of-36 passes for 262 yards, but was intercepted five times. Chris Leggio led the Post defense with 10 total tackles, including eight solo.
ARMY WEST POINT NOTES: Army won its fourth straight season-opener and improved to 5-0 all-time against Post … the Black Knights will travel to Princeton this weekend for their second straight CSFL contest … Army has only lost one game in the last 3+ seasons, which came against Navy in the final contest of the 2014 season … Mark West improved to 34-9 as the Army head coach.
POST NOTES: Post should be much more competitive in league action this year if it can clean up the turnover issues … Greg Volpe threw five interceptions Friday night after throwing just two interceptions last year … the wide receiver duo of Sharp and Mahan combined for 233 receiving yards in the game … Mahan also recorded 98 kickoff return yards to lead the team with 193 all-purpose yards … Post will host Penn in its home opener Saturday at noon.
Longwood Club (3) at Navy (68)
This one was all Navy as the Mids scored 27 points in the first quarter and held Longwood off the scoreboard until there was just 10 seconds remaining and it got a 27-yard field goal.
Navy posted a 414-119 advantage in total yardage after running for 286 yards and throwing for 128. The Mids defense also held Longwood to negative 29 rushing yards.
McClain Lavis rushed for 114 yards and four touchdowns on 30 carries to lead the offense. Last year's league MVP Eric Wellmon added 55 yards and one touchdown on just eight carries but broke the Navy all-time rushing record in the process. Jimmy Wynne completed 50 percent of his passes for 90 yards and one TD and Nick Deterding also threw for 38 yards and one score. Charles Crans caught two passes for 38 yards and one TD and Austin Rogers caught a 24-yard TD pass.
The Navy defense recorded 13.0 tackles for loss and did it by committee with no player on the team recording more than four tackles.
NAVY NOTES: The opener marked the first for new head coach Major Jeff Polson, USMC … of Navy's nine touchdowns, eight were scored by players who had never scored a TD before: Mac Lavis (4 TD), Nick Deterding (2 TD), Charles Crans (1 TD) and Austin Rogers (1 TD) … senior RB Eric Wellmon broke the program career rushing mark with 55 yards in just one quarter of action after needing 51 to surpass Chris Butler's mark of 1,811 set from 1979-1982 … 31 different Mids recorded tackles and four forced turnovers … Navy will hit the road for an away contest at Mansfield this Saturday … last season on the road, Navy used a heavy dose of Eric Wellmon to earn a come-from-behind 26-14 victory at Mansfield …the Mids trailed 14-6 at halftime before shutting out the Mounties in the second half with a 20-0 run … Wellmon scored all three of Navy's second half touchdowns and recorded 224 rushing yards on 27 attempts.
Franklin Pierce (7) at Penn (51)
Penn capitalized on five Franklin Pierce turnovers and used a balanced offensive attack to post a 51-7 victory over Franklin Pierce in the CSFL opener for both teams.
The Quakers put up 373 yards of offense with 159 yards on the ground and 214 passing yards, while holding the Ravens to just 28 rushing yards and 200 passing yards for a total of 228 yards.
Max Jones was outstanding in his debut for Penn, rushing for 130 yards and two touchdowns on just 16 carries and adding a receiving touchdown. Mike McCurdy completed 12-of-21 passes for 211 yards and three touchdowns with no interceptions. He also ran for a touchdown. Henry Mason pulled down five passes for 109 yards and two scores and Andrew Sutton caught two passes for 53 yards.
Franklin Pierce was paced by Derek Reddy, who threw the ball 45 times and completed 19 passes for 200 yards with three interceptions. Michael Holdridge caught five passes for 49 yards, the same totals as Jalen Oliver. DJ MacDonald caught four passed for 61 yards and was the leading rusher with 15 yards and the lone TD of the game for the Ravens.
PENN NOTES: Penn's biggest question entering the year was how it would replace last year's leading rusher in Mike Beamish … those questions were wiped away in the first half when Jones ran for 125 yards and two touchdowns on just 10 carries … It marked the 47th season opener for head coach Bill Wagner … Penn's defense recorded 13.0 tackles for loss and 9.0 sacks in the game … Hunter Heflin led the way with eight tackles and 1.5 sacks … Penn will visit Post this Saturday for a noon kickoff.
FRANKLIN PIERCE NOTES: D.J. MacDonald was the team's leading rusher and leading receiver and finished with 92 all-purpose yards on the day ... defensively, the Ravens forced three fumbles on the day and recorded three sacks ... Paul Tancredi (three solo) and Josh Castro (one solo) factored in on six tackles each, with Tancredi collecting three tackles for loss totaling eight yards … Franklin Pierce will host Cornell this Saturday at noon.
Princeton (13) at Chestnut Hill (48)
Chestnut Hill scored the first 14 points of the first quarter and was off to the races in securing a 48-13 victory over Princeton in its inaugural game.
The Griffins tallied 436 yards of offense with 244 yards on the ground and another 192 through the air. Princeton was held to 67 rushing yards and 208 passing yards for 275 yards of total offense.
Chestnut Hill recorded four interceptions in the game and turned the ball over three times.
Desantae Callis ran for 127 yards and one touchdown on just 14 carries and quarterback Reginald Robinson, Jr. threw for 192 yards and three touchdowns with one interception. Domoree Hill caught six passes for 111 yards and two of those touchdowns and Josean Perez caught three passes for 31 yards and one TD.
Pricneton was led by wide receiver Tyler Kaye with six catches for 110 yards and one touchdown. Chad Cowden completed 11-of-23 passes for 163 yards with one touchdown and three interceptions.
PRINCETON NOTES: The Tigers' losing streak increased to 62 straight games with the season-opening loss … Princeton got three takeaways from its defense last week with an interception from Harvey Butler and fumble recoveries from Nick Barnett and Josh Su … The Tigers will host Army West Point Friday night at 7 p.m.
CHESTNUT HILL NOTES: The Griffins hit on all cylinders in their historic opener … on top of the players mentioned above, running back Theophilus McBurnette rushed for 57 yards and the two scores for the Griffins … Chestnut Hill College converted all three of its fourth downs and all five of its red-zone opportunities … freshman nose guard Brian Layden was dominant on the interior, notching a game-high 10 tackles, 3.5 of which went for a loss … that figure was matched by fellow rookie Kyle Johnson-Hackett, who had 2.5 tackles for loss … Freshman defensive end Kevin Meredith picked up another sack, while rookie Brendan Clancey recorded a late interception … Chestnut Hill gets two weeks to prepare for a date with Mansfield University back at Plymouth Whitemarsh High School on Sunday, October 4. Kickoff is scheduled for noon.
Cornell (33) at Mansfield (7)
Cornell remained perfect all-time against Mansfield with a 33-7 victory on the road to open the season last Saturday.
The Big Red tallied just 248 yards of offense in the game, but didn't need much more than that thanks to a defensive effort that allowed Mansfield only 147 total yards. Cornell ran for 132 yards and threw for 116, while Mansfield rushed for 84 and passed for 63.
Rob Pannullo led Cornell with his arm and his legs, completing 13-of-19 passes for 116 yards with two touchdowns and one interception. He also ran for 72 yards and one TD on 20 carries. Trevor Marrero caught both touchdown passes and finished with 42 receiving yards.
Mansfield was paced by Aren Harris with 79 rushing yards and one touchdown on 22 carries. Austin Bennett completed 9-of-24 passes for 63 yards with one touchdown. His top target was Kurt Logan, who recorded three catches for 26 yards.
CORNELL NOTES: Cornell remained unbeaten against Mansfield in the all-time series since the Mounties joined the league … Cornell and Mansfield are two of the closest schools in the region geographically … The Big Red used dual threat quarterback Rob Pannullo in the same way they used him last year to provide the bulk of the offense … Cornell will travel for the second week in a row when it visits Franklin Pierce Saturday for a noon kickoff.
MANSFIELD NOTES: Mansfield will try and rebound from a disappointing opening game loss to Cornell in front of 2,181 fans in the 15th Annual Josh Palmer Pigskin Classic … mistakes sidelined the Mounties with two roughing the kicker penalties extending drives that led to scores along with a lost fumble on the five-yard line that led to a score, followed by a 69-yard pick six on the next possession … transfer Alex Nicolas had a CSFL best 13 stops, including nine solo and a sack to pace the defense ... Mansfield will host Navy this Saturday at 1 p.m. … last year Mansfield dropped a 26-14 decision to Navy after holding a 14-6 lead at the half … running back Eric Wellmon rushed for 216 yards and three touchdowns on 26 carries returns to lead the defending CSFL Champion Navy offense … Mansfield has played Navy tough in their last two trips to Karl Van Norman Field suffering a 26-14 loss last season and dropping a 30-19 decision in 2011.