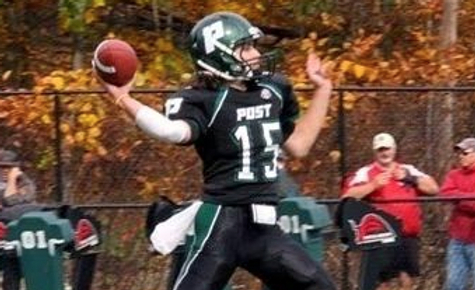 Post downs Princeton to close season
By: CSFL Staff | Collegiate Sprint Football League | November 7, 2015
PRINCETON, N.J. - The Post University sprint football team defeated Princeton 48-6 on the road Nov. 7 in the final game of the 2014 CSFL season, a makeup from earlier in the year.
The Eagles amassed 565 total yards, including a program-record 373 on the ground in the victory.
Post jumped in front early and never looked back, scoring touchdowns on their first four drives of the game. Joseph Lynch got things started with a four-yard score early in the first quarter and finished with 94 rushing yards on 14 carries.
On its next possession, Post staged a 15-play drive capped by a seven-yard rush by Leslie Morgan, his first-career touchdown, to put the Eagles in front 13-0. Greg Volpe found Rahmi Roundtree from 39-yards out on third and long as Post took a three touchdown lead early in the second quarter.
Bryan Sheppard scored a four-yard touchdown with 4:18 remaining in the first half to put the Eagles in front 27-0. Trevor Patterson picked off Tigers' quarterback Chad Cowden on the next Princeton drive, but Post would turn the ball back over four plays later.
The Eagles took over possession with a minute left in the second quarter. Volpe quickly drove Post down the field on four plays and hit Jarrick Sharp for a 12-yard score with 14 seconds left as Post took a 34-0 lead into halftime.
Princeton got on the board in the third quarter with an eight-yard touchdown pass by Cowden to Chris McCord. Volpe threw his third touchdown pass of the day from 30-yards out to William Gardner on Post's first play of the fourth quarter. Rafael Dominguez capped off the scoring with a six-yard touchdown run late in the game.
Volpe went 13-20 for 192 yards and three scores. Roundtree caught four passes for 69 yards. Jay'Len Mahan had 44 receiving and 44 rushing yards. Morgan finished with 76 yards on the ground on nine carries. Chris Leggio led the defense with seven tackles.
Post forced four turnovers on the day and held the Tigers to just 127 yards of offense and 31 yards rushing.
The Eagles finished in third place in the Collegiate Sprint Football League (CSFL) with a 4-3 record. Princeton finished the year at 0-7.